Spring opponent review: Iowa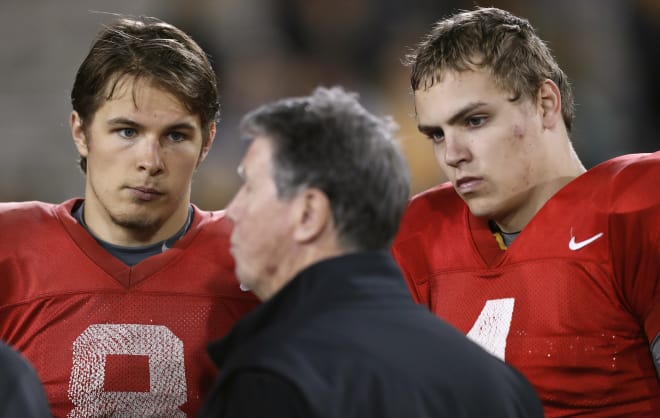 Spring overview
The foundation of every successful Iowa team under Kirk Ferentz has been built up front. When you look at the Hawkeyes coming out of the spring, the good news is they will be very strong at both the offensive and defensive lines.
They also will have an All-Big Ten caliber running back to lead the way, but Iowa has big questions at the quarterback position, as neither Nathan Stanley or Tyler Wiegers emerged this spring as the clear-cut No. 1 guy.
That will probably be the biggest question for Iowa heading into camp, but they also only have three scholarship receivers on campus coming out of the spring, so that's another question.
Defensively, they have a very good core of guys coming back, but starting safety Brandon Snyder suffered a torn ACL knee injury this spring.
What's also different about this year for Iowa is the schedule on paper appears to be much more difficult, with crossover games against Penn State, Michigan State and Ohio State. They open the season against Wyoming, and that too should be a tough game with potential No. 1 NFL Draft pick Josh Allen coming into Iowa City.
Returning starters 
Iowa returns seven starters on both offense and defense coming out the spring. On offense, they have all five starters back on the line, their starting running back and former starting receiver Matt Vandeberg comes back after suffering a broken foot injury last season (he re-injured the foot again in February). He was Iowa's leading receiver in 2015 with 65 catches for 703 yards.
It's also expected that former Omaha South product Noah Fant will be one of the Hawkeye's No. 1 receiving targets at tight end, as they are looking to involve him more this season.
Defensively, they lost their two starting corners and defensive lineman Jaleel Johnson, but they return everybody else.
Five star recruit A.J. Epenesa is also expected to come in and contribute from Day 1 on the defensive line when he arrives to campus this summer.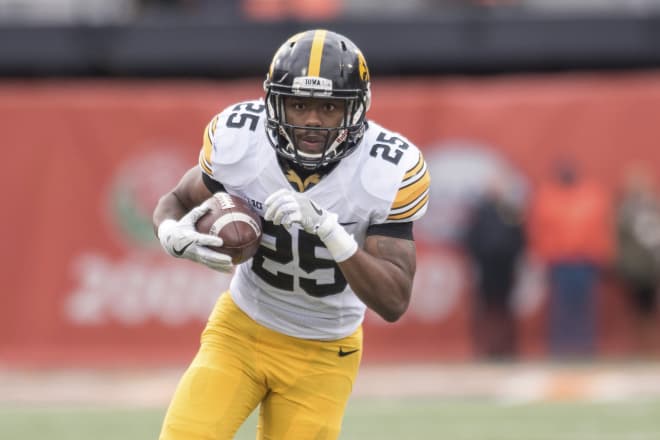 Offensive star: RB Akrum Wadley 
Running back Akrum Wadley led Iowa with 1,081 yards and 10 touchdowns in 2016 to go along with 36 catches for 315 yards and another three scores.
With LeShun Daniels now gone, Wadley is going to be more of a workhorse back in 2017, and offensive coordinator Brian Ferentz said this spring they want to get him 25 touches or more per game this season. The big question is can the 5-foot-10, 190 pound Wadley take the pounding of a No. 1 running back?
Defensive star: LB Josey Jewell 
There's no question the face of this Iowa defense will be linebacker Josey Jewell. The preseason All-American candidate led Iowa with 124 tackles, nine pass break-ups and five quarterback hurries in 2017.
He will not only be the face of this defense, but also looked at as the overall leader of this Iowa Hawkeye football team in 2017.
Spring surprise: DB Jake Gervase
With the loss of Snyder at safety this spring, Jake Gervase has been the guy who's stepped up in his place.
The former walk-on was a core special teams player in 2016, but made a big jump this spring capping things off with three interceptions in Iowa's spring game in April.
It was obviously a hit to lose Snyder, but Gervase's gains this spring have the Iowa coaches optimistic there won't be much of a drop-off.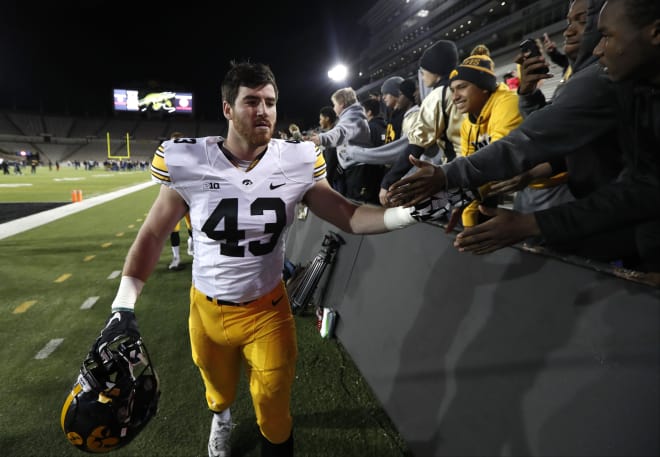 Best position battle: Quarterback 
The Iowa coaches were really hoping either Stanley or Wiegers emerged this spring as the No. 1 quarterback, but that did not happen.
The quarterback battle going forward will be the biggest storyline for Iowa in Fall Camp, as most expect things will go for at least a couple of weeks before Ferentz names a starter.
Biggest question: Wide receiver 
Easily the biggest question for Iowa this spring was the wide receiver position. With Vandeberg out, the Hawks had just two scholarship receivers going through spring practice.
They will bring in five freshmen wide receivers, and it's expected that up to four of them could see playing time immediately.
It is not an ideal situation for Iowa, as this could lead to a lot of third down issue with their lack of quarterback and receiver experience.
Early outlook on Iowa vs. Nebraska 
Kakert: "It's going to be a great game again this year. Iowa has a much tougher schedule this year with some of their games they have to play starting with a tough Wyoming team and having to go to Iowa State. They also have to play at Michigan State, Northwestern, Wisconsin and Ohio State and Penn State come to Iowa City.
"They have a tough schedule, but the thing I still hope for is that Hero's Game is going to be the game where the winner goes to to Indianapolis that next week. Maybe it will happen this year? The West is going to be really competitive and interesting with a lot of teams contending, with Wisconsin probably the favorite.
"I think this is going to be another one of those game that's really going to matter for bowl games and everything else and maybe the winner goes to Indy the next week."
Overall 2017 win-loss expectation 
Kakert: "This has really been a discussion point here looking at their schedule, because it is tougher. It's going to be challenging with the tough home games and going on the road against some really good teams this year.
"I think probably 7 wins. I know Vegas set the over-under for Iowa this year at 6.5, so that kind of tells you that 7 is right about that number where you put the expectation right now."