Spring opponent review: Ohio State
The bar has once again set at the highest level for Ohio State in 2017, as the Buckeyes will once again hope to push for a spot in the College Football Playoff and a shot at another national championship.
Head coach Urban Meyer must replace some top talent OSU lost to the NFL, but as always the Buckeyes are looking to reload and be one of the Big Ten's best.
To get a feel for where Ohio State stands coming out of spring practices, we caught up with BuckeyeGrove.com's Kevin Noon to get his thoughts and perspective on the team.
Previous Spring Opponent Reviews: Arkansas State | Oregon | Northern Illinois | Rutgers | Illinois | Wisconsin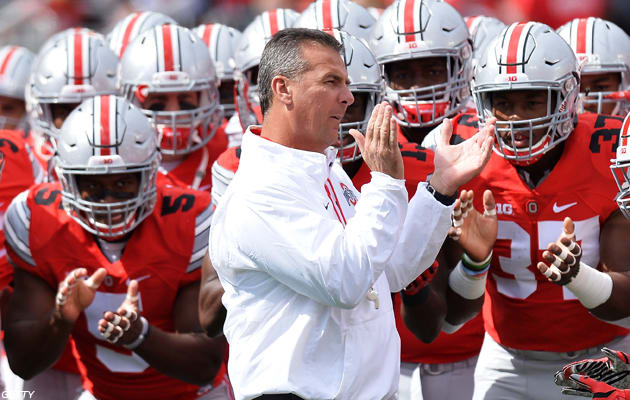 Spring overview
Ohio State must replace some significant talent at several key positions throughout the roster this season, but maybe the most interesting storyline to follow for the Buckeyes is what exactly its offensive identity will be in 2017.
After being shutout in a 28-0 loss to eventual national champion Clemson in last year's College Football Playoff semifinals, OSU gave its offense a bit of a makeover this offseason.
Former Indiana head coach and Oklahoma offensive coordinator Kevin Wilson was brought in to replace the combo of Tim Beck, who left to become the OC at Texas, and Ed Warinner, now the offensive line coach at Minnesota.
The reality is that Meyer has always had a heavy influence on the Buckeyes' offensive system, but will he be able to hand the control over to Wilson in an effort to kickstart a relatively inconsistent unit?
On top of that, there are questions over whether senior quarterback J.T. Barrett - who still managed to win the Big Ten's Griese-Brees Quarterback of the Year and be named a consensus first-team all-conference selection - can get back to the level he was at as a redshirt freshman when he led Ohio State to a national title?
Another issue for the Buckeyes that very few other teams have to deal with is trying to replace three starters in the secondary who left early to become first-round NFL draft picks in cornerbacks Marshon Lattimore (11th overall to the New Orleans Saints) and Gareon Conley (24th to the Oakland Raiders) and safety Malik Hooker (15th to the Indianapolis Colts).
In fact, OSU has now lost six defensive backs to the NFL over the past two years. The Buckeyes always recruit well enough to reload, but will this next group be able to maintain that significantly high standard?
Returning starters
While Ohio State suffered some big losses in the secondary, it returns arguably one of the deepest and most talented defensive lines in the country.
With senior Tyquan Lewis (2016 Big Ten Defensive Lineman of the Year), sophomore Nick Bosa (Freshman All-American), senior Jalyn Holmes and junior Sam Hubbard (both honorable mention All-Big Ten), the Buckeyes are four-deep at defensive with potential all-conference talent.
Outside of replacing the losses in the secondary, maybe the only real depth concern on the roster is at wide receiver.
The big departure there was Curtis Samuel, who was OSU's leading receiver and third-leading rusher last season and was a second-round pick by the Carolina Panthers. They also lost Noah Brown (a seventh-round pick by the Dallas Cowboys), leaving a huge void in returning production.
The offensive line loses center Pat Elflein (third-round pick to the Minnesota Vikings), and there are question marks at right tackle, where junior Isaiah Prince needs to pick up his consistency. In all, Noon said the Buckeyes had to develop better depth across the o-line than what they showed this spring.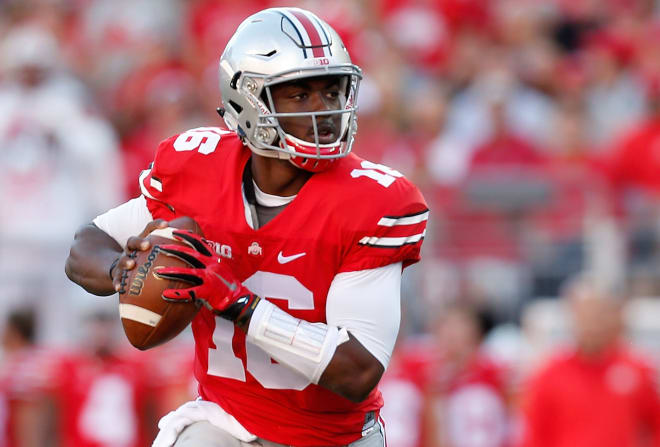 Offensive star: QB J.T. Barrett
Ohio State has a number of candidates for this title, but like every other team, the spotlight always shines the brightest on the quarterback.
Senior J.T. Barrett will likely end his career as one of the most statistically productive quarterbacks in Big Ten history, but Noon said Buckeye fans still think he hasn't reached his full potential during a "stop-and-start" first three seasons under center.
The Wichita Falls, Texas, native has thrown for 6,381 yards and 69 touchdowns iand rushed for 2,456 yards with 31 scores in his career so far, and he'll once again be a preseason Heiman Trophy candidate entering his senior season.
If he plays at the level fans and his coaches expect, the Buckeyes will have a legitimate chance to compete for a national championship. If he struggles - which he did at times last year - the offense could have some problems.
Regardless of which coach has the biggest influence over the offensive play calling this year, it will be Barrett who ultimately determines how good OSU can be in 2017.
Defensive star: LB Jerome Baker
Just like seemingly every year, Ohio State features a slew of defensive players who are projected to be first-round or second-day picks in the 2018 NFL Draft.
But if there was one player who may carry more importance to the Buckeyes this season, Noon said it would be junior linebacker Jerome Baker.
Tasked with having to replace Raekwon McMillan (a second-round pick by the Miami Dolphins) as the new starting middle linebacker, Noon said everything is setting up for Baker to have "a meteoric rise" this season.
The Cleveland, Ohio, native took over as a starting outside linebacker early last year and ended up leading the team with 79 total tackles, earning honorable-mention All-Big Ten.
Spring surprise: WR Johnnie Dixon
As Ohio State looks to find its next go-to wide receiver, no player may have helped his cause towards earning that title more than junior Johnnie Dixon.
A 5-foot-11, 195-pound native of West Palm Beach, Fla., Dixon has been hampered by injury throughout his college career, including dealing with two arthritic knees. It even got to the point where he struggled to participate in consecutive practices last season.
However, Dixon didn't miss a single practice this spring and was one of the stars of the spring games, hauling in six catches for 108 yards and two touchdowns.
Given the Buckeyes' need for a playmaking wide receiver, Dixon has a chance to have a breakout year in 2017.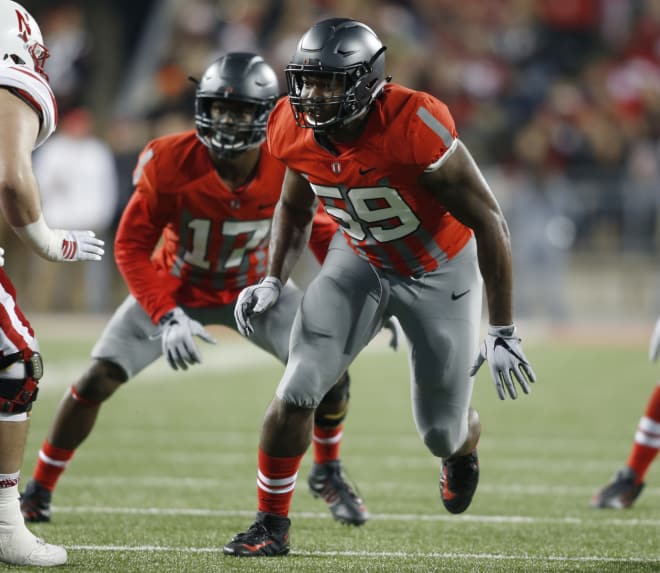 Best position battle: Cornerback
Of the losses in the secondary, cornerback was the position hit the hardest by NFL attrition.
After losing two first-round draft picks in Lattimore and Conley, Ohio State obviously has some major shoes to fill. Junior Denzel Ward, regarded as OSU's next NFL corner, is projected to be the No. 1 coming out of the spring.
The question is who will be the No. 2 across from Ward? The Buckeyes are apparently very high on junior college transfer Kendall Sheffield, who originally signed with Alabama out of high school.
But things will get even more interesting this fall with the arrival of what Noon called a "once in a lifetime" cornerback recruiting class, highlighted by five-stars Jeffrey Okudah and Shaun Wade.
Ohio State rotated three cornerbacks in 2016. Will it stick to a three-man rotation, or add a fourth player or more to that mix?
Biggest question: Will the passing game be up to par?
Arguably the biggest factor in determining how far Ohio State can go this season will be the effectiveness of its passing game.
Barrett needs to get back to throwing the ball with the same confidence he showed as a redshirt freshman, and there needs to be some wide receivers step up as the go-to playmakers in the passing game.
Meyer has made it clear that he wants his run/pass balance to be as close to 50/50 as possible, but if the passing game sputters, Noon said it wouldn't be surprising if the Buckeyes leaned closer to a 65/35 split behind sophomore running back Mike Weber, last season's Big Ten Freshman of the Year and Freshman All-American.
If the chemistry and confidence between Barrett and the receivers develops, OSU's offense could be one of the best in all of college football. If it doesn't, though, that could be the one thing that holds the Buckeyes back.
Early outlook on Ohio State vs. Nebraska
"Obviously many people didn't see Ohio State-Nebraska ending up the way that it did last year. The Buckeyes, probably at that point in the season, will already know who they are, and I wouldn't want to be picking up against Ohio State at that point in the year because they probably should have solved any issues that may arise early in the season.
"I think Ohio State will be explosive, maybe not as explosive as last year, but I think they have a lot to atone for from their last trip to Lincoln (in 2012), which was a colossal collapse. At this time, I think Ohio State is probably a couple scores better than the Huskers."
Overall 2017 win-loss expectation
"If you talk to fans, it's undefeated every year. I think that Ohio State has a very favorable schedule in a lot of ways. Oklahoma comes to Columbus, and there are some challenging road games, but they are definitely things that Ohio State can navigate.
"I think it's ultimately going to come down to the last game of the season in Ann Arbor (vs. Michigan). But if Ohio State is kind of able to regain its form that it had for the majority of last season, an undefeated run is certainly achievable."