Spring opponent review: Illinois
After a disappointing 3-9 campaign in Lovie Smith's first season as head coach, Illinois is looking to take a big step forward in 2017.
However, the Fighting Illini are still looking to find answers for some major questions facing their team coming out of spring practices.
To get the latest on where UI stands heading into the summer, we caught up with Doug Bucshon of OrangeandBlueNews.com for his thoughts and perspective of the team.
Previous Spring Opponent Reviews: Arkansas State | Oregon | Northern Illinois | Rutgers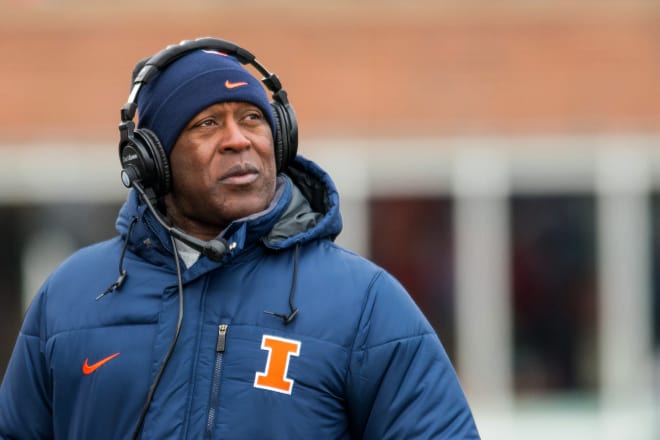 Spring overview
Maybe the biggest obstacle Illinois had to overcome during spring practices was just having to play the numbers game in terms of the notable lack of depth at several key positions.
In fact, the roster was so thin at some spots that the Fighting Illini didn't even hold a true spring game, instead opting for an open public practice to close out the spring.
The biggest question mark by far is at quarterback, as former starter Wes Lunt is gone and no one came close to filling his shoes as the clear No. 1 heading into the fall.
Junior Chayce Crouch is the most experienced returning signal caller, but he was held out for the spring due to offseason surgery.
That left sophomore Jeff George Jr. as the only active scholarship quarterback available for Illinois during spring ball.
The good news was George got nearly every rep, but the lack of proven talent under center is a top concern.
Arguably the second-biggest worry is on the other side of the ball on defensive, as the Illini lost some major pieces in ends Dawuane Smoot (a third-round pick by the Jacksonville Jaguars) and Carroll Phillips as well as their top tackler from 2016 in linebacker Hardy Nickerson.
Returning starters
Quarterback was the clear concern throughout spring ball, but replacing the talent lost on defense was also a definite priority for Illinois.
The fact is that none of the returning defensive ends established themselves as Smoot or Carroll's successors, and Bucshon thinks the Illini will have to rely on some incoming freshmen to help immediately provide some depth.
The offensive line lost two full-time starters and another with starting experience, but they return junior Nick Allegretti and senior Christian DiLauro to lead the way up front.
Illinois' backfield took a hit when running back Ke'Shawn Vaughn transferred to Vanderbilt over the offseason, but 2016 leading rusher Kendrick Foster is back as UI's primary offensive weapon.
At receiver, former All-Big Ten and Freshman All-American Mike Dudek is back again after recovering from his second-straight season-ending knee injury.
Bucshon said Dudek is as close to full strength as he's been in years, and if he can be 90-percent of the player he was as a freshman, UI will have a legit go-to target in the passing game.
The secondary had to rely on several young players to step up and play a lot of snaps last year, so there is some experience returning in the defensive backfield. But Bucshon said there are no proven stars right now at either defensive back or linebacker.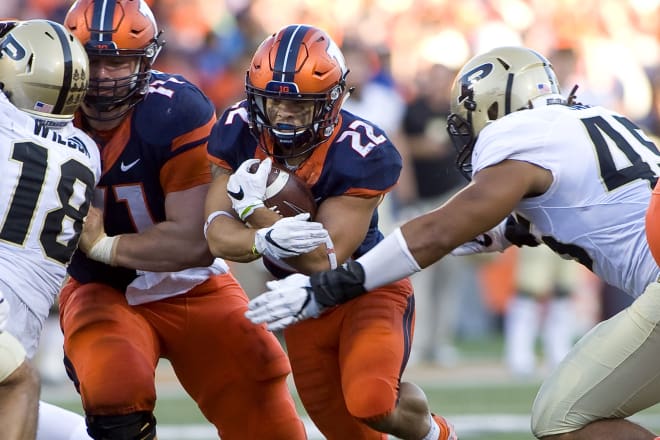 Offensive star: RB Kendrick Foster
Senior running back Kendrick Foster is by no means the biggest player on the field, but he is far and away Illinois' best offensive playmaker heading into 2017.
The 5-foot-9, 200-pound native of Peoria, Ill., led the Illini in rushing yards (720), rushing touchdowns (7), total touchdowns (9) and all-purpose yards (1,328) last season while also serving as the team's primary kickoff returner.
Foster was able to pick up his yards in bunches, too, ranking third in the Big Ten at 5.71 yards per carry and posting three runs of 50 yards or longer.
Defensive star: CB Jaylen Dunlap
On a defense that lost a large amount of star power from last season, senior cornerback Jaylen Dunlap has assumed the title as Illinois' best overall defensive player heading into 2017.
The 6-1, 190, native of Chicago boasts NFL potential and is coming off a junior campaign where he ranked fourth on the team with 63 tackles and broke up 11 passes, tying for the 10th-highest total in school history.
Spring surprise: TE Griffin Palmer
Tight end was another position that took a major hit to attrition this offseason, as Illinois lost three seniors to graduation.
The good news was redshirt freshman Griffin Palmer looked to have taken the reigns as the new No. 1 coming out of the spring.
At 6-5, 220, Palmer is a former two-star recruit from St. Louis whose father played tight end at Iowa from 1985-89.
Palmer was named to the St. Louis Post-Dispatch's Super 30 team as a senior, and the Illini are hoping that carries over to the next level in Champaign.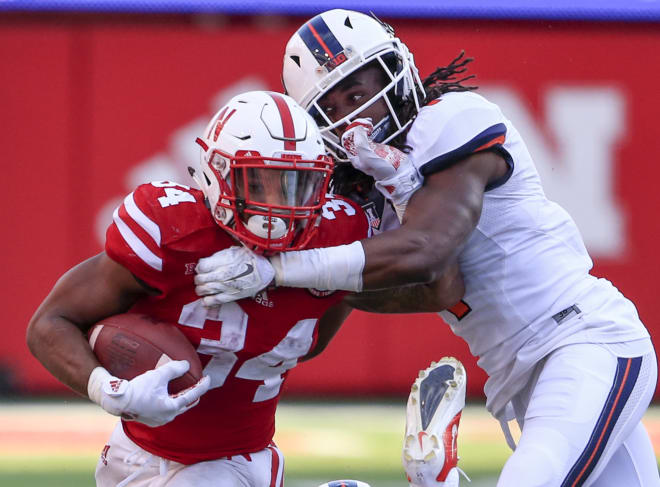 Best position battle: Defensive end
Outside of quarterback, defensive end might have the biggest shoes to fill entering the 2017 season.
Losing talents like Smoot and Phillips (who signed with the Jaguars as an undrafted free agent) leaves a major void, and the Illini will have to get creative to try and replace them
Senior James Crawford is a former "star" - a hybrid end/linebacker - who is being counted on to move to a full-time defensive end despite being listed at just 6-2, 220.
On the other side, it's looking like UI will rely on a true freshman in Owen Carney, who enrolled early for the spring.
He and junior college transfer Sean Adesanya will continue to battle for a starting job in the fall.
Biggest question: Who will be the quarterback?
There is no doubt that the lack of quarterbacks available even to get through a practice was the No. 1 issue facing Illinois this spring, and it will continue to be a major question mark heading into fall camp.
Along with Crouch and George, Illinois had hoped to add Dwayne Lawson - the starter on the Garden City (Kan.) C.C. juco national championship team - to the mix this summer, but he has yet to graduate and can't enroll at UI until he does.
When healthy, Crouch would be the assumed starter to open the season, but he's still working his way back from a torn labrum in his throwing shoulder.
Early outlook on Illinois vs. Nebraska
"Illinois has played Nebraska pretty well, but Mike Riley seems to have his system in place now and he's getting the players that he likes for that type of offense. Illinois is kind of in a holding pattern right now.
"They got a good recruiting class last year, but they're not ready to play yet. I think Nebraska will come in riding high from last season. It'll be a W circled on their calendar. I think Illinois is still going to have a lot of trouble stopping the run, and that's what Nebraska has traditionally done well.
"I expect Nebraska to come in and win that game, it's just a matter of Illinois being competitive. I think Lovie Smith this year, he really needs to stay competitive in these types of Big Ten games just to get some buzz going.
"That's a game that Nebraska should be looking at as very winnable, and I would expect them to come in and take care of business."
Overall 2017 win-loss expectation 
"Illinois only won three games last year. They were hoping for more, obviously, especially with the buzz of the Lovie Smith hire to maybe try and get to a bowl game. It didn't happen, and they lost some games early in ugly fashion.
"You want to come in this year and take care of business in those early non-conference games and try to win games at home and get some momentum going. But we're still looking at a team right now that's young, that has question marks at the quarterback position, and they lose players off the defense.
"So I think they'll improve on the three-win season because the schedule's a little bit better, but right now you can't project this team for a bowl game. Four or five wins is what we're looking at."