Spring opponent review: Arkansas State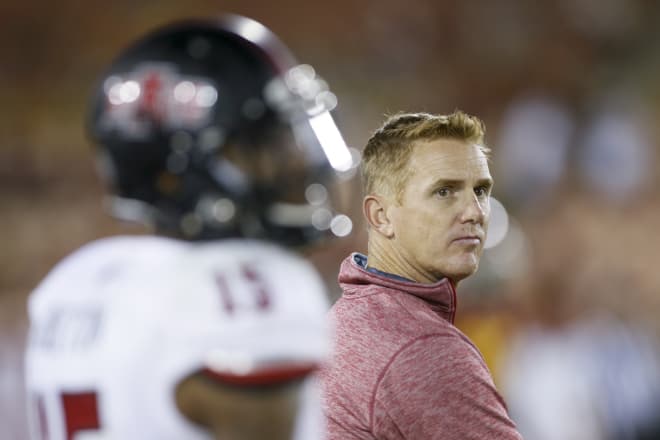 With spring practices finally wrapping up around the country, HuskerOnline.com will take a look at where each of Nebraska's 12 opponents in 2017 currently stand coming out of spring ball and heading into the summer.
Today, we start off by checking in on the Huskers' first matchup of the season in Arkansas State, which comes to Lincoln on Sept. 2.
To get a feel for where the Red Wolves stand heading into their fourth season under head coach Blake Anderson, we spoke with RedWolfReport.com's Luke Matheson to get his thoughts and perspective on the team and what to expect once the season gets underway in a few months.
Spring overview
After an awful start to last season where it lost its first four games, Arkansas State rebounded to win eight of its final nine contests in 2016, including topping Central Florida in the AutoNation Cure Bowl.
That momentum carried over into the spring, and expectations are high for the Red Wolves once again this year. The big story was the competition for the starting quarterback job between junior incumbent Justice Hansen and redshirt freshman Logan Bonner.
Matheson said the quarterbacks basically split reps all spring and both performed well, leaving ASU no closer to naming a starter heading into the summer than they were going into spring ball.
Matheson said no starter is expected to be announced to open fall camp, and there's a chance the Red Wolves could go with a two-quarterback system for the first couple of games until Hansen or Bonner locks up the job.
Regardless of who the quarterback is, he will have some weapons to work with. All-Sun Belt Conference running back Warren Wand returns, as do receivers Omar Bayless, Darveon Brown, Dijon Paschal, and Arkansas transfer Kendrick Edwards.
However, all five starters on the offensive line are gone and only three linemen from last year's two-deep are back in 2017.
Big questions still need to be answered on the other side of the ball as well, as Arkansas State must replace a number of starters on the defensive line and in the secondary.
Returning starters
Arkansas State brings back the majority of its offensive production from 2016, but there are some major holes to fill on defense.
The biggest losses came on the defensive line, particularly on the interior at tackle, as the Red Wolves lost their top three players including two all-conference selections.
Former Freshman All-American and multi-year All-Sun Belt defensive end Ja'Von Rolland-Jones is back for his senior year, and he'll be looking to add to his conference record career sack total that he set midway through his third season last year.
In the secondary, ASU only featured one active scholarship safety on its spring roster. The good news is it will add three new junior college transfer safeties to the mix this fall, but how long it takes the unit to gel will be a huge issue entering the season.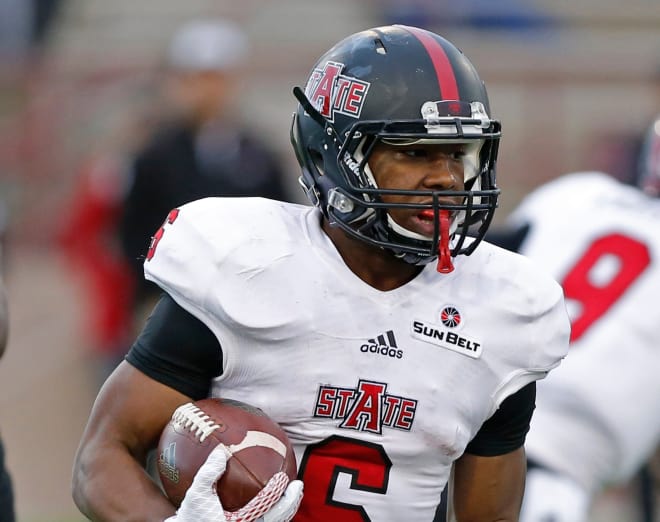 Offensive star: RB Warren Wand
Despite not having a starting quarterback at this point, Arkansas State does have one of the Sun Belt's most electric playmakers in running back Warren Wand.
He's only listed at 5-foot-5, 179 pounds, but the junior from Edmund, Okla., is known for his big-play ability and led ASU with 879 rushing yards and seven touchdowns while also catching 24 passes with three more receiving scores.
Defensive star: LB Kyle Wilson
Kyle Wilson wasn't even a starter through the first half of last season, but he ended the year as one of Arkansas State's best overall defenders and the clear No. 1 at MIKE linebacker.
The former junior college transfer ended up taking the starting job midway through the season and finished ranked fourth on the team with 79 tackles along with 15.5 tackles for loss, three sacks, and nine quarterback hurries.
In fact, Wilson played so well that not only did the previous starter lose his job, he ended up quitting the team towards the end of his senior year.
Spring surprise: DE Griffin Riggs
Arkansas State is set at one of its defensive end positions with Rolland-Jones, who racked up a team-high 13.5 sacks and 20.5 tackles for loss in 2016.
The question was who would take over as the other starter opposite of him? At this point the answer looks to be junior Griffin Riggs.
A transfer from Auburn who was already solidified in the rotation last season, Riggs was sidelined with an injury towards the end of the year. He came back in a big way this spring and looks ready to help shore up ASU's front four.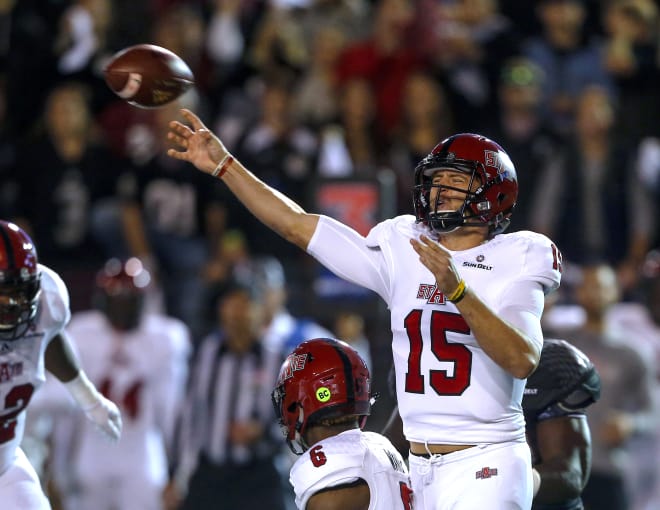 Best position battle: Defensive line
The quarterbacks obviously got the bulk of the attention over the course of the spring, but Matheson said maybe just as important was the competition along the defensive line.
For a team that has always prided itself on a relentless pass rush, the Red Wolves are going to need a number of new faces to step up and fill some voids this season.
Rolland-Jones will lead the way in that regard, and senior Caleb Caston will also factor in along with Riggs at defensive end.
At defensive tackle, senior Donovan Ransom and Alabama transfer Dee Liner should hold down places in the rotation, and two juco transfers will help add more depth in the fall.
Biggest question: Will depth emerge at safety?
Given the fact that Arkansas State's defense has always hung its hat on forcing turnovers, it makes the depleted depth at safety that much more of a concern.
Sophomore B.J. Edmonds was the only active returning scholarship safety this spring, meaning the three new juco additions the Red Wolves are adding this fall will get an immediate shot at playing time.
Jefferie Gibson, a former Clemson signee before going the juco route, Caleb Bonner and Michael Johnson all fit the mold physically of what ASU wants in its safeties, but it will come down to how quickly they can pick up the defense that will determine their early success.
Seeing how Arkansas State wasn't really able to address its safety situation this spring, Matheson called it "a dire need" that must come together in a hurry this fall.
Early outlook on Arkansas State vs. Nebraska
Matheson: "Arkansas State, there's been times where they have played well early in the year, and then there's times like last year where they lost all three of their non-conference games. I think with the questions in the defensive backfield, it's going to be really hard to start the season off trying to get a win against such a quality opponent like Nebraska.
"Regardless of the outcome, I think it's really going to be a good test for them because it gives them a quality opponent, and the despite some of the non-conference losses in the past, playing a quality opponent like Nebraska has really helped Arkansas State when they go into conference play.
"The record speaks for itself. If you look over the past three years, they've lost one conference game and they've won four of the last five Sun Belt championships. So it definitely benefits them to play these type of games, whether they win or they lose."
Overall 2017 win-loss expectation
Matheson: "I definitely think eight wins, possibly 10 with a really good year. But I think the bar is set at eight wins, and that's because they've shown a history of being able to win eight regularly in conference.
"They've got a couple of non-conference games that I think are definitely going to be winnable, so you factor those in, 10 wins is definitely foreseeable.
"The thing about how the Sun Belt Conference sets up, if they beat Lafayette, Troy and Appalachian State, that's really their three toughest tests. You win those three games, you're pretty much going to go undefeated (in conference)."