Spring opponent review: Northern Illinois
With spring practices finally wrapping up around the country, HuskerOnline.com will take a look at where each of Nebraska's 12 opponents in 2017 currently stand coming out of spring ball and heading into the summer.
Today, we continue by checking in on the Huskers' final non-conference matchup in Northern Illinois, which comes to Lincoln on Sept. 16.
To get a feel for where the Huskies stand heading into their sixth season under head coach Rod Carey, we spoke with the DeKalb (Ill.) Daily Chronicle's Jesse Severson to get his thoughts and perspective on the team and what to expect once the season gets underway in a few months.
Previous Spring Opponent Reviews: Arkansas State | Oregon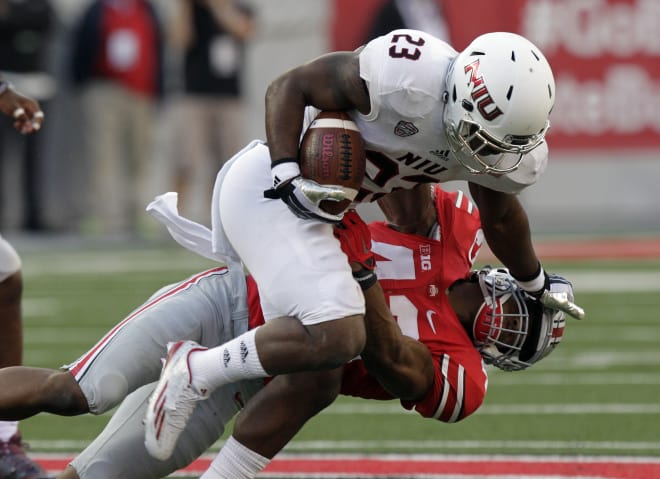 Spring overview
Like many teams, the primary focus surrounding Northern Illinois' spring was on the quarterbacks, as the Huskies began their search for a new starter for the 2017 season.
Unlike most teams, that competition ended up even more cloudy than it was to open spring ball.
Junior Ryan Graham and sophomore Daniel Santacaterina came in as the top two candidates for the job, but redshirt freshman Marcus Childers (a transfer from Memphis) ended up making it a three-man race by the time the spring game rolled around.
According to Severson, it wasn't a matter of all three quarterbacks impressing enough to a make their own strong case, but more so about seeing "who's the best at not being the worst." Severson pointed out that each guy does something "kind of well" while running the offense, but nothing elite.
As a result, the Huskies will likely gear towards a run-oriented offense more than ever in 2017. Senior Jordan Huff, who sat out most of the spring for precautionary reasons with an injury, is a home-run hitter at running back and will lead the way in that regard.
But with even more question marks at wide receiver and on an offensive line that doesn't feature one senior on the roster, yards and points may prove tough to come by at times for NIU.
On defense, Northern Illinois brings back a deep and talented secondary, which is far and away the biggest strength of the team. However, inexperience at linebacker and on the defensive line are concerns that still remain entering the summer.
Returning starters
While the offense is still very much in flux, Northern Illinois feels better about the depth it returns on defense, particularly in the secondary.
Senior cornerback Shawun Lurry, who had big sophomore season in 2015 and led the nation with nine interceptions, is back as the leader of the defense.
Much of the depth after Lurry was created by a rash of injuries in the defensive backfield last season, which forced a number of players to rise up the depth chart and see playing time.
The same definitely can't be said on the other side of the ball at wide receiver, as NIU loses star Kenny Golladay, who was drafted in the third round by the Detroit Lions, as well as Aregeros Turner, one of the school's all-time leaders in all-purpose yards.
Combine the attrition at wide out and the lack of an established quarterback, it's easy to see why the passing game could be an issue for the Huskies in 2017.
Offensive star: RB Jordan Huff
Maybe the best thing Northern Illinois' offense has going for it coming out of spring practices is senior running back Jordan Huff.
The No. 2 back on the depth chart last season behind Joel Bouagnon, Huff still racked up 703 rushing yards at 6.3 yards per carry along with five touchdowns on the ground.
The 5-foot-11, 224-pound native of Mobile, Ala., made his mark as a home-run hitter, as Severson said Huff would have stretches where he'd run for two, one and three yards and then break loose for a 60-yard touchdown.
With NIU likely to lean heavily on the run all year, Huff will get every opportunity to be the Huskies' workhorse.
Defensive star: CB Shawun Lurry
Two years ago, Shawun Lurry had emerged as one of the best lockdown cornerbacks in all of college football.
By hauling in a whopping nine interceptions - the most in FBS - Lurry was named a first-team All-American (Phil Steele, FWAA) in 2015.
The West Palm Beach, Fla., native entered his junior year in 2016 on the Thorpe Award, Nagurski Trophy, and Walter Camp Player of the Year watch lists, and there were grumblings that he might forego his senior season and jump to the NFL.
Because of his high profile, though, teams learned not to throw his direction if possible, and along with some injury issues he ended up with only three interceptions.
Now the 5-foot-8 senior returns as the face of NIU's defense, which will have to carry a heavy load this year.
Spring surprise: LB Kyle Pugh
Last year Kyle Pugh was a redshirt freshman who didn't record a single defensive statistic. Now he heads into the summer as a frontrunner to start at middle linebacker this season.
At 5-11, 218, Pugh is by no means the biggest middle linebacker out there, but his speed, athleticism and nose for the football helped him emerge as one of the Huskies' better defensive playmakers this spring.
In fact, Pugh is already drawing comparisons to former NIU linebacker Boomer Mays, who was a three-year starter and a two-time All-MAC selection.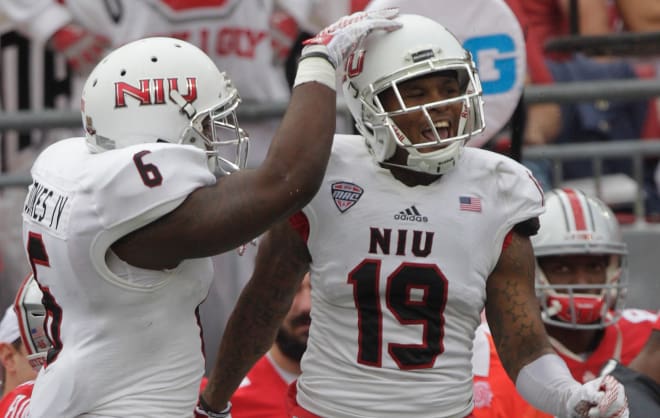 Best position battle: Quarterback
There's an old saying that if you have two No. 1 quarterbacks, you really don't have any. Well, that holds especially true in Northern Illinois' case.
On the positive side, it could be a promising sign that Childers was able to force his way into the conversation against more veteran competition.
On the other hand, the fact that none of the three look to be close to locking up the job leaves a lot of questions left to be answered heading into fall camp.
In Severson's mind, it's probably more of an issue of the latter. All three had their moments this spring, but overall passing accuracy was a major concern.
Biggest question: Will the passing game come together?
With no established quarterback and a dearth of returning experience at wide receiver, throwing the football could be an adventure for Northern Illinois early on.
Not only did the Huskies lose their two most veteran playmakers at the position from last year, most of the returning wide outs fit the mold of the smaller slot receivers, leaving a lack of a big, physical go-to target.
Add in the issue of inconsistent accuracy from the quarterbacks, and it looks like NIU - already known primarily as a running team - will lean on the run game more than ever.
Early outlook on Northern Illinois vs. Nebraska
Severson: "Obviously Nebraska is going to have the edge. I mean, it's a Power Five school, and a good Power Five school at that.
"I think this is going to be a transitional year for NIU, just because a lot of their players are kind of on the young side and we haven't really gotten a lot of quarterback consistency at this point. There's still so many question marks on offense in terms of who is going to be the big-play receiver and can whoever ends up being the quarterback deliver the ball?
"So obviously coming in, if I had a crystal ball I would say Nebraska should take care of NIU regardless. But football is kind of a funny thing, you don't know what's going to happen. Maybe one of these quarterbacks is going to emerge as the guy, but right now, I just don't see it."
Overall 2017 win-loss expectation
Severson: "It's interesting, because last year they went 5-7 and that was kind of an underachieving season. If you look at who was graduating, you sort of felt like this coming season was going to be the 5-7 season.
"Last year they had a lot of close losses and were probably better than 5-7, and this year definitely feels like a transitional season. I think if they get to five wins that would actually be surprising.
"At NIU, it's a lot of just trust the foundation, trust the organization of the machine of Northern Illinois, because they've pumped out so many strong seasons in the past. But with coach Rod Carey sort of on the hot seat and the question mark at quarterback, I would be surprised if they make a bowl game."