Will Wisconsin vs. Nebraska decide the Big Ten West in 2017?
The Wisconsin Badgers entered the spring fresh off an 11 win season and capped things off with an impressive victory over undefeated Western Michigan in the Cotton Bowl.
We continue our post spring look at Nebraska's opponents by providing a full run down of the Badgers. They will come to Lincoln on Oct. 7 in a key Big Ten West showdown.
HOL caught up with BadgerBlitz.com's John Veldhuis to get his take on Wisconsin coming out of the spring.
Previous Spring Opponent Reviews: Arkansas State | Oregon | Northern Illinois | Rutgers | Illinois
Spring overview 
When Velduis looks at the Badgers going into 2017, this is really more of a "reloading season" vs. a "rebuilding one."
They are built to win the Big Ten West again, and they have a pretty favorable schedule to do it, with Michigan being their only tough crossover game, but the Wolverines come to Madison in late November.
All of the big questoins going into this spring where answered right away, starting with the quarterback position. Head coach Paul Chryst named sophomore Alex Hornibrook the starting quarterback at the very beginning of the spring, eliminating any real questions there.
They also added a solid transfer Nick Nelson from Hawaii who is expected to be a difference maker at cornerback right away for the Badgers.
For the most part it was a very status quo spring for Wisconsin, as their program is pretty well established under Chryst.
Returning starters 
The Badgers return eight starters on both offense and defense. The big questions on offense are at left tackle and running back. They also have to replace one wide receiver, but return their top two targets from a year ago in Jazz Peavy (43 catches) and tight end Troy Fumagalli (41 catches).
With four of five starters returning on the offensive line, the Badgers will plug in David Edward at left tackle to replace first round draft pick Ryan Ramczyk.
Meanwhile on defense they must replace both outside linebackers T.J. Watt and Vince Biegel. Watt was also a first round pick in the draft, while Biegel went in the fourth round.
The other starter they lost on defense was at safety. On paper this appears to be your classic Wisconsin team coming out of the spring, loaded with depth and talent on the offensive line and on the defensive front seven.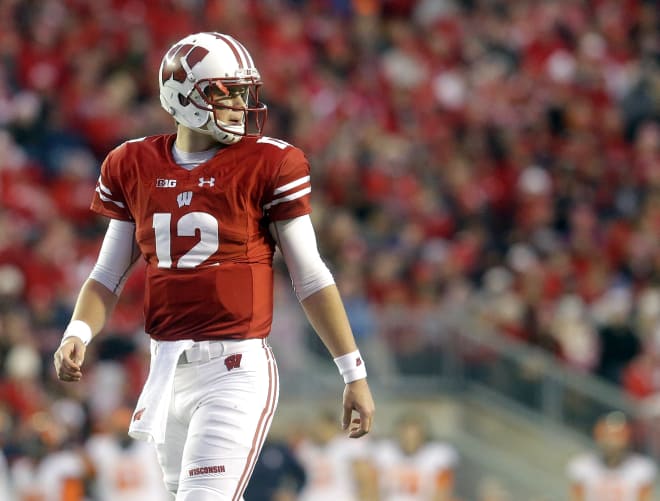 Offensive star: QB Alex Hornibrook 
After splitting reps with now graduated senior Bart Houston, Hornibrook will be the Badgers outright starter at quarterback in 2017.
Hornibrook led Wisconsin in both passing yards and passing touchdowns in 2016, and is expected to take a big step forward with nearly his entire offensive line and top two receiving targets returning.
Defensive star: LB Jack Cichy
Wisconsin is loaded at the inside linebacker position, and look for junior Jack Cichy to lead the way in 2017 for the Badgers.
The 6-foot-2, 225 pound Cichy was well on his way to being first-team All-Big Ten until he suffered a season-ending injury in Wisconsin's seventh game of the season. He was the Badgers leading tackler at that point with 61 stops.
The previous years Cichy was the MVP of the Holiday Bowl after logging quarterback sacks on three consecutive plays.
Spring surprise: RB Chris James
Pitt transfer Chris James should factor in at running back with Bradrick Shaw, who is the Badgers returning leading rusher from a year ago.
Shaw played for Chryst at Pitt, and after sitting out the 2016 season, he'll have two years of eligibility and a very good offensive line to run behind in 2017. In two years at Pitt James had 143 carries for 690 yards and four touchdowns. He was a former four-star recruit coming out of high school.
Best position battle: Running back 
The Badgers lost both Corey Clement and Dare Ogunbowale from 2016, which put both Shaw and James in a battle for the starting job this spring.
Most expect Shaw to be the guy, but James should also play this season as well. This is typically a position where the Badgers never have a problem plugging in the next guy.
Biggest question: Replacing Watt and Biegel on the edge 
This defense has just about everybody back in 2017, but they do have to replace two outside linebackers in Watt and Biegel who were high NFL draft picks and regarded as two of the best pass rushers in the Big Ten.
Look for fifth-year senior Garrett Dooley to get a look to fill one of those positions as this will be a big early question with the Badgers defense.
Early outlook on Wisconsin vs. Nebraska 
Veldhuis: "Without hyperbole, I think that's the game that decides who wins the Big Ten West. I'm curious as to what Iowa looks like, but I think Wisconsin and Nebraska are your top two contenders for the division.
"I guess it's probably too early to say who's going to win that one, but if not No. 1, it's probably the No. 2 most important game for the Badgers this year."
Overall 2017 win-loss expectation 
Veldhuis: "I think it kind of depends on how optimistic you are about the team in general. Their schedule is much more forgiving in large part, because they don't open up this year against an SEC heavyweight like LSU or Alabama, like they have over the last three years or so. You also don't have to play Ohio State or Penn State in the regular season. They do have Michigan on the schedule, but they come to Camp Randall for the first time since 2009.
"The Michigan game, along with the Nebraska game are probably their two make or break games as far as how far they go as what their overall win total looks like. I think they should probably get to 10 wins this season, and if they are living up to what I think they can be based on what I've seen in the spring, I could easily see an 11-win regular season.
"Really if they win that Nebraska game, they could be one of those teams that's angling for a spot maybe in the college football playoff when Michigan comes to town. If they win that Nebraska game in Lincoln, all sorts of doors open for them as along as they take care of the rest of their business. I think it's going to be a really interesting season for the Badgers this year. I'm really interested to see where it all goes."