Spring opponent review: Northwestern
Northwestern has been close to contending in the Big Ten Conference over the past few years, but it's always been left with no cigar when all was said and done.
But with a talented and veteran roster coming back, the Wildcats have their sights set on a West Division title and more heading into the 2017 season.
We caught up with WildcatReport.com's Louie Vaccher to get an idea of where things stand with Northwestern coming out of spring ball and what the expectations are going into the fall.
Previous Spring Opponent Reviews: Arkansas State | Oregon | Northern Illinois | Rutgers | Illinois | Wisconsin | Ohio State | Purdue
Spring overview
Oddly enough, maybe the most newsworthy items to come out of Northwestern's spring practices had to do with things off the field as opposed to what happened on it.
Two of the biggest offseason storylines for the Wildcats were locking up head coach Pat Fitzgerald with a 10-year contract extension through 2027 and the debut of a brand-new $260 million football facility on the coast of Lake Michigan.
While those were certainly two notable items, a big reason they stole most of the headlines was due to Northwestern simply having a very quiet 15 spring practices.
It was business as usual for the Wildcats, who return junior quarterback Clayton Thorson, senior running back Justin Jackson and the majority of their starting defense from a year ago.
Maybe the most interesting story to follow was who was going to replace all-everything middle linebacker Anthony Walker, who opted to forego his senior season to become a fifth-round pick to the Indianapolis Colts.
Redshirt freshman Paddy Fisher and sophomore Nathan Fox went head-to-head for the job this spring, and that battle will continue on into the fall.
Northwestern will also have to replace top receiver Austin Carr, who signed with the New England Patriots as an undrafted free agent, but junior Flynn Nagel looks ready to take the reigns as the new No. 1 target.
Returning starters
Northwestern is one of the few teams in the Big Ten which has the fortune of returning starting experience at nearly every position on both sides of the ball.
Along with Thorson and Jackson back to lead the way on offense, four starters are back on the offensive line. That said, Fitzgerald was publicly critical of the o-line on several occasions last year, so that group needs to step up in 2017.
The secondary might be the overall strength of the team, with senior safety Godwin Igwebuike leading the way as arguably the best player on the defense.
Replacing Walker is obviously a big chore, but the wealth of experience and athleticism the Wildcats bring back will make their defense one of the better units in the Big Ten this season.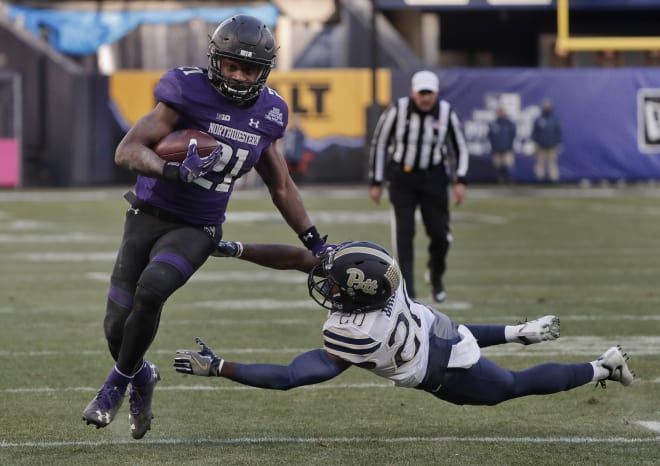 Offensive star: RB Justin Jackson
Not only is senior running back Justin Jackson arguably the best player on Northwestern's roster, he's also one of the best overall running backs in the Big Ten heading into the season.
Jackson has been the player opposing defenses have keyed in on every game for the past three seasons, and yet he's still just 358 yards away from becoming the Wildcats' all-time leading rusher.
Having already eclipsed the 1,000-yard mark his first three years, Jackson could become just the second Big Ten running back ever to accomplish that feat in all four years of his career, joining only Wisconsin's Ron Dayne.
Only eight players have ever recorded four consecutive 1,000-yard seasons in FBS history.
Defensive star: S Godwin Igwebuike
Senior safety Godwin Igwebuike is the best player and the clear leader of Northwestern's defense this season, and he'll be charged with filling Walker's void on and off the field as much as anyone.
After deciding not to jump to the NFL early and return for his senior year, Igwebuike gives the Wildcats one of the best big-hitting, ball-hawking safeties in the conference.
The 6-foot, 205-pound native of Pickerington, Ohio, led the team with 108 total tackles last season and was named second-team All-Big Ten in 2016.
Spring surprise: LB Paddy Fisher
There are no bigger shoes to fill on Northwestern's roster this season than Walker's, and the player who might be in line to attempt that task is redshirt freshman Paddy Fisher.
A 6-foot-3, 235-pound native of Katy, Texas, Fisher caught the attention of his coaches last season with his play on scout team, earning Defensive Practice Player of the Week early in the year.
While he still has to hold off Fox this fall to lock up the starting job, Fisher is the type of physical, instinctual playmaker that Fitzgerald loves in his middle linebackers.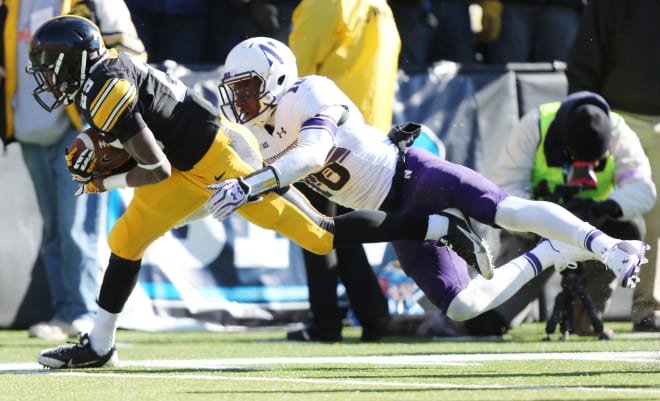 Best position battle: Right tackle
Obviously replacing Walker was a major storyline, but Northwestern also began its search for a new starting right tackle this spring.
Redshirt freshman Gunnar Vogel got the bulk of the reps with the first-team offense, but the competition will pick up in a big way this fall with the arrival of Georgia Tech grad transfer Trey Klock, who boasts two seasons of eligibility.
As a result, there weren't really answers gained from spring ball and the battle won't even begin until the start of fall camp.
Biggest question: Will the offensive line be the weak link?
Even with four of the five starters back this season, Northwestern's offensive line remains undoubtedly the biggest question mark that could ultimately dictate this season more than any other position.
Many of the Wildcats' offensive problems last year came as a result from poor play up front, and Fitzgerald didn't hesitate to call the group out in the media after especially bad performances.
Fitzgerald upped the ante even more this spring when he said the Wildcats would only go as far as its offensive line would take them. Will the unit rise to the occasion? Or will it be the one thing that holds Northwestern back?
Early outlook on Northwestern vs. Nebraska
Vaccher: "Honestly, I think we're going to have another pretty exciting game. Northwestern and Nebraska have produced some pretty exciting games over the years, with last year being the exception.
"But I think Nebraska presents a lot of challenges for them. They go into Lincoln, and it's funny because Northwestern seems to play much better in Lincoln than they do in Evanston. They're 2-1 at Nebraska, with the one loss coming on a Hail Mary, and they're 0-3 at home.
"So I think we should be looking at another good matchup. I think Northwestern should have the edge. Like I said, they've got the most important position in quarterback nailed down, they've got a star at running back in Jackson, and I think their defense looks pretty good heading into next season.
"So I think Northwestern would have the edge. If I had to pick right now, I would take the Wildcats, but I'm sure it'll be a pretty good game."
Overall 2017 win-loss expectation
Vaccher: "Pat Fitzgerald has done a lot for the program. He's won two bowl games, and they've got three bowl wins in school history. He's the all-time winningest coach, and I think the expectation now is to make a bowl just about every year.
"But the one thing he hasn't done really is contend for a Big Ten title. He hasn't really contended in the (Big Ten) West, either. I think this is the year where they could do that. Looking at what they have coming back and the other schools in the West, I think they should be in contention for the title.
"They're going to find out early, because their first two Big Ten games are Penn State and Wisconsin, the two teams that played for the conference title last year. So they'll find out where they are in a hurry.
"In terms of wins, I'll say nine, but the expectation is for them to be in the hunt in the Big Ten West. I think this is the year they could do that."