Fall Camp Preview: WR/TE
As things get close to the start of fall camp on Aug. 4, HuskerOnline.com will spend the next few days breaking down the different position groups and biggest storylines heading into the 2016 season.
We continue today by taking a look at Nebraska's wide receivers and tight ends, which could very well end up being some of the deepest and most talented groups the Huskers have ever had.
WHAT WE KNOW: The talent is as good as ever
It's very rare with a program as rich in tradition as Nebraska to label a position group one of, if not the most talented groups the school has ever seen. But it's not just hyperbole when talking about the wealth of talent NU has at wide receiver in 2016.
Led by the likes of Jordan Westerkamp, Brandon Reilly, Alonzo Moore, Stanley Morgan, and De'Mornay Pierson-El, Nebraska's depth at wide out is not only as good as there is in the Big Ten Conference, but right up there with any team in college football.
Westerkamp is on pace to end his career as the most productive receiver in school history, while Reilly has gone from a walk-on to an impact playmaker who led the conference in yards per catch (18.1) last season.
Moore is coming off the best season of his career, and Morgan might end up being as good as any of them when all is said and done during his time in Lincoln. Then there's Pierson-El, who is returning from a gruesome knee injury but was an All-American return man in 2014 and was just starting to bloom as a go-to option in the passing game.
As if that weren't enough, tight end Cethan Carter is already being regarded as potentially Nebraska's top NFL prospect heading into the season. Behind Carter, NU boasts two experienced seniors in Sam Cotton and Trey Foster as well as redshirt freshman Matt Snyder.
WHAT WE WANT TO KNOW: How will NU use all of that talent?
There's the old saying that no matter how many great players an offense has, there is always only one football to go around on a given play.
That brings up the question of how Nebraska plans on utilizing so many different options in the passing game and maximizing all of the talent it has at its disposal. Tommy Armstrong is entering his fourth season as the starter, but most would agree that the formula for success isn't him dropping back and throwing 50 times in a game.
In fact, Nebraska was 0-5 last season when its quarterbacks attempted 40 or more passes.
At the same time, the Huskers would be foolish to not get the ball into the hands of some of the best players on the entire team. So what is the healthy balance?
That will be one of the big questions to keep an eye on during fall camp and through the first few games of the season.
WHAT WE'RE LOOKING FORWARD TO SEEING: Will Pierson-El be back?
The question is not whether Pierson-El is healthy enough to return to the field for the start of fall camp, it's will he be the same player he was before that devastating knee injury he suffered last Halloween at Purdue?
Before his injury, Pierson-El was on the verge of becoming a star in college football. He made his name as an elite punt returner as a true freshman and was emerging as one of Armstrong's favorite targets through the first half of last season.
But the reality is that Pierson-El is only nine months removed from his injury, and while he may feel good running and cutting during summer workouts, it's a completely different ball game once the pads come on.
If he can be anywhere close to what he was last October, Nebraska's wide receiver wealth will become borderline embarrassing.

FALL CAMP NEWCOMERS
Nebraska got an early look at one of its new receivers this spring when freshman Derrion Grim enrolled early, and it will add another weapon to the arsenal this fall in freshman J.D. Spielman.
Grim may be a year or two away from making a significant impact, but he showed flashes of his playmaking ability during spring ball and gave plenty of reason for excitement over his potential.
Spielman is like Pierson-El in many ways and he too is coming off of a knee injury he suffered while playing lacrosse earlier this year. A player who also relies so much on his quick-twitch running and explosiveness, Spielman had successful surgery and looks to be on track to return to action for fall camp.
It remains to be seen how far along he actually is in his recovery, but given all of the other options NU has in front of him, there's no reason to rush him if he's not ready.
It's a similar situation at tight end with incoming freshmen Jack Stoll and David Engelhaupt, as both look to be redshirting this season with so much experience ahead of them on the depth chart.
FALL CAMP PREDICTION
Outside of Pierson-El's health, there's not a whole lot left to be learned about Nebraska's receiver and tight end groups.
That means fall camp should pick up right where spring practice left off, with the wide outs and Carter making play after play on a daily basis.
The depth chart will also be a bit fluid when all is said and done, as pretty much every top-line wide out can play two or even all three receiver spots.
One thing to watch is how much Nebraska continues to experiment with Reilly inside at the slot receiver, where he was a match-up nightmare for the defense this spring.
PROJECTED FALL CAMP DEPTH CHART
'X' Receiver
1. Brandon Reilly, Sr.
2. Alonzo Moore, Sr.
3. Bryan Reimers, So.
'Z' Receiver
1. Alonzo Moore
-OR-
Stanley Morgan, So.
2. Derrion Grim, Fr.
3. Lavon Alston, RFr.
-OR-
Zack Darlington, So.
'SLOT' Receiver
1. Jordan Westerkamp, Sr.
2. De'Mornay Pierson-El, Jr.
TIGHT END
1. Cethan Carter, Sr.
2. Sam Cotton, Sr.
3. Trey Foster, Sr.
4. Matt Snyder, RFr.
-OR-
Tyler Hoppes, Jr.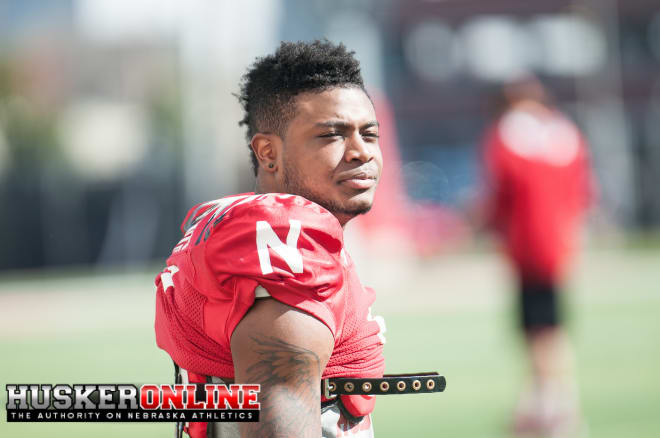 2016 FALL CAMP PREVIEW ARCHIVE