Fan Day notes: Change to summer program added new challenges
Here's a complete rundown of everything that came out of Saturday's Fan Day press conference where multiple different Husker players gave their thoughts as we get ready to open the 2017 season.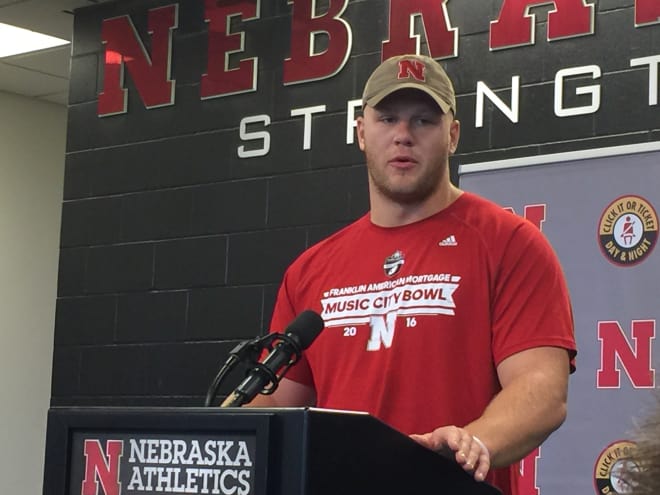 One of the bigger moves Nebraska made this off-season was a complete change to their summer conditioning program.
For years the Huskers have done more of their workouts in the early morning hours when the heat wasn't a factor.
This year head coach Mike Riley and his staff changed things up and made the team workout in the middle of the afternoon, and it added a whole another element to things.
"We're used to doing our runs for the most part in the morning before the sun's too high," junior defensive tackle Mick Stoltenberg said. "But three o'clock in the afternoon on some of those 100-degree days, it took a toll on a lot of guys but built up our conditioning and stamina a lot more than maybe we had previously… If you can go through that, you can go through camp and you can go through a game."
What's interesting is the Huskers now will hold their Fall Camp practices during the week from 9:30 am to 11:30 am on week days, so hopefully what they were exposed to all summer will make things that much easier in camp.
"This was probably one of the hardest summers we've ever been through, I would say," junior linebacker Dedrick Young said. "I think it was good for us."
-Sean Callahan
Freshmen defensive linemen have had an impressive summer 
With Nebraska's lack of depth and experience on the defensive line, it's become clear that both incoming freshmen Deontre Thomas and Damion Daniels are going to be in a position to see immediate playing time.
Both Thomas and Daniels have been here all summer and have already held their own.
"They're both incredibly hard workers," Stoltenberg said. "They've got awesome attitudes. They came in right away willing to learn. They weren't trying to be teachers, and I think that's really important. You come in from high school, a lot of guys have these big egos on them and they think they can come in and contribute right away and that they're opinion is the highest. But those two, man, they're awesome workers.
"They kind of remind of the (Khalil and Carlos) Davis with how they came in and worked really hard to try and contribute. I'm excited to see what they can do with actual football pads on."
-Sean Callahan
Gates used disappointing bowl game to fuel offseason
Nick Gates only watched the film of last year's Music City Bowl loss to Tennessee one time shortly after the game, and that's all he needed to provide an entire offseason's worth of motivation.

The junior left tackle received no shortage of criticism for his performance going up against future first-round NFL Draft pick Derek Barnett, as Gates struggled mightily for four quarters trying to stop the star defensive end.
So when he was asked Saturday what has been fueling him the past seven months, Gates got straight to the point.
"That last game," Gates responded. "That last game definitely pushed me."
Gates admitted that the ankle injury he suffered midway through last season played a big part in his poor play down the stretch, adding that he was probably only about 70-percent healthy for the bowl game.
But Gates quickly stressed that the injury was not an excuse, and now that he's back to full health he's ready to put together his best season yet in 2017.
"I'm definitely feeling a lot better and my body feels good," said Gates, who's now weighing 305 pounds, up from 290 last year. "I think I'm the strongest I've been since I've been here."
- Robin Washut
Bigger, stronger Stoltenberg ready to atone for 2016 lows
There were many who questioned whether Stoltenberg and his 6-foot-5 frame could adapt from a 4-3 defensive tackle to a nose tackle in Nebraska's new 3-4 scheme.

An impressive spring helped ease some of those worries, and just looking at the sophomore entering the start of fall camp, there might not be many concerns left by the time the season opens up.
Already one of the most physically imposing players on the roster, Stoltenberg said he's significantly bulked up his muscle mass over the course of the summer.
After playing primarily around 290 last season, including some points as low as 285, the Gretna, Neb., native said he's now up to 315.
Not only is he bigger and stronger than ever, Stoltenberg said he's used two of Nebraska's lowest points in 2016 - blowout losses to Ohio State and Iowa - as motivation to get himself primed for a breakout campaign.
"At least for me, that's something I think about every day when I come into work," Stoltenberg said. "Some of the things that happened last season, yeah, they stick with you. I think it's important to think about that. It's motivation, it really is."
- Robin Washut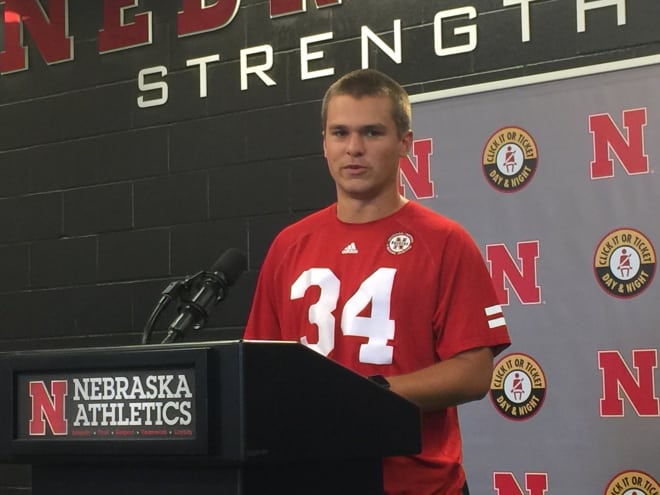 Brown sets high bar for Lightbourn in second season 
Caleb Lightbourn was thrown into the fire as a true freshman last season under some of the most difficult circumstances imaginable, as he had to try and fill the void left by the tragic death of Sam Foltz.
As might be expected, Lightbourn went through plenty of highs and lows as his debut year went on.
Now entering his second season as a Husker, the bar has most certainly been raised for the Washougal, Wash., native. His friend and fellow NU specialist, Drew Brown, might be leading that charge harder than anyone.
"I think he definitely has as much potential as anybody in the entire country," Brown said of Lightbourn. "It's just a matter of mentally being able to take that next step maturity-wise. As everyone knows, he got thrown into a rough situation last year, but in my opinion, that wasn't an excuse to have as many rough moments as he might have had.
"I had a rough freshman year as well, and I was able to pick it up year by year by year, and I think he'll do the exact same thing. He's one of the most talented punters for sure in our conference and definitely the nation, and I think he'll be able to take that next step."
- Robin Washut
Quick hits
***Brown said that with Scott Booker now coaching safeties, he'll no longer have as big of an involvement with special teams.
"He'll do best to split his time as much as he can, but I think working with the safeties will probably take more time and more effort," Brown said. "He'll try to split it up as much as he can, but I think he's going to have the end up spending more time with the defense."
***The team will practice five straight days starting on Sunday. Their first off-day of camp will be on Friday Aug. 4. From that point on they will have every Sunday off starting Aug. 6. By NCAA rule you are required to take one day off per week.
***Gates said the o-line is taking responsibility for being the unit that defines how good the offense can be with their play this season. He said that's pressure they're embracing.
***Gates said David Knevel is definitely a lot stronger this year after a really good summer of workouts.
***Brown said he doesn't really have any specific individual goals set for himself this season as far as stats or awards, he just wants to have a productive year and help the team win.
***Asked about long snapper Jordan Ober, Brown said probably half of the campus doesn't know who the long snapper is, and that's because Ober has done such a great job.
***Tight end Tyler Hoppes said it was definitely pretty high praise when Riley called him one of the best receiving tight ends he'd ever coached, and now he needs to go out there and live up to that.
***Hoppes said he thinks camp will actually better with no two-a-days and an extra week of practice. He said it should help the players stay fresh with now really long, grueling days.