Fall Camp Preview: Wide Receiver/Tight End
As things get close to the start of fall camp, HuskerOnline.com will spend the next few days breaking down the different position groups and biggest storylines heading into the 2017 season.
We continue today by taking a look at Nebraska's wide receivers and tight ends, two position groups who lost a ton of veteran production but also bring back some exciting new talent.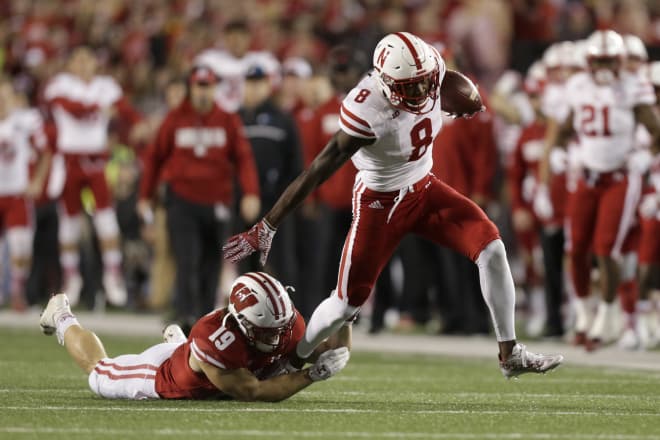 WHAT WE KNOW: New faces will have to step up 
Two of the positions most impacted by the graduations of last year's large senior class were the wide receivers and tight ends, as Nebraska loses more than 52 percent of its total receptions from 2016.
In fact, six of the Huskers' top eight receivers from last season have moved on, leaving returning wide outs Stanley Morgan Jr. (33 catches, 453 yards, two touchdowns) and De'Mornay Pierson-El (20, 254, one) as the only players who caught more than eight balls a year ago.
That means NU will be relying on a number of new faces to step up and emerge as reliable options in the passing game this season.
Guys like Keyan Williams, J.D. Spielman, Bryan Reimers will all need to be factors, as will incoming freshmen Tyjon Lindsey and Jaevon McQuitty.
At tight end, Nebraska loses its top three players at the position from last year's depth chart, so that group will be even less experienced.
Senior Tyler Hoppes is set to take the lead as the new No. 1, while others like Connor Ketter, Matt Snyder, David Engelhaupt and Jack Stoll will battle it out for playing time.
WHAT WE WANT TO KNOW: How good can Morgan, Pierson-El be?
One of the more exciting aspects of Nebraska's identity shift at the quarterback position this year will be how it translates to the rest of the passing game.
Based on what we saw this spring, two players in particular seem poised to benefit more than anyone from having junior Tanner Lee at the helm.
Morgan and Pierson-El were already inked in to be NU's top two wideouts, but both more than lived up to that billing in spring ball.
Morgan looks to have already developed a strong chemistry with Lee and will be a go-to target, while Pierson-El finally looks like his old All-American self, which would instantly make him one of the most versatile playmakers in the conference.
Can that duo be the playmakers Nebraska needs them to be? For this offense to reach its full potential, they're going to have to.
WHAT WE'RE LOOKING FORWARD TO SEEING: The resurrection of the tight end
Another player who stands to have a breakout season is Hoppes, as the tight end position should be used in the passing game significantly more than it has been over the previous eight seasons.
That potential goes well beyond just Hoppes, too, as Lee and the rest of NU's quarterbacks showed a willingness to get the ball to the tight ends all spring as opposed to just locking in one one or two wide receivers every play.
As a result, the opportunities for the tight ends should be greater than they've been in years.
We got a glimpse of that in the spring game, as the tight ends combined to catch 10 passes for 134 yards and Hoppes and Engelhaupt hauling in four receptions a piece.
FALL CAMP NEWCOMERS
There may not be a player Nebraska's coaches and fans alike are more excited about than true freshman wide receiver Tyjon Lindsey.
The former four-star prospect was widely regarded as the centerpiece of the Huskers' 2017 recruiting class, and given his talent and NU's limited experience at wide out, it's almost a certainty that Lindsey will be an instant impact player this season.
Jaevon McQuitty is another true freshman who joined the mix early for the spring, and that head start should pay off in a major way for his chances of also making an immediate impact.
Nebraska adds two freshmen to the mix at tight end as well in Austin Allen and Kurt Rafdal, and as the position continues to evolve in this offense, both of those two could have bright futures going forward.
PROJECTED FALL CAMP DEPTH CHART
X receiver
1. Stanley Morgan, Jr.
2. Bryan Reimers, Jr.
3. Jaevon McQuitty, Fr.
Z receiver
1. De'Mornay Pierson-El, Sr.
2. Tyjon Lindsey, Fr.
3. Conor Young, So.
R receiver
1. Keyan Williams, Jr.
-OR-
J.D. Spielman, RFr.
3. Gabe Rahn, Sr.
Tight end
1. Tyler Hoppes, Sr.
2. Connor Ketter, Sr.
-OR-
Matt Snyder, So.
-OR-
David Engelhaupt, RFr.
-OR-
Jack Stoll, RFr.