Fall Camp Preview: Defensive Line
As things get close to the start of fall camp, HuskerOnline.com will spend the next few days breaking down the different position groups and biggest storylines heading into the 2017 season.
We continue today by taking a look at Nebraska's defensive line, a group undergoing a massive role change this season with the move to a 3-4 defense.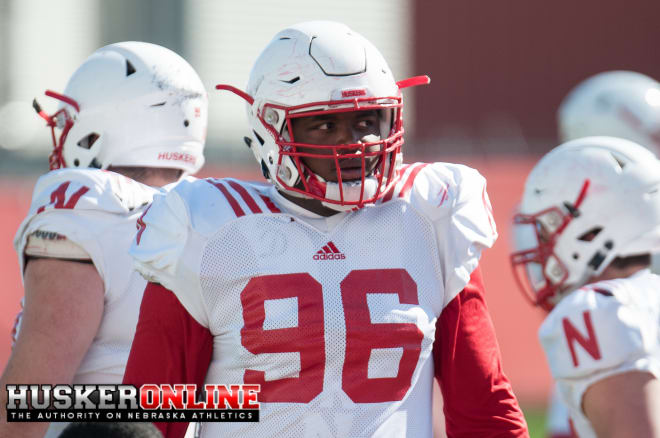 WHAT WE KNOW: The potential is there to thrive in a 3-4
When it comes to Nebraska's first team defensive line, the flashes we saw this spring indicate that several players could be set up for major jumps with the move to a 3-4 scheme.
In particular, sophomore Carlos Davis, who played inside at defensive tackle in the 4-3, could be a perfect fit as the boundary defensive end. There were questions about how junior Mick Stoltenberg and his 6-5 frame would adjust to the role of nose tackle, but there were points this spring where he was downright unblockable.
Somewhat surprisingly, junior Freedom Akinmoladun took to the boundary defensive role better than some had expected, proving he was more than just an outside edge rusher in a 4-3 system.
Others like sophomore Khalil Davis, junior Peyton Newell, and sophomore DaiShon Neal could also all see big roles in the d-line rotation.
WHAT WE WANT TO KNOW: Will more depth emerge this fall?
The good news for Nebraska at this point is how strong the top-four players are on the defensive line.
What's a bit scary is that there seems to be quite a drop-off with the depth after that top group, at least based on what we saw this spring.
The reality is that the Huskers are going to have to rely on some inexperienced linemen to step up and play fairly big roles this season when the starters come out of games. Khalil Davis is a strong backup to Stoltenberg at the nose and could also move outside if necessary.
But others like Newell, Neal and even true freshmen Damion Daniels and Deontre Thomas need to put together good fall camps in order for NU to feel better about the rotation on the defensive front.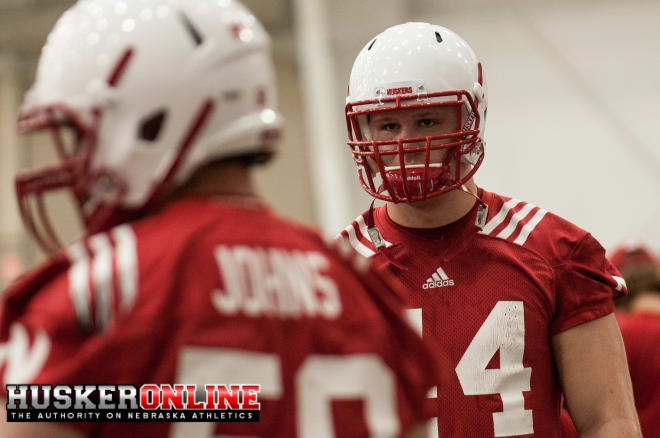 WHAT WE'RE LOOKING FORWARD TO SEEING: How good can Carlos Davis get?
When HuskerOnline.com's staff put together our ranking of the top-40 Huskers for the 2017 season, Carlos Davis came in at a tie with Stoltenberg for the No. 6 spot overall.
When all is said and done this year, Davis has a chance to move up a few notches on that list.
At 6-2, 295, and boasting impressive power and explosiveness, Davis looked to be a natural fit as the boundary defensive end in Nebraska's 3-4 scheme.
He did well as a 4-3 defensive tackle in his debut last season, but the new system could do wonders for his overall play going forward.
There are some who are already arguing that Davis might be the player with the highest ceiling on the Huskers' defense, and he could go a long way in justifying that claim with a strong 2017.
FALL CAMP NEWCOMERS
After looking at Nebraska's overall depth this spring on the defensive line this spring, it's pretty clear that incoming freshmen Damion Daniels and Deontre Thomas are going to get a strong look for playing time in August.
Daniels already looks physically ready to play, and most have been projecting he will see the field as a true freshman for a while now.
The same can also be said for Thomas, as his overall motor and athletic ability put him in a very strong position for playing time in 2017, especially given the depth questions at defensive end.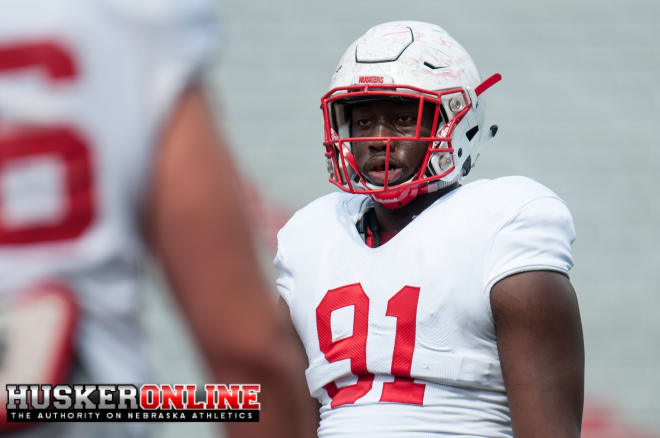 PROJECTED FALL CAMP DEPTH CHART
FDE
1 - Freedom Akinmoladun, Jr.
2 - Daishon Neal, So.
OR Ben Stille, RFr.
3 - A.J. Natter, Sr. (injured)
NT
1 - Mick Stoltenberg, Jr.
2 - Khalil Davis, So.
3 - Damion Daniels, Fr.
BDE

1 - Carlos Davis, So.
2 - Deontre Thomas, Fr.
-OR-
Peyton Newell, Jr.