The Weekly Rundown: Can winning the off-season get Nebraska over the hump?
It's been a big month for Nebraska with off-season additions. Will that get the Huskers over the hump in 2022?
We hit on that and more in the Weekly Rundown Column.

Sure bets
You have to feel pretty good about these things right now:
Winning the off-season: It's kind of become a running joke. Nebraska wins the off-season every year, and they are once again doing it right now.
With the latest addition of Alabama transfers Kaine Williams and Stephon Wynn Jr., the Huskers have now added 14 players from the transfer portal and 32 scholarship players overall to their 2022 roster.
I don't care who you are, that kind of roster movement is going to get people's attention. Scott Frost and his staff have gone all-in to making this coaching staff and roster better. This will be the biggest one-year haul of players NU has added in program history if they close with Texas WR Marcus Washington.
It really is remarkable to think the number is at 32 when it was just at seven on Dec. 4. NU has added 25 new scholarship players to their team now over the last 169 days.
A better defensive line now than on Apr. 9: When Casey Rogers went into the transfer portal days after spring practice ended, it felt like Nebraska was in a really bad spot with their defensive line heading into 2022.
They were in a potential position where they were going to have to start or play multiple players with limited or no play experience. Things have really changed in a hurry.
The Huskers have added TCU's Ochaun Mathus, Texas Tech's Devin Drew and Wynn over the last month. I'll say it right now, this is a major upgrade over the loss of Rogers, Jordon Riley and Deontre Thomas, who all could/should still be on this football team.
Bill Busch: This was the Bill Busch weekend in Lincoln. Three of his big recruiting targets were at NU in running back Dylan Edwards, offensive lineman Cayden Green and wide receiver Jaidyn Doss.
Busch is relentless on the recruiting trail when it comes to keeping dialogue with his main targets. His hard work paid off with what appeared to be a very successful recruiting weekend in Lincoln.
Surprises 
These were my surprises of the week:
Winning the Wynn battle: I'll say this, a week ago at this time I don't think Nebraska had a great feel on where things were going with Wynn's recruitment.
In fact, Georgia Tech thought they had Wynn as of late last week. I'm told Wynn informed Frost on Thursday afternoon things were trending in the Huskers' direction. This is a big get, as Nebraska just doesn't have players with the build or experience of Wynn on their football team.
Nebraska baseball not making it to Omaha: Of all the surprising or bad things that happened to Nebraska men's athletics in 2021-22, if you would have told me Will Bolt's team was not going to qualify for the Big Ten Tournament, I would've thought you were crazy.
This weekend was a gut punch. I think everyone felt they were going to get things figured out late with series against Big Ten bottom feeders Minnesota and Michigan State. The Huskers went 3-3 in those games. 4-2 would have got them to Omaha this week. They have really no one to blame but themselves. NU won just two-of-eight weekend series this year in Big Ten play.
2020 Power Five TV money: Kevin Warren and the Big Ten's indecisiveness over deciding on if they were going to play in 2020 ended up costing the league arguably $100 million.
The Big Ten claimed just $679.8 million in TV revenues in 2020, which was down $89 million from 2019.
Meanwhile, the SEC, which started its pandemic season on Sept. 26 made $833 million - up $105 million from the previous year. The Big Ten didn't start until Oct. 24. That lost month of football on TV was costly for the Big Ten.
Still, it could have been much worse. Imagine if the winter/spring season idea would've gotten off the ground? Who knows where this league would be right now.
The jury is still out 
Questions still surround these things:
Will Nebraska add Texas WR Marcus Washington?: Texas WR Marcus Washington was in Lincoln this weekend for his official visit.
All accounts are the visit went very well. The question is what's next? It appears to be a two-horse race between Nebraska and Purdue. My feeling now is the Huskers have the edge in this one.
Are the Huskers still recruiting JUCO DL Taylor Lewis?: Santa Clarita (Calif.) College of the Canyons defensive lineman Taylor Lewis visited Oregon State this weekend. He's kept limited communication with Nebraska over the last week.
Lewis has yet to set up an official to Lincoln, and he told me this week a Husker coach may visit his school in California in the coming days.
With that said, now that NU has Wynn in the boat, are things done with Lewis? Today, I sure get that feeling. With Mathis, Drew and Wynn, I just have a hard time seeing the Big Red adding another defensive lineman.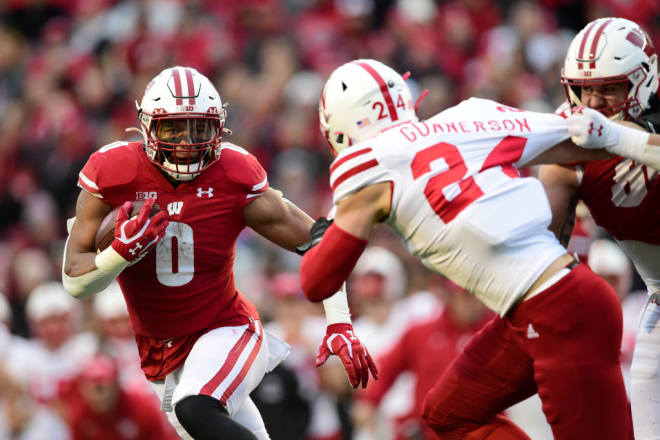 This has my attention 
Moving forward, this has my attention:
Big Ten over/under win totals: The VegasInsider over/under win totals came out for 2022. In the Big Ten West, Wisconsin leads the way with an over/under win total of 8.5. Nebraska and Iowa are next in line with a total of 7.5, followed by Minnesota at 6.5. Purdue was not listed, but one would expect them to be in the 6 to 8 win range as well.
What these early numbers are saying is the Big Ten West at least today appears to be a complete grab bag. Usually, a team like Wisconsin is closer to a 9.5 total. It is also interesting how high people are on the Huskers, with so many unknowns right now. To me, it's all about the schedule and just how favorable the first 9 games are.
Oklahoma is the only team the Huskers see with an over/under higher than 6.5 wins over the first 9 games, and they are at 9.5 wins.
K-State's over/under win total: One of the more surprising over/under win totals was Kansas State at just 5.5.
One would think the addition of QB Adrian Martinez this off-season paired with running back Deuce Vaughn would bump the Wildcast to more the 7 to 9 win range.
Wichita RB Dylan Edwards: Until Sunday, it was hard to get a read on where things sat with Derby (Kan.) running back Dylan Edwards. But after this weekend, it's clear the Huskers are very much in it with the Kansas Gatorade Player of the Year.
The question now is what other official visits with Edwards take?
Fremont Bergan LB Kade McIntyre: NU wide receivers coach Mickey Joseph was by Fremont Bergan this week to see LB Kade McIntrye. The question now is will the Huskers come in with an offer? You get the feeling if it happens, it has to happen this week.
By the way, after seeing McIntyre's brother Koa McIntyre run a 10.8 electronic and win the Class C 100 meter title, you have to wonder if he too should've garnered a Husker offer? Koa McIntyre signed with Wyoming.
Sean Callahan can be reached at sean@huskeronline.com and he can be heard each day at 6:45 am and 5:05 pm on Big Red Radio 1110 KFAB in Omaha during the football season. He can also be seen on KETV Channel 7 in Omaha during the fall and each week he appears on Nebraska Public Media's Big Red Wrap-Tuesday's at 7 pm.