With postseason fate out of its control, NU still holding out hope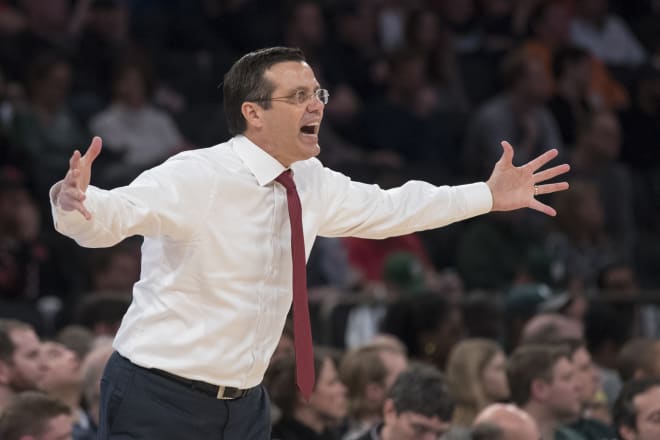 NEW YORK CITY - Tim Miles didn't even wait for the question to be asked before addressing the biggest elephant in the room following Nebraska's 77-58 loss to Michigan in the Big Ten Tournament on Friday.
"I'll volunteer this to you: I believe we're an NCAA Tournament team," Miles stated to a small group of reporters in the Huskers' locker room. "I believe we've done enough. Now, today we weren't at our best, and it was a bad time for us not to play our best… But at the same time, when you look at what we've done, I don't think one game undoes what we've done all season."
At 22-10 overall and a 13-5 conference record during the regular season, Nebraska's record on the surface would normally be a no-brainer to earn a bid to the NCAA Tournament.
But due to the perceived weakness of the Big Ten this year and the Huskers only boasting one win in the heavily regarded Quadrant 1 category, they're resume doesn't exactly carry enough weight to make them a shoo-in selection.
A win over Michigan on Friday would have given NU a season sweep (including a 72-52 blowout in Lincoln) over the Wolverines and likely been the final piece needed to secure an at-large berth.
With that opportunity now balled up and thrown into a Madison Square Garden trash can, Nebraska is now left at the mercy and objectivity of the NCAA Tournament Selection Committee.
It should be noted that Creighton athletic director Bruce Rasmussen, chairman of that committee, was sitting courtside for Friday's game.
"I'm not big on the numbers or whatever; I don't know how to calculate if you're a good enough team or not," sophomore forward Isaiah Roby said. "Today was a bad day. We got hit by a good team on a good day for them and a bad day for us. I don't think this game was who we are.
"I think we're a good enough team to make it, and I hope they take into consideration our record and some of the wins we have and also some of the circumstances we got put in. I mean, the Big Ten, people say it's down, but I think it was just really competitive. Even the bottom teams are taking every team to the wire. I think having our record in this conference is still a big accomplishment."
Miles pointed out the flaws of relying entirely on the Quadrant system to determine the NCAA Tournament field. Had Nebraska beaten Michigan on Friday, it would have likely knocked the Wolverines out of the top-30 in the RPI rankings.
As a result, the Huskers would have simply replaced one Q1 victory for another despite beating the No. 15 team in the country on a neutral court.
That's why Miles said Nebraska's true postseason value was represented in its overall body of work and not just a handful of preferred metrics.
"If Quad 1 is the Holy Grail, we've got a real problem on our hands," Miles said. "If you look a what we've done, though, we've competed against some high-level teams, we've beaten some high-level teams…
"When you look at (Q1 games), I don't believe that's the Holy Grail, that that is the end-all, be-all. I think it's a sorting mechanism. I think it's a way for them to see good road victories for what they are."
All that said, the Huskers were well aware of the golden opportunity they let slip through their fingers in the Big Ten Tournament.
But after putting together one of the most successful seasons in program history, the players are still clinging to the hope that one bad day doesn't erase all that they accomplished over the past four months.
"I don't think that there are 68 teams in the country better than us, that deserve to be in over us," senior guard Evan Taylor said. "But that's out of my control. It's difficult, but hopefully we can get in there somehow."