Wednesday notebook: Questions remain with several key injuries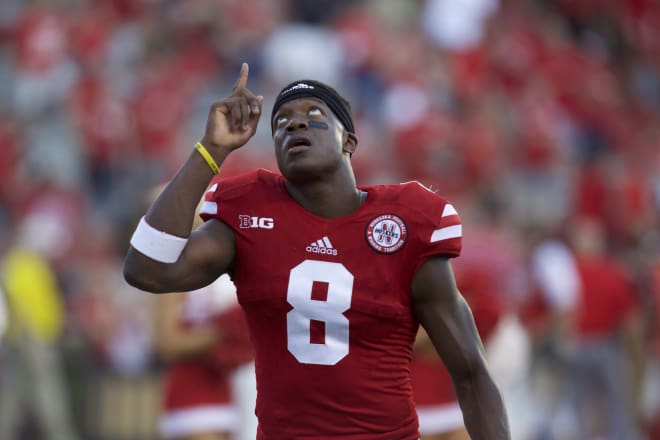 Not only did Nebraska have to game plan for its first Big Ten road game this week with a day less of preparation, it also has 24 fewer hours for its many injured players to heal before kickoff.
Riley gave updates on a number of key players dealing with injuries this week, and it seems like there are still more questions than answers regarding who the Huskers will have at their disposal on Friday night.
Riley said receiver Stanley Morgan (neck) practiced more on Wednesday than he had all week, and he would travel with the team to Illinois.
However, Riley said it remains to be seen if Morgan will be ready to handle his normal full-time game workload at this point.
"Whether or not he'll be able to go full-time starter like he does when he's healthy, I don't know yet," Riley said. "But he will definitely travel…
"In general, if a guy's traveling I expect that he plays."
Riley also said receiver Bryan Reimers (hamstring) was in the same boat as Morgan and would travel with the team to Illinois.
Linebacker Tyrin Ferguson's status for Friday was "up in the air" with a foot injury, but Riley noted that Ferguson felt better today than he has since suffering the injury and practiced with confidence on Wednesday.
Some positive news was that offensive linemen Cole Conrad (knee), David Knevel (foot) and Matt Farniok (wrist) all practiced on Wednesday.
Riley said he and the offensive staff would talk more about who would start on the offensive line at Illinois and make an official announcement to the team on Friday evening before the game.
As for players who have been ruled out for the Illinois game, Riley said that list included running back Tre Bryant (knee), linebacker Marcus Newby (hamstring) and safety Joshua Kalu (hamstring).
Another notable injury update regarded cornerback Chris Jones, as Riley said the senior has surprised the medical staff with where he is in his recovery at this point, and that Jones is testing at a high level right now.
Riley said he didn't want to come off as overly optimistic about Jones' eventual return, but said he was encouraged by his progress.
"Without being overly ambitious in my statements or optimistic, I'm also encouraged," Riley said. "Now, what that means time-wise, because with a long layoff, what you have to remember is there's a difference between being cleared and being ready.
"But whatever the question is about Chris, it's encouraging."
Jaimes sees productive growing pains in first start
Brenden Jaimes is no stranger to high-pressure situations. After all, he was taking home a Texas state title with his Lake Travis High School team just nine months ago.

However, when it came to his first career start for Nebraska, the true freshman offensive tackle wasn't afraid to admit he was anxious about getting on the field.
"I had nerves, but I think after that first drive I calmed down a little bit," Jaimes said.
"It was just a great experience. For me to get on the field and play with some upperclassmen really brought me down to Earth. It showed that I'm not the biggest and baddest on the field anymore and I just need to be really humbled by that."
After breaking into the two-deep of the depth chart midway through fall camp, Jaimes recognized the distinct possibility he would play this season.
With the coaching staff preaching the "next man up" factor, he was always ready for the opportunity and made the most of it against Rutgers.
But according to Jaimes, he graded out at just a 72, tied for last after the line's dominating performance against Rutgers.
Even so, junior left tackle Nick Gates, who graded out the highest of Nebraska's offensive linemen, said Jaimes is already playing at a high level.
"He's strong, a lot stronger than when I came in as a freshman," Gates said. "His feet are a college level tackle. He came in with those feet."
Offensive line coach Mike Cavanaugh has recognized Jaimes' strong technique as well, a significant factor that led to the freshman locking down the right tackle spot on Tuesday last week.
"He was a guy that, probably this year, everybody in the country would've been recruiting him," Cavanaugh said of the former three-star. "He's a great kid. I just love how serious he is about football and what it means to him and how he prepares and doesn't flinch."
- Matt Reynoldson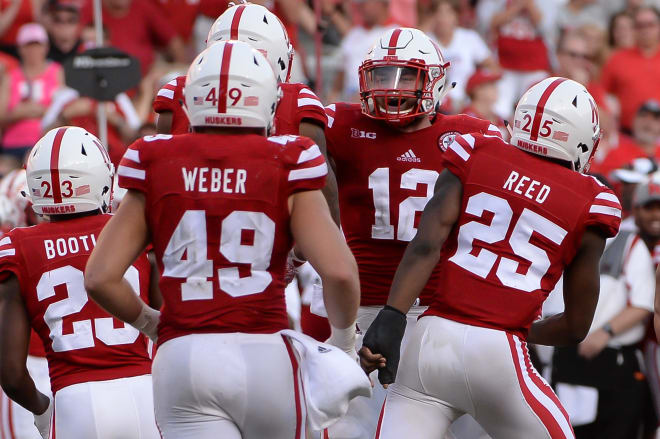 Gifford continues to thrive in new defense
When Luke Gifford hauled in an interception off Rutgers quarterback Kyle Bolin with 58 seconds left in the game, he not only sealed a huge victory for Nebraska, he capped off one of the best all-around performances of his career.
Along with the game-winning pick, Gifford tied for the team high with six tackles and added a tackle for loss. The junior outside linebacker now leads NU with 28 total tackles on the year, is tied for the team lead with two TFLs, and is tied for second with 0.5 sack and one interception.
After reviewing the film, head coach Mike Riley didn't hold back with his praise of Gifford's most recent outing.
"Luke Gifford had one of his very best football games as a Husker," Riley said bluntly.
A player who wasn't even projected as a starter going into the year, Gifford saw an immediate role with the Huskers' top defense due to the spread run-pass option offenses they faced the first three weeks.
While Rutgers presented more of a traditional pro-style scheme, injuries at linebacker once again made the former Lincoln (Neb.) Southeast standout a fixture for the Blackshirts.
"Luke, having never really played a lot of football, now is a guy that we really don't want to bring out of the game," defensive coordinator Bob Diaco said.
"He's a stalwart out there. He's a multi-jobs player. He's got a lot of tangible skill and intangible skill. He's long and quick and fast and smart, football intelligent. He studies, he cares, he's contact tough. There's a lot of elements there."
Since the start of spring practices, Gifford has been one player his coaches and teammates alike have singled out as thriving in Nebraska's new 3-4 defense as much as anyone.
That has certainly translated into his production through the first four games, and as he continues to develop in Diaco's system, the sky is the limit for Gifford moving forward.
"This defense really fits me and just my physical ability," Gifford said. "I think I've grown a lot. I've gotten a lot bigger and stronger. The game has just really slowed down for me. Sometimes it clicks when you're young and sometimes it clicks when you're older. For me, it kind of started this year."
- Robin Washut
Short week taxing mentally on NU players
Nebraska will only have four practice days to be ready for Illinois, while the Fighting Illini are coming off of a bye week.

"That's a little bizarre to me," Diaco said. "I don't know how much is good with the incredible disparity as it relates to equity. With a short week and then the other team has a bye week."
While Diaco didn't seem thrilled about the scheduling for the game, he didn't use it as an excuse and emphasized that the team just has to be ready.
"One good thing is that we don't get to overthink anything," Diaco said. "We don't get to spend a lot of time painstaking away on what to do there. We just get to go."
Senior tight end Tyler Hoppes said the schedule is "a little weird", but it's a lighter physical load than the normal week.
"Mentally it's more (taxing)," Hoppes said. "We have to put in another day earlier. We'll be ready to go."
- David Eickholt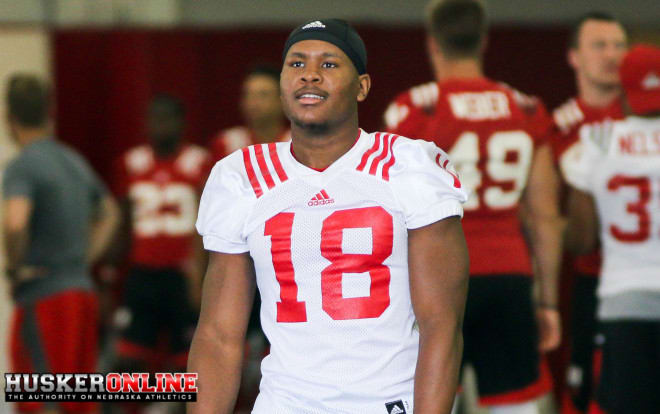 Quick hits
***Riley said receiver JD Spielman has been "unfazed" by the workload he's taken on this season, and that he's excited to see how Spielman can continue to impact the Huskers on offense and on special teams.
***Riley said he met with new interim athletic director Dave Rimington for about an hour on Wednesday afternoon, and they had a "great" talk and learned a lot about each other.
***Riley said Rimington brought up the walk-on program, and he just wanted to make sure Riley knew about the history of the walk-ons at Nebraska and how valuable of a resource they could be. Riley made it clear they were on the same page with that and told Rimington about the success his teams have had with walk-ons.
***Riley said the Huskers had a good week of practice despite operating on a short week. He said they had to compact their schedule earlier in the week, but today was identical to a normal Thursday practice.