Vince Guinta says it was a 'no-brainer' to come back to Nebraska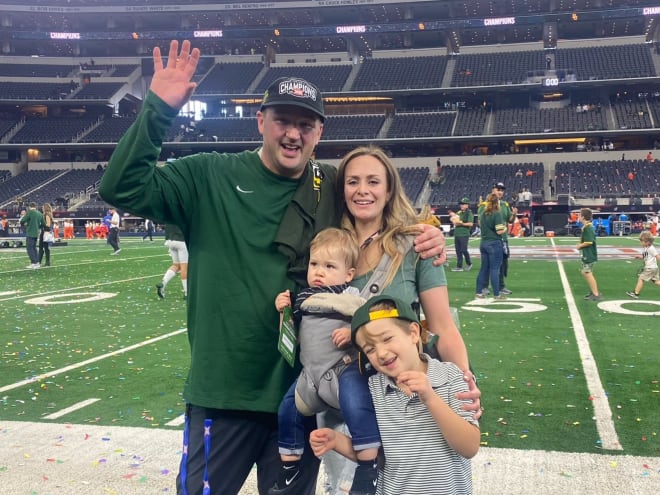 When Vince Guinta first came to Nebraska in 2005, I'm not sure he knew the impact his time here would have.
Guinta was at NU from 2005 to 2008 and had the opportunity to stay on with Bo Pelini if he wanted to.
From there Guinta got out of football and into the private business world, before getting back into recruiting operations at Oregon State, Wisconsin and Baylor.
When Guinta got the call in December about coming back to NU, it was a pretty easy decision for him and his family, despite the fact Baylor just came off a Big 12 championship season and a Sugar Bowl victory over Ole Miss.
"Timing is everything in this business," Guinta said. "I don't know when the full background of it was to when they could even talk to me, but I do know the timing was right when it was a possibility, it was something that was a no-brainer for me."
Why did Guinta come back to Nebraska? 
What was it about Nebraska that made the decision so easy for Guinta to return to Lincoln? His answer is one you often hear about Nebraska.
"It's the people here," Guinta said. "That's what makes Nebraska so special. To be able to bring my family back to this, to let them experience it – it was something I wanted to do."
The only thing that has changed now for Guinta is his overall duties. He's now much more involved with the big picture, as every single aspect of the recruiting and personnel departments runs through him. From there he reports directly to head coach Scott Frost.
"My first job is to take Coach Frost's vision for recruiting and the building of our team and put that into motion," Guinta said. "That goes across working with our coaching staff, to establish the areas we recruit and the type of players we recruit.
"On a day-to-day managing staffs of personnel assistants, recruiting assistants and on-campus recruiters, as well high school relations. I wish I could spend the majority of my time just watching players and trying to find great talent, but I spend the majority of my time getting done what Coach Frost would like to see happen. That's my main job."
Talking scholarship numbers for 2023 and the plan moving forward 
Asking someone like Guinta what their scholarship projections are for the class of 2023 is really a trick question.
Between the extra COVID year and then the transfer portal, scholarship needs and numbers change by the day
"It would be hard for me to give you a solid number right now," Guinta said. "The rule is we have to be at 85 scholarships going into August 1. That's about what I can give you at this point."
Guinta did say recruiting here has to start from the inside out. History tells you players from Nebraska and the surrounding states have a better chance of making it here, but at the same time, they need to find the right guys from other key recruiting areas.
The biggest intangible is "fit," and there is no easy way to always find that answer. However, Guinta did say they want to be more deliberative in their offer process and make sure they always do their homework that a certain guy is a fit before making an offer.
With that said, Guinta and his staff are not only bracing for a big weekend of on-campus recruiting in Lincoln, but another wave to hit the transfer portal shortly after spring ball ends.
"We want good young men that help us improve our football team," Guinta said. "You see the portal in waves. I think you are going to see another wave of portal happen as people finish their springs. It's kind of been a little quiet as people finish their springs, and then from there I think you'll have a lot better idea of where things are going to be sitting at."