Postgame notes: Final play dooms Huskers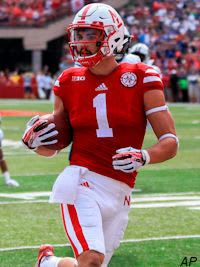 Click
Here
to view this video.
[rl]One second remained on the game clock, and Nebraska had BYU 42 yards away from potentially stealing a victory away in
Mike Riley
's debut as head coach.
As the ball sailed out of backup quarterback
Tanner Mangum
's hand into receiver
Mitch Mathews
' arms for a walk-off Hail Mary touchdown, it took Riley a few moments to fully process what had actually just happened.
"I initially thought he was not in the end zone, but I had a really bad view," Riley said. "But I also saw the official raise his hands right away, so I knew."
When the chaos on the Memorial Stadium field finally settled down, the final score read 33-28 in favor of the Cougars, and the Riley era kicked off with the Huskers trying to pick up the pieces. Things were still a bit of a blur for Riley and his players as they held their post-game interviews, but the immediate reaction to the final play was that the defense simply didn't execute its Hail Mary defense properly and allowed Mathews to get into prime position for the game-winning catch.
To make it even worse, the players said they had even devoted time throughout the week and a portion of Friday's walk-thru to defending against the Hail Mary.
Riley said Mathews actually started the play on the left side of the field and ran a deep post all the way across to the right front corner of the end zone. Junior safety
Nate Gerry
said he was the designated "jumper" on the play, and it was his job to go up for the ball. But Gerry ended up letting the 6-foot-6 Mathews get in front of him, and the size difference was too much for him to make a good play on the ball.
"As a defense as a whole, we all didn't execute on that play," Gerry said. "Those are the types of things we worked on during fall camp, but you don't think it's happen until it actually happens. It's a tough play."
Prior to the Hail Mary, Nebraska called a defensive timeout to try and get as ready as possible for what to expect. Riley was asked whether he had any regrets about calling the timeout and letting BYU draw up a designed final play, but he said he had been in very similar situations in the past where he didn't call timeout and was unhappy with the result.
"I've been through it before and not called the timeout and not felt good about that," Riley said. "They know what they are doing and it gives us a chance to take a look at it a little bit on anything they might do. How do you know? I thought it was actually a very good call to make sure we knew exactly where we were supposed to be lined up."
In Riley's more than two decades as a head coach at the collegiate and professional levels, he said he's never been involved in a game that was decided on a final Hail Mary touchdown.
"I don't ever remember one," Riley said. "I think there were more Hail Mary's completed last year at the end than I've ever heard of, and we had one completed on us at halftime of the USC game, but I don't remember that happening at the end of any of our games."
- Robin Washut
Gerry's pick helped flip momentum
BYU was absolutely rolling offensively as the second half began - the Cougars scored on their final four drives of the opening stanza (three were touchdowns), and moved 16 yards in two plays to get to Nebraska's 43-yard line on their opening drive after intermission.
But Nebraska made some adjustments in halftime, and Gerry made a play that completely shifted the game's tone. Gerry stepped in front of a
Taysom Hill
pass and picked it off, returning the ball to the Cougars' 20-yard line. The pick was so similar to one Gerry had made earlier in the week in practice that it gave defensive coordinator
Mark Banker
some serious deja vu.
The play seemed to give the defense life, and BYU scored just three combined points on their next five drives before the final series resulted in the crucial Hail Mary.
"We needed a jump," Gerry said." A lot of guys on the sideline, we just needed a lot of juice and something to spark us. The best way to do it on the team is the defense making a play… That's one thing that we needed in the game, and that's part of being a leader."
- Dan Hoppen
Brown takes responsibility for poor kicks
But Brown refused to pass the blame, instead putting the onus on himself. The sophomore, who drew praise from the coaching staff for having a strong fall camp showing, badly missed a 40-yarder on the final play of the first half, then hooked a 41-yard boot on Nebraska's final drive.
"It's definitely frustrating because I'm a competitor," Brown said. "I'm not going to be OK with the way I played today. It's something I can look back on and say, 'I definitely don't want to feel this again.'
"It's the way I've been raised, to be able to come back when stuff isn't going your way. Ultimately it's a life lesson because everything isn't going to go your way in life."
- Dan Hoppen
Foster has memorable moment on forgettable day
Saturday's loss will be one Nebraska's coaches, players and fans will try hard to forget, but for tight end
Trey Foster
, at least one moment of the game will be one he'll remember for the rest of his life.
After being listed as questionable to even play against BYU when he sprained his ankle a week before the game, Foster was able to recover in time and see the field as a backup tight end. His playing time was limited because he's still not fully healthy, but one of his snaps on the field ended up in the first touchdown catch of his NU career.
With 5:31 left in the third quarter, Foster ran a delayed fly route up the left seam and quarterback
Tommy Armstrong
found him for a 9-yard touchdown pass that gave the Huskers a 28-24 lead. While the ending of the game made i a bittersweet achievement, Foster said he was still happy to check a big milestone off his list.
"It feels great, both ankle-wise and in my heart getting that first touchdown in college football," Foster said. "We called the play, and I knew it was made for me. I was like, 'Aw jeez, this is the defining moment. I'm not worried about this ankle right now. I've just got to make sure I make this play.' Tommy put the ball in perfect for me, and I made the play. So exciting."
- Robin Washut
Quick hits
***Riley said he didn't have any updates on the players injured in the game but did say Foltz suffered a left ankle injury that was "like a sprain". Banker said defensive end
Jack Gangwish
may have suffered a fairly serious arm injury.
***Receiver
Alonzo Moore
, Armstrong and Foster all were wearing protective boots after the game. Foster did say his ankle felt "great", so it was probably just precautionary.
***Riley said NU had to get better and more consistent production out of their running backs in the running game. He credited the third-quarter comeback to the backs getting more involved in the offense.
***Riley was asked about the jet sweep call on third-and-3 on Nebraska's final offensive possession, on which
Jamal Turner
got stuffed for a loss. He said they had run the power option of that action inside with the running backs with some success earlier in the game, but got stopped the previous time they called it. So the sweep was an effort to try and catch BYU's defense off balance.
***Gerry said a lot of the defensive issues Saturday were because it was the first game and because they had so many young players on the field. He said the defense wasn't on the same page at times, and even when the communication was good the execution would still slip.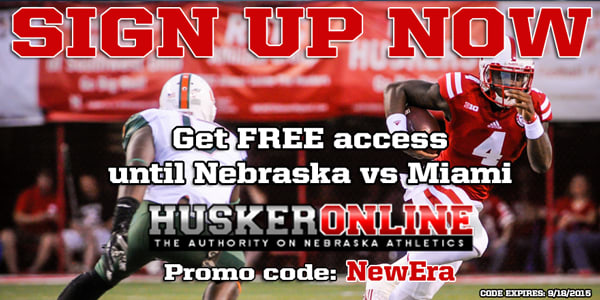 Click
Here
to view this Link.