Outland Trophy banquet highlights past, future of college football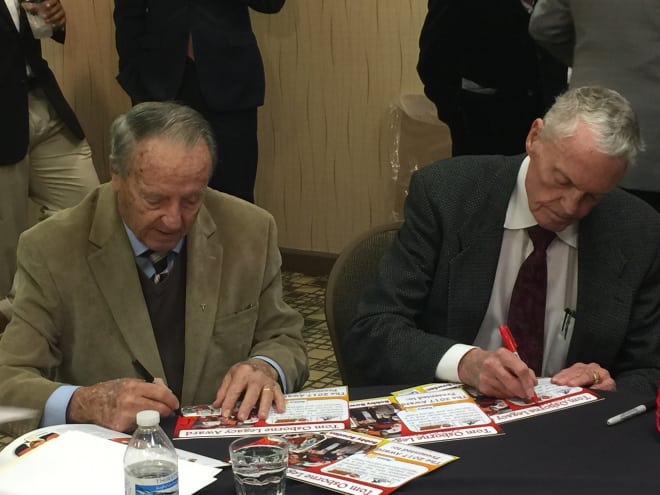 OMAHA, Neb. - Houston defensive tackle Ed Oliver received the Outland Trophy Wednesday as college football's top interior lineman as several legends of the game converged at the event.
In addition to outgoing Nebraska seniors Luke McNitt, Chris Weber and Drew Brown, former Heisman Trophy winner Johnny Rodgers and coaching legends Tom Osborne and Bobby Bowden made appearances at the downtown DoubleTree for the annual celebration.
Bowden received the Tom Osborne Legacy award, following last year's winner Barry Switzer as the second consecutive big name to receive the honor. The Nebraska Football Senior Awards were also handed out, with McNitt receiving the Cletus Fisher Native Son award, Weber taking home the Tom Novak Trophy and Brown picking up the Guy Chamberlin Trophy.
On a night that honored some of the legends of college football, the attendees reminisced on the past along with taking a look at the future and Nebraska's place in the sport.
Former Huskers have high praise for new coaching staff
New Nebraska head coach Scott Frost and his staff haven't had an abundance of contact with the outgoing seniors, but their presence has made an impression.
"I'm excited for those guys and I'm sure they are excited as well," Weber said. "What Coach Frost has done speaks for itself.
"How quickly he turned UCF around and then how they played in the bowl game, if I'm a guy on the team, I'm extremely excited to have a guy like that at the helm."
McNitt said he hasn't had much of a chance to connect with the new staff, but feels he could walk into North Stadium at any time and be welcomed with open arms.
The senior fullback still keeps in close contact with players in the Nebraska program and senses excitement within the group.
"I think it's a great hire for the team." McNitt said. "If he comes in here with the facilities and Big Ten play, I just wish I could find another year of eligibility."
McNitt also added how much fun it's going to be to see what the team does from a different point of view.
- David Eickholt
Bowden discusses "the letter"
On October 4, 1980, Florida State came to Lincoln and beat Nebraska on a day which defense won the war. One week after a loss at rival Miami, Bowden and his boys were used to hearing some vile insults as they left the playing field.
But as the Seminoles exited Memorial Stadium that evening, they heard something else - applause.
"When we ran off the field, nobody spit on us - they congratulated us," Bowden said. "I'm not used to that; I'm used to going off the field and people are throwing stuff at you."
The gesture by the fans struck such a chord with Bowden that it prompted him to write a letter to the Lincoln Journal and Star newspapers thanking Husker fans for their class. The legendary coach said he hasn't declined a request to come to Nebraska since that day.
It was a win that Bowden said set the foundation for the Florida State program. More than the significance of the victory, however, was the treatment the Seminoles received from Sea of Red.
"That's the only letter I ever remember writing," Bowden said. "It was so different.
"And I've been asked many times what is the biggest game in my career - I've always said that game. That put us on the map. Back in those days, you didn't beat Nebraska at Nebraska. That hasn't been true lately, but back in those days you didn't beat them there. So that put us on the map."
- Matt Reynoldson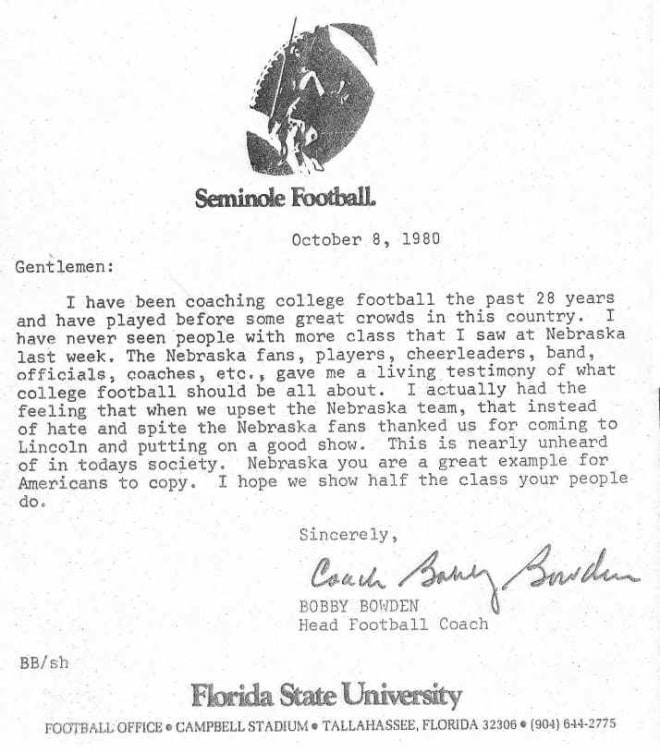 Weber sees opportunity for young Husker linebackers
After being named a first-team Academic All-American last month, Weber is moving on from football.
Nebraska's leading tackler will be pursuing a career in medicine and has turned his focus to graduate school. In the football realm, he was asked about players to watch for next year and mentioned Mohammed Barry as a guy that has a chance at a bigger role. Barry finished with 38 tackles (15 solo tackles) last season and deflected one pass.
Weber also said that he thought freshmen linebackers Andrew Ward and Guy Thomas "looked good" throughout the year and will have significant opportunity this upcoming season with Weber's departure and Luke Gifford's hip injury.
With a new strength and conditioning staff in place, McNitt pointed out that the winter conditioning period before spring practice is when players can make a big jump.
"With the work you did in the off-season, you can definitely make a move," McNitt said. "You need to take what you did in the off-season and apply it in spring ball to move up that depth chart."
Weber also said that Albion native and current Husker running back Wyatt Mazour has a chance to get some new opportunities now that Frost is there.
- David Eickholt
Oliver: UCF deserved shot at College Football Playoff
As a former five-star and one of the most dynamic defensive players in the nation, Oliver licks his chops thinking about a matchup with a high-powered offense like Frost's at UCF.
Houston didn't play Central Florida this season, but it did hand South Florida its only home loss of the year in October. Oliver said he would've loved a shot at the Knights and wishes the Cougars could have edged out Memphis in the AAC East to get that chance.
"Just because USF came so close to beating (UCF), I feel like we would've edged them out," Oliver said. "We just feel like we would've edged them out a little bit; would've gotten the win."
Within the grind of the AAC and the subsequent lack of respect the conference receives, Oliver believes an undefeated champion of the conference was deserving of a spot in the College Football Playoff.
"When you're playing teams like Memphis, us, USF, and UCF, we all play big boy football and we can play with anybody in the nation," Oliver said. "Saying that, we should be looked at as a tougher schedule."
"I don't know about having eight teams in the playoff, but we should get more respect. Seeing that they went 13-0, they should get more respect."
- Matt Reynoldson