Opponent spring review: Minnesota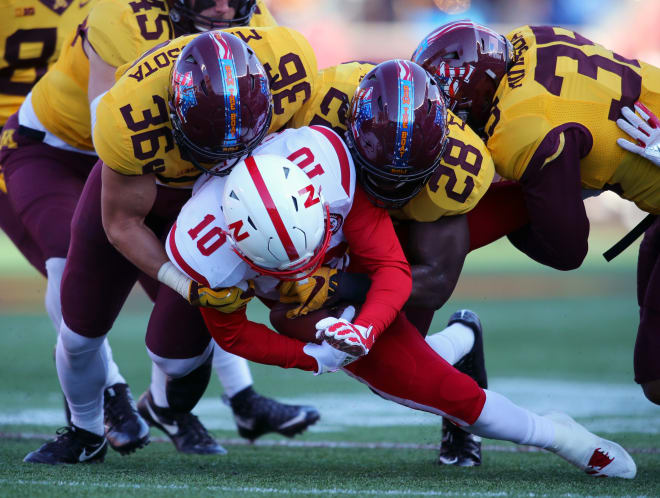 With spring practices now wrapped up around the country, HuskerOnline.com will take a look at where each of Nebraska's 12 opponents in 2018 currently stands coming out of spring ball and heading into the summer.
We continue today by taking a look at Minnesota, who will come to Lincoln this year after stomping the Huskers in Minneapolis in 2017.
The Gophers are coming off a 5 win season in year No. 1 under P.J. Fleck, as they hope to take a step forward in his second year.
We caught up with TheGopherReport.com's Matt Jessen-Howard to get his thoughts and perspective on the Gophers coming out of the spring.
Spring Overview 
Despite not making a bowl game in 2017, there is still a high level of excitement surrounding P.J. Fleck at Minnesota.
Last season's record was underwhelming, as it highlighted some of the gaps Minnesota had.
For this season and spring, getting the right player at quarterback remains the biggest storyline. Three different guys continue to battle, as nobody has pulled away as the starter at this point.
One area where things should improve this year is at wide receiver, where Tyler Johnson looks like a star after 35 catches for 677 yards a year ago. Phillip Howard and Chris Autman-Bell also appear to be solid options at wide-out. The also expect Demetrius Douglas to get a medical hardship after missing the last 9 games in 2017 with an injury, and he should be a potential threat at receiver as well.
On defense, the secondary has been a strong point for Minnesota the last several years, but it now is arguably the biggest hole they have to fill on that side of the ball. They have a lot of guys that need to step up, but there is still a high amount of confidence in what they have to work with.
Returning starters
The Gophers must replace former All-Big Ten middle linebacker, Jonathan Celestin. Running back Shannon Brooks tore his ACL in the winter, so he's going to be a significant loss for the Gophers as well.
Quarterback Demry Croft, who Nebraska made look like Tommie Frazier last season, moved on from Minneapolis this off-season, as he was not a fit for Fleck's offense. Tight ends Nate Wozniak, and Brandon Lingen also were big losses for the offense.
In the secondary, they must replace standout safety Duke McGhee, who was an All-Big Ten type talent.
Luckily for Fleck, Minnesota had a pretty small senior class, but there was a good amount of impact players in the class.
Offensive star: RB Rodney Smith 
Fleck said it best this spring, running back Rodney Smith doesn't have much to prove. He is the Gophers best player on offense coming out of the spring, as well as a dynamic kick returner that ran the opening kick back against Nebraska last season.
Smith had 977 yards rushing last season, and over his career, he's produced 2,805 rushing yards and 21 touchdowns over the last three seasons. Over his career as a receiver, he has 50 catches for another 419 yards.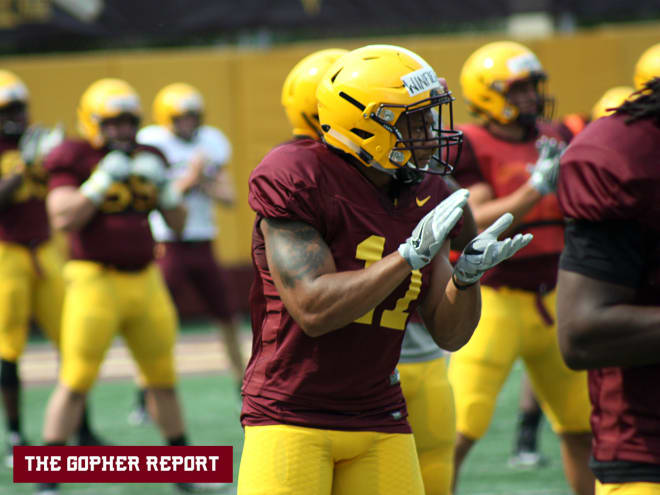 Defensive star: Safety Antonie Winfield Jr.
Safety Antonie Winfield Jr. missed almost all of last season with an injury, so he'll get a medical redshirt. He's an anchor on the defense that is a "do it all" versatile defensive back.
He could play corner, nickel or safety in the defense, but safety is probably his best spot. He's the quarterback of the defense that's smart, fast and strong.
Biggest question: Who will start at quarterback?
Finding the right starting quarterback for Fleck's offense remains the biggest question heading into the 2018 season. Tanner Morgan leaves the spring as the early front-runner.
However, JUCO transfer Vic Varamontes comes in as a highly rated arm and has a chance to make a run at the job this August. He took a while to get acclimated this spring.
The sleeper in the QB battle at Minnesota is walk-on early enrollee Zack Annexstad, who started at IMG Academy, and is not your typical walk-on. He had a very solid spring.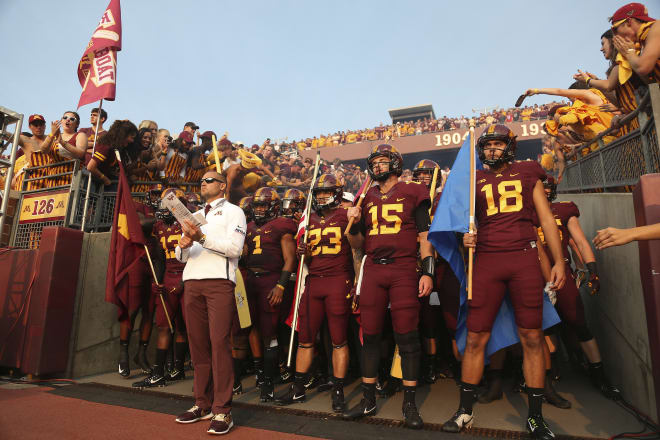 Early outlook: Minnesota at Nebraska
Jessen-Howard: "Minnesota put the nail in the coffin last year of Mike Riley. Nebraska is going to want revenge after that loss, and Minnesota has some question marks at quarterback and secondary, so Nebraska is one of the earlier Big Ten games.
"You would hope if they have their feet under them at quarterback and playing confidently in year two of P.J. Fleck's system and their receivers can keep gaining confidence, I think that's going to go a long way. Minnesota is a relatively young team, and with Nebraska being a game in the middle of the season there's going to be a lot of emotions there. The Gophers confidence and experience is going to be a factor you would think by that point in the season."
Overall 2018 win-loss expectation 
Jessen-Howard: "I will say 7-5 for now. I think they have a relatively favorable schedule. They don't play any Power Five team in the non-conference, as they see New Mexico State, Fresno State and Miami of Ohio. I think there's more uncertainty this year than a lot of years, especially because they don't have their quarterback position set yet. I think they are a fringe bowl team that I would put on the side of bowl eligibility this year."