Notes: Armstrong takes blame for Iowa loss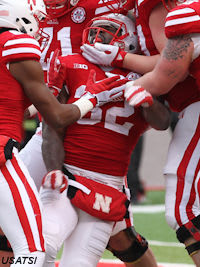 Click
Here
to view this video.
When
Tommy Armstrong
was picked off for a fourth time by Iowa's
Josey Jewell
with just over four minutes left to play, any chance Nebraska had of pulling off an upset of the undefeated Hawkeyes essentially came crashing down.
It was a game that the junior quarterback would undoubtedly love to forget, as the Huskers managed to out-gain Iowa 433-250, hold them without a third-down conversion on offense and keep them under 100 passing yards on the day, but still couldn't overcome his quartet of costly turnovers. After the game, Armstrong placed the entirety of the blame squarely on his shoulders.
"It cost us the game," Armstrong said. "If it's anybody's fault, it's mine. The defense played well, our receivers caught well, our offensive line blocked well and put us in great positions to win the game. I just didn't take care of the football. I gave them seven points, and I also put them in great position to win the game. That's something I've got to fix, and something I'm going to fix.
"Honestly, like I said, if you want to put any blame on anybody else - the team played well, I just didn't."
Armstrong ended the day 25-of-45 for 296 yards and rushed nine times for 49 yards, and while he didn't have a touchdown pass he still helped lead the Huskers on four scoring drives. However, his four interceptions - including one resulting in a pick-six by Iowa defensive end
Parker Hesse
- ended up preventing the Huskers from ever taking control of the game.
"We moved the chains when we wanted to and ran the ball when we wanted to," Armstrong said. "I just made poor reads and made poor passes."
Almost just as costly as the four interceptions was an incomplete pass on a fourth-and-one from the Iowa 19-yard line with 6:37 remaining in the game. Head coach
Mike Riley
said the play call "had other options" aside from the fade route to
Brandon Reilly
that Armstrong chose. As later replays showed, one of those options was a wide-open tight end
Cethan Carter
in the left flat for what almost certainly would have been a first down.
Armstrong said he read that Iowa was playing a Cover Zero that would provide a one-on-one matchup for Reilly, and he just couldn't connect on the throw.
"I just made poor reads," Armstrong said. "Like I said, our offensive line played their tails off, and we made great runs and we had a great game plan. I just have to make better reads… It sucks. I'm just disappointed in myself because I let these seniors down. They played their tails off tonight. We were prepared - two weeks of planning - and I feel like I just let them down out of everybody… That stings my heart to send those guys off like that."
Senior running back
Imani Cross
wouldn't let Armstrong shoulder all of the blame of the loss, saying everyone was at fault for not getting the job done when they had the chance.
"Tommy is a competitor, and that's what you want to hear from your quarterback," Cross said. "Any time you win or lose, it's the quarterback's job to when you win to give out all the glory, and it's the quarterback's job when you lose to take all the shame… Today definitely was not Tommy's fault."
- Robin Washut
Running game quiet despite commitment
If there was any doubt that Nebraska was going to commit to the running game Friday, offensive coordinator
Danny Langsdorf
shut that down early on. Nebraska ran on 10 of its first 11 plays and totaled 38 rushes on the day. 
But that commitment didn't necessarily turn into production. The Huskers averaged 3.6 yards per carry and had a long run of 12 yards against Iowa's tough rushing defense, which entered the game ranked third in the Big Ten.
"We didn't really hit any big runs," Langsdorf said. "That's what we saw in the breakdown too. Teams kind of chipped away at them, but there wasn't a lot of big plays that they gave up. I thought we moved the ball pretty well. We had a lot of plays against them but the turnovers killed us. We had our opportunities. We just didn't finish the drives."
Langsdorf had hoped Nebraska would have the opportunity to hit on a few big plays, but those never materialized. But the offense was never able to truly find a rhythm, something Armstrong's interceptions obviously played a big role in.
But even without the turnovers, the Huskers found little room on the ground. Cross and
Terrell Newby
combined for just 89 yards on 28 carries.
"We have some things we thought we could hit on, and at times we did," Langsdorf said. "At times we got stalled here or there. When you give up the ball like we did it makes it tough to get into that rhythm like we like to and finish those drives."
- Dan Hoppen
Gerry's ejection hurts defense
Nebraska's defense took a tough blow in the second quarter when
C.J. Beathard
misfired on a short pass to
Tevaun Smith
. Smith fell while trying to make the catch and
Nate Gerry
dove in an attempt to break up the pass.
Gerry's shoulder slammed into Smith's head, and the latter stayed down on the field for several minutes. Gerry was ejected for targeting, robbing the Huskers of one of their most experienced players.
True freshman
Aaron Williams
stepped in, but it's hard not to wonder how Iowa's two touchdowns, both of which came on runs off the left side, would have occurred had Gerry been available.
"During the course of the year we played without everybody," defensive coordinator
Mark Banker
said. "What you lose is you lose leadership and some emotions. The guys that went in did a good job. We gave up two plays and that's something that plagued us throughout the year."
- Dan Hoppen
Cross provides bright spot in gloomy loss
There wasn't a lot to feel good about following Nebraska's loss to Iowa, but the play of Cross not only in the game but during the final stretch of the season has certainly been at least one bright spot for the Huskers.
Cross led NU with 19 carries for 55 yards and two touchdowns in the game, including a four-yard rumble that cut the deficit to 21-17 with seven minutes to go in the third quarter.
Friday's performance gave the Gainesville, Ga., native 57 rushes for 243 yards and three touchdowns over Nebraska's past three games.
"It was definitely fun," Cross said. "I'm blessed and I thank God for the opportunity. The last few games of my career to really have the opportunity to have a big role. I think in that role there's some things I'm proud of and there's some things that I'm disappointed about."
As Nebraska waits to find out its bowl game fate, Cross said his plan is continue to build on his late-season momentum and hopefully earn a crack at the next level in the NFL.
"Moving onto the future, hopefully these last few games can give me some good film going forward as far as the NFL goes," Cross said. "I'll continue to study the film and just train as I possibly can to correct the things that I didn't do well this season."
- Robin Washut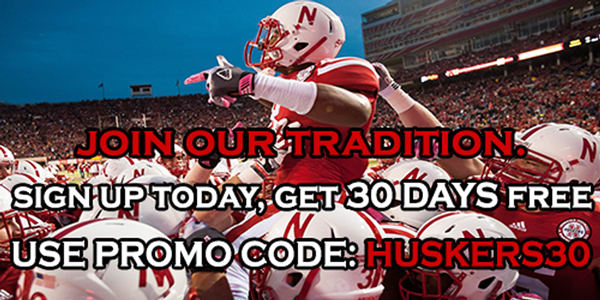 Click
Here
to view this Link.
[rl]