Nebraska vs. Iowa: Keys to victory, HOL score predictions
IOWA CITY, Iowa - Nebraska and Iowa will meet for the eighth time on Friday for the Heroes Trophy in Iowa City.
The Hawkeyes currently hold a 4-3 edge in the trophy series, winning four of the last five meetings. As things get closer to kickoff, here are today's keys to a Husker victory.

NU enters today's game as a 10 point underdog against Iowa, as they have not won in Iowa City since 2014.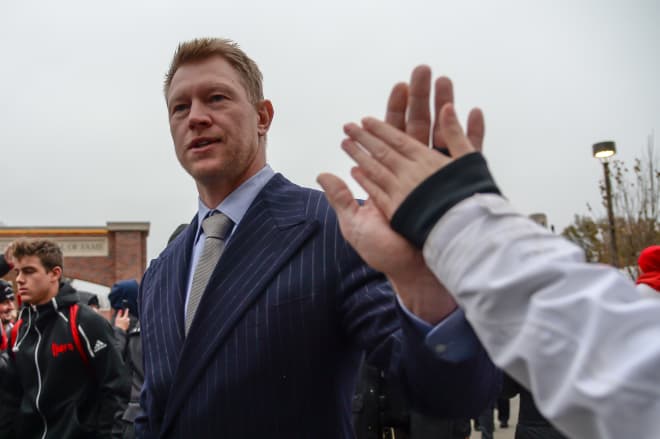 KEYS TO VICTORY: Nebraska at Iowa
KEY 1: Managing the conditions
Rain is expected today in Iowa City. It won't be as cold as we've seen the last two weeks, but there still is going to be a level of management needed by Nebraska with the elements to have a chance to win this game.
KEY 2: Martinez's ball security
Through 12 weeks, Nebraska quarterback Adrian Martinez leads the nation in fumbles. Ball security has been an issue for him at times this season, and he needs to be smart with how he handles conditions.
KEY 3: Creating pressure
Iowa has allowed just 13 sacks on the season. Nebraska has not been consistent with getting to the quarterback. The Huskers need to be creative with how they get pressure on the Hawkeyes today.
KEY 4: Limit Iowa's run game
On the season the Hawkeyes have had a 100-yard rusher just once, and that came last week at Illinois. NU needs to limit the Hawkeyes ground attack and keep their backs under 100 yards.
KEY 5: Explosive plays
The one area the Huskers have a decisive edge in this game is with their overall explosive playmakers on offense. Between Martinez, Devine Ozigbo, JD Spielman and Stanley Morgan, Nebraska has to find big plays on offense to get this Hawkeye defense off-balanced.
EXPERT TAKE: Nebraska at Iowa
Sean Callahan - HuskerOnline Publisher
Northwestern came into Iowa City as a 10 point underdog and won. Nebraska has a better offense than the Wildcats, with a better running game. I also think this is a good match-up for the Huskers defense. I think NU goes into Iowa City and pulls off the upset.
Nebraska 31, Iowa 30
##############################
Robin Washut - HuskerOnline Senior Writer
I'm just not sure that Nebraska, having played 11 straight games and coming off a physically and emotionally grinding win over Michigan State, has enough left in its to go on the road and do it all over again one more time. The weather won't be as big of a factor but still won't be ideal, and NU will struggle to stop Iowa's run game and play-action attack.
Iowa 41, Nebraska 31
##############################
Nate Clouse - HuskerOnline Lead Recruiting Analyst
Nebraska proved it could play a physical brand of football last week against Michigan State and they'll have to do it once against today in Iowa City. I think the difference in game will be Adrian Martinez as a true dual-threat against a tough Hawkeyes defense. If the true freshman is on his game through the air and can get things going as a runner then we'll see a very good Iowa defense struggle some. Also, if JD Spielman can at least be serviceable I like NU's chances even more. Huskers go to Iowa City and finish the season with a win.
Nebraska 30, Iowa 28
##############################
Mike'l Severe - Omaha World Herald Bottom Line
On a short week, on the road, coming off a physical game with Michigan state I worry about what NU has in the tank. Iowa's defense is as good or better than the Spartans and has a run game that has given Nebraska issues over the years. If the Huskers can force some turnovers I could see the game being a tight one but I expect Mekhi Sargent to have a good day and for the Iowa defensive line to pressure Adrian Martinez all game long.
Iowa 34, Nebraska 20
##############################
Andy Kendeigh - KETV Channel 7 Sports Director
Nebraska proved it can win in snow, now the Huskers get a chance to win in rain. Wet conditions expected Friday afternoon which will test each team's ability to move the football. Iowa is ranked second in the Big Ten in total defense and scoring defense but Nebraska managed to do what it takes against a similar defense in Michigan State. This "rivalry" has been one-sided lately with the Hawkeyes winning the last three, the Huskers add a big chapter in the series pulling off an upset in a wet, raw Kinnick Stadium on Black Friday.
Nebraska 27, Iowa 24
HuskerOnline Week 13 Score Predictions 
Week 13
Sean Callahan
Robin Washut
Nate Clouse
Mike'l Severe
Andy Kendeigh 

Nebraska at Iowa

31-30 Nebraska

41-31

Iowa

30-28

Nebraska

34-20

Iowa

27-24

Nebraska

Michigan at

Ohio State

34-24

Michigan

28-23

Michigan

35-28

Michigan

27-24

Michigan

27-17

Michigan

Utah State at Boise State

41-34

BSU

42-38

Utah State

38-33

BSU

35-31

BSU

37-31

BSU

Pittsburgh at Miami

27-23

Pittsburgh

31-30

Miami

34-24

Miami

27-23

Miami

28-27

Pittsburgh

Oklahoma at West Virginia

55-45

Oklahoma

51-48

Oklahoma

43-40

Oklahoma

41-38
WVU

44-41

Oklahoma

Washington at Washington Sate

45-42

WSU

27-24

UW

33-32

WSU

30-27

UW

33-28

WSU
HuskerOnline Score Prediction Standings 
Expert Picker
Straight Up
vs. the Spread 
Cumulative Total 
Column 5

Andy Kendeigh

KETV ABC-Omaha

52-17

38-32

90

Sean Callahan

HuskerOnline

45-26

40-29

85

Mike'l Severe

OWH Bottom Line

42-29

40-29

82

Nate Clouse

HuskerOnline

44-27

35-34

79

Robin Washut

HuskerOnline

44-27

34-35

78