Comeback falls short in 42-35 loss to Oregon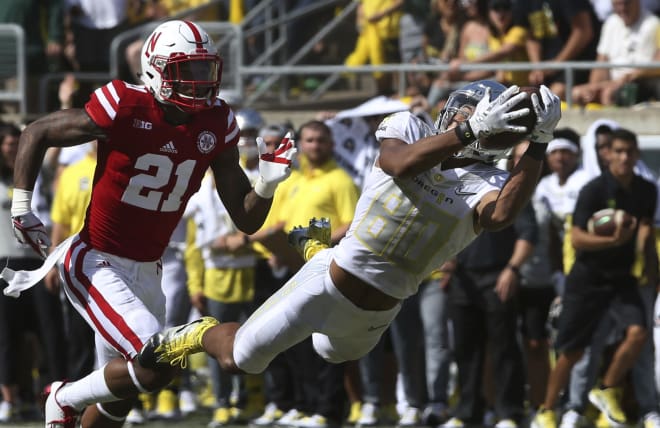 EUGENE, Ore. - As valiant as Nebraska's second half comeback was, it wasn't enough to erase a dismal first two quarters that led to a 42-35 loss to Oregon on Saturday.
A week after giving up nearly 500 yards to Arkansas State, the Huskers were torched right out of the gates to the tune of 400 first half yards and a 42-14 halftime time deficit.
When all was said and done, the Ducks (2-0) had racked up nearly 600 yards despite being shutout in the second half in front of a sellout crowd of 58,389 at Autzen Stadium.
Nebraska (1-1) was able to turn things around in a major way in the second half and got as close as one score in the final minutes of the fourth quarter, but just didn't have enough gas in the tank to finish the improbable rally.
Oregon wasted no time setting the tone on its opening drive, marching right down the field and scoring on a 32-yard touchdown pass from Justin Herbert to Brenden Schooler.
On Nebraska's very first play from scrimmage, Tanner Lee's pass to Stanley Morgan was tipped in the air and into the hands of Duck safety Tyree Robinson, who returned it 35 yards to the to the NU 20-yard line.
Herbert struck again with an eight-yard pass to Charles Nelson to give UO a 14-0 lead just 3:29 into the first quarter.
After starting from its own five-yard line, Nebraska finally got its first first down of the day with seven minutes to go in the opening quarter. That ended up sparking a 10-play, 95-yard drive that ended with a 23-yard touchdown pass from Lee to De'Mornay Pierson-El.
While that long drive briefly quelled Oregon's momentum, the Ducks got it right back on their following possession. With a 45-yard pass and two third-down conversions, UO closed out the first quarter with a two-yard rushing touchdown by Royce Freeman to go back up 21-7.
In all, Nebraska's defense gave up 21 points, 192 yards of total offense, and four of five third-down conversions to the Ducks in the first quarter alone.
Needing to answer, the Huskers hitched their wagon to running back Tre Bryant. The sophomore rushed three times for 40 yards, and with a 35-yard pass to tight end Tyler Hoppes mixed in, Bryant bullied his way in for a five-yard touchdown to get it back to 21-14.
A personal foul in the redzone nearly derailed Oregon's next drive, but the Ducks got a big break on a deflected ball that resulted in a 21-yard gain on third-and-17, and they punched it in from there on a 1-yard dive by Freeman.
A second interception thrown by Lee gave UO the ball against at the Nebraska 39 with 1:52 still remaining in the half, and that was all the time for Herbert to toss his third touchdown pass of the day on a 17-yard strike to Dillon Mitchell to push the lead to 42-14 going into halftime.
When the first half finally came to an end, Oregon had already racked up 408 yards of offense, 313 through the air, while averaging 9.1 yards per play, covering 6-of-8 third downs, and going a perfect 5-for-5 in the red zone.
Nebraska's offense got off to a strong start to the second half, as Morgan came up with a 22-yard fourth-down conversion catch and then an 18-yard touchdown to cut to 42-21.
The defense then answered by getting a quick three-and-out stop, and Lee found Morgan once again for a wide-open 28-yard touchdown strike that got it back to a two-score game again with 8:52 still to go in the third quarter.
The Blackshirts then stepped up once again when safety Aaron Williams picked off a tipped Herbert pass and returned it to the Oregon 44, but the Lee and Co. couldn't capitalize and were forced to punt.
Nebraska got the ball back again with a fourth-down stop, but Lee game it right back when he was picked off for the third time by Thomas Graham in the early minutes of the fourth quarter.
The Huskers got a big break when they recovered a fumble deep in Oregon territory, and running back Mikale Wilbon capped it off with a three-yard touchdown to make it 42-35 with 2:47 to go.
The defense forced a three-and-out to get the ball back with 2:25 still left on the clock, taking over at their own 38.
But the comeback ended with a thud on the first play of the drive, as Lee was hit as he threw and the popped into the hands of an Oregon defender for the game-clinching interception.
Nebraska returns to action next week when it plays host to Northern Illinois for an 11 a.m. kickoff.