Nebraska Football Depth Chart: Several key changes ahead of Louisiana Tech
Nebraska football and coach Matt Rhule have released the Huskers' official depth chart for their Week 4 game against Louisiana Tech.
Below is a look at the two-deep roster. Keep in mind that "anybody that's an 'OR' we just put them alphabetically," Rhule has said of the depth chart.
RELATED:
>> Huskers lose Ervin, Rahmir and Bootle to season-ending injuries
>> Sims is back, Lenhardt hurt, breakdown of new top 3 RBs
"Just for me the depth chart is an organism," Rhule said. "It's ever-changing. I'm not a big 'set it in stone' kind of guy. We're going to play guys, and the competition is always there and you have the power to change your situation. That'll kind of be a weekly thing."
Not a member of Inside Nebraska? SUBSCRIBE TODAY to unlock all of our premium articles and message boards for just $9.95/month
–––––––––––––––––––––––––––––––
Notable Changes
>> Jeff Sims and Heinrich Haarberg are listed as co-starters ahead of backup Chubba Purdy. Sims returned to practice on Monday, but his status for Louisiana Tech is still up in the air and won't be announced until two hours before the game with the release of the Huskers' availability report.
>> Rhule announced on Monday that starting running back Gabe Ervin Jr. and No. 2 running back Rahmir Johnson – in addition to freshman Dwight Bootle, the No. 2 cornerback behind Malcolm Hartzog – suffered season-ending injuries against Northern Illinois. Now, Anthony Grant has retaken his spot from last season as the No. 1 running back. Emmett Johnson is the team's No. 2 running back now, and there is not a No. 3 listed.
>> Teddy Prochazka is now listed as the No. 2 left tackle ahead of freshman Gunnar Gottula. Prochazka played for the first time this season on Saturday, playing nine snaps against Northern Illinois.
>> Jimari Butler is now listed as the No. 2 defensive end behind Ty Robinson. It was previously Kai Wallin, who is no longer listed on the two-deep.
>> John Bullock is now listed as a co-starter at linebacker alongside Nick Henrich on the two-deep after he had previously been designated as a backup. Javin Wright is now in the No. 2 spot at linebacker behind Luke Reimer.
>> Mikai Gbayor has sprinted ahead to the top of the pack. Gbayor had not been listed on the two-deep for any of the Huksers' first three games, but he is now listed as the starting Jack linebacker ahead of Chief Borders and MJ Sherman. As stated above, Rhule has said that all co-starters and co-backups listed with an "OR" next to their names are listed alphabetically. But, obviously, Borders should be listed above Gbayor if it was the case that they were all on the same level. Gbayor should be considered the starting Jack right now, given his hierarchy on this week's depth chart.
>> Tamon Lynum is now the No. 2 cornerback behind Malcolm Hartzog as Lynum replaces Bootle.
>> Emmett Johnson, the team's No. 1 kick returner on the roster previously, is now the only kick returner listed. Rahmir Johnson was previously listed as the No. 2, but that spot is now a "TBD."
OFFENSE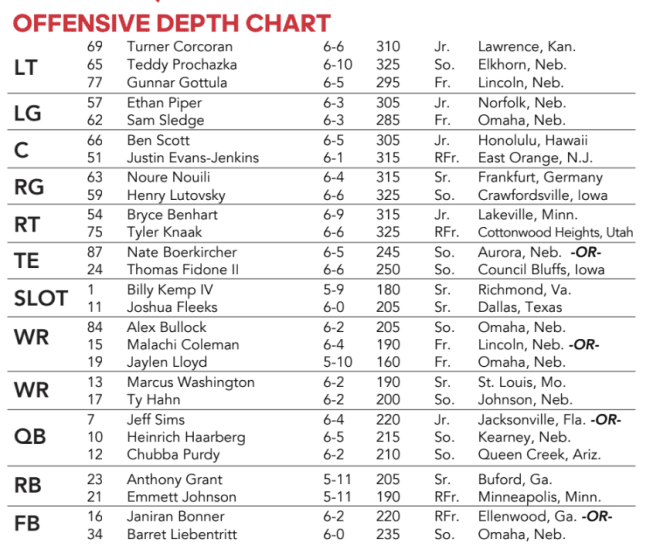 DEFENSE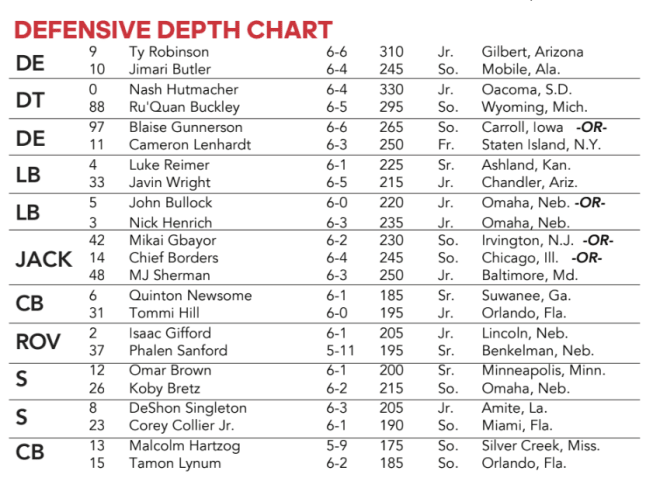 SPECIAL TEAMS