Nebraska at Minnesota: Keys to victory and HOL predictions
MINNEAPOLIS - Both Nebraska (4-5, 3-3) and Minnesota (4-5, 1-5) are fighting to get to bowl eligibility today.
The Gophers have struggled as of late, while the Huskers blew a chance to knock off Northwestern last week in Lincoln.
As things get closer to kickoff, here are the keys to a Nebraska victory over Minnesota. NU enters today's game as a slight 2.5 point underdog to the Gophers.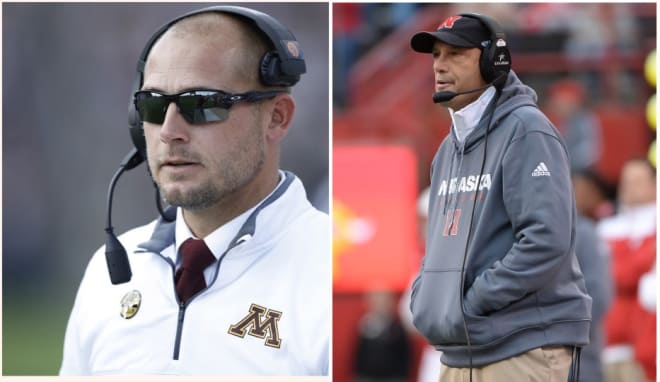 KEYS TO VICTORY: Nebraska at Minnesota 
KEY 1: Line of scrimmage play
Whoever wins the line of scrimmage in this game will more than likely leave TCF Stadium with the a win. This game is set up to be an ugly, black and blue type game, that will probably last under 3 hours because of all the running.
KEY 2: Eliminate the leaky yardage
Both Shannon Brooks and Rodney Smith are talented backs. The Huskers need to do a better job this week of wrapping up, and not allowing them to get leaky yards after contact his made.
KEY 3: Run for close to 200 yards on the ground
Last week Michigan really exposed the Gophers rushing defense, running for 371 yards on 37 carries. The Huskers need to go right at this weakness, and find a way to rush for over 200 yards for the first time since Week 1.
KEY 4: Explosive plays
Last week Michigan hit on several explosive plays, and that's how they were able to dismantle the Gophers. NU needs to use their play makers like Stanley Morgan, De'Mornay Pierson-El and JD Spielman to find a few explosive plays early, and that will open up the running game that much more.
KEY 5: Play with attitude
The temperature around the Nebraska football program right now is not pretty. The air if filled with rumors and speculation about the future of Mike Riley and his coaching staff. The teams needs to block all of that out today, and take the field with some attitude.
EXPERT TAKE: Nebraska at Minnesota 
Sean Callahan - HuskerOnline Publisher
This is a much better match-up for Nebraska than Northwestern a week ago. The Gophers struggle to throw the football, and their backs aren't as good as what NU saw last week. This should also be the first time since arguably Illinois where the Huskers will be able to run the football with consistency, which should help them sneak out of Minneapolis with a win.
Nebraska 23, Minnesota 17
##############################
Robin Washut - HuskerOnline Senior Writer
If Nebraska can control the line of scrimmage on both sides of the ball, there's no reason why the Huskers can't pick up an important road victory today. However, both of those tasks have been much easier said than done for this team all season, and it's hard to feel confident that both of those issues will suddenly get fixed this late i the year.
Minnesota 27, Nebraska 24
##############################
Nate Clouse - HuskerOnline Lead Recruiting Analyst
Nebraska travels to Minnesota as the more talented team, but will they play like it against the Gophers on Saturday? If there's a remaining opponent the Huskers should be able to run against it's Minnesota. If NU can win the turnover battle and convert in the red zone they will win the game.
Nebraska 24, Minnesota 21
##############################
Mike'l Severe - Omaha World Herald Bottom Line
My numbers say that the Gophers should be 6 point favorites but that makes no sense to me. Unless there is some really nasty weather (Wind) I can't see NU losing this game. It reminds me of the Illinois game this time with Minn not being able to threaten the Husker through the air. Nebraska can stack the box and pressure Demry Croft ​into some mistakes. The Gophers only hope is some long runs from Smith and Brooks and some shot plays to deep threat Tyler Johnson.
Nebraska 23, Minnesota 17
##############################
Andy Kendeigh - KETV Channel 7 Sports Director
Run-the-ball-guy loves the weather forecast for Minneapolis on Saturday, rain/snow mix with temps in the low-to-mid-30's. It's been more than a month since Nebraska outrushed an opponent (Illinois/September 29) so it's imperative the Huskers run it against a decent Golden Gopher front. The magic number? 125. When Nebraska runs it for 125 or more yards they are 3-0. When the Gophers give up 125 or more yards they are 0-6.
Nebraska 27, Minnesota 21
HuskerOnline Week 10 Score Predictions 
Week 10
Sean Callahan
Robin Washut
Nate Clouse
Mike'l Severe
Andy Kendeigh

Nebraska at Minn.

23-17

Nebraska

27-24

Minnesota

24-21

Nebraska

23-17

Nebraska

27-21

Nebraska

Iowa at Wisconsin

27-23

Wisconsin

23-21

Wisconsin

28-20

Wisconsin

24-17

Wisconsin

14-9

Wisconsin

Purdue at NW

26-17

NW

31-21

NW

28-27

NW

26-23

NW

24-20

Purdue

MSU at Ohio State

31-23

Ohio State

28-24

Ohio State

38-20

Ohio State

37-20

Ohio State

31-21

Ohio State

N. Dame at Miami

34-31

Miami

29-21

N. Dame

36-30

N. Dame

34-28

N. Dame

24-21

Miami

UGA at Auburn

23-20

Georgia

40-27

Georgia

36-28

Georgia

21-20

Auburn

31-28

Georgia
HuskerOnline Score Prediction Standings
Expert Picker
Straight Up
vs. The Spread
Cumulative Total

Mike'l Severe

OWH Bottom Line

37-14

28-26

65

Sean Callahan

HuskerOnline

36-18

28-26

64

Andy Kendeigh

KETV ABC-Omaha

31-19

30-24

61

Robin Washut

HuskerOnline

33-21

26-28

59

Nate Clouse

HuskerOnline

33-21

25-29

58