{{ timeAgo('2021-10-30 18:04:50 -0500') }}
football
Edit
Instant Takes: Purdue: 28, Nebraska: 23
Here are some instant takes from Nebraska's crushing 28-23 loss to Purdue: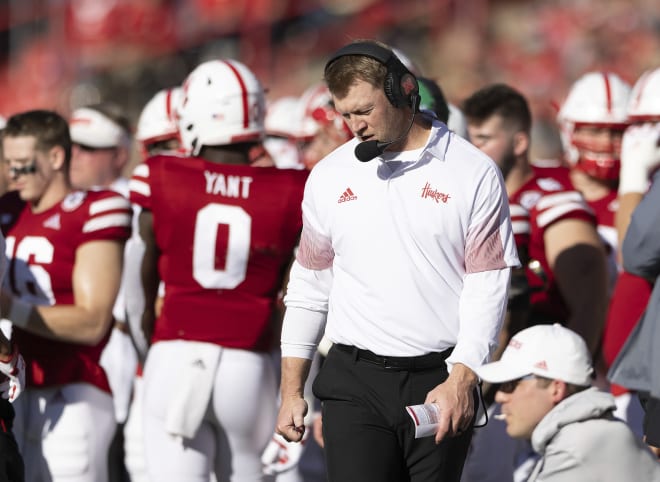 Offense completely flat in second half
Nebraska's offense managed to put up 17 points in the first half. After gaining 237 yards in the first half, the Huskers had just 34 yards on 12 plays in the third quarter. They rushed for nine yards on nine attempts.
Nebraska finished with 399 yards.
The third quarter was an embarrassment. Four drives with three punts and an interception. The fourth quarter wasn't much better with a punt, two interceptions and a last-minute touchdown.
While its defense and special teams tried desperately to breathe life into the offense, it was no use.
Quarterback Adrian Martinez went 1-of-3 with an interception in the third quarter.
Head Coach Scott Frost's offenses are known for being explosive and uptempo. However, Nebraska's offense was a trainwreck in the third quarter. They were incapable of getting a first down.
When bringing in Frost, no one ever assumed the defense would outperform the offense consistently and that the offenses' inability to score would be literally losing them games that are within reach.
Yet, here we are. Game after game, scratching our heads at this offense and Frost's choices.
Defense spent a lot of time on the field
With the Huskers' offense on the field for six minutes in the third quarter, the defense started to wear down.
Nebraska's defense showed up to start the second half and only allowed five yards on Purdue's first offensive drive. Nebraska was called for pass interference, a 15-yard penalty, but had two tackles for loss for a total of 10 yards.
The offense got the ball back and in true fashion, Martinez threw an interception while attempting to flip the ball to tight end Travis Vokolek while he was being tackled.
The Blackshirts responded by forcing a three-and-out.
But as the quarter went on, the defense gave up more and more yards. Purdue ended the third quarter with a three-minute touchdown drive. And started the final quarter with a six-minute touchdown drive, going up 28-17.
Purdue possessed the ball for 36 total minutes and for 18 minutes in the second half.
That's a lot of time for a defense. Not an excuse, especially after a bye week. But it's hard for the defense to give and give opportunities to the offense and for them to split in their face for another three-and-out or interception.
Adrian Martinez reevaluation 
Martinez played his worst game of the season by far. He went 14-for-29 with 269 yards and threw four interceptions.
An offensive's success starts with its quarterback. When the leader of the offense throws a whopping four interceptions, three in the second half, it's basically impossible to get momentum.
Frost said Martinez was beat up with a bad ankle against Minnesota, partially explaining why they got beat down in Minneapolis. However, Martinez told the media this week he was healthy after the bye week.
Nebraska proved Martinez's health by putting him under center for a quarterback sneak on 4th-and-1 in the first quarter.
You can't help but wonder what the excuse will be this time. And if Nebraska will seriously consider giving Logan Smothers a shot.