Frost's wild month was worth it
ATLANTA – When you look at how things played out over the last month at Nebraska and UCF, there was no other way Scott Frost could've handled this bowl month.
Sure, he could've let a skeleton staff and a few graduate assistants coach the Knights in today's Peach Bowl against Auburn, but that's not how Frost operates.
I'd imagine if Frost's mentor Tom Osborne faced a similar situation, he would've handled things the same way because quite frankly it's the right thing to do.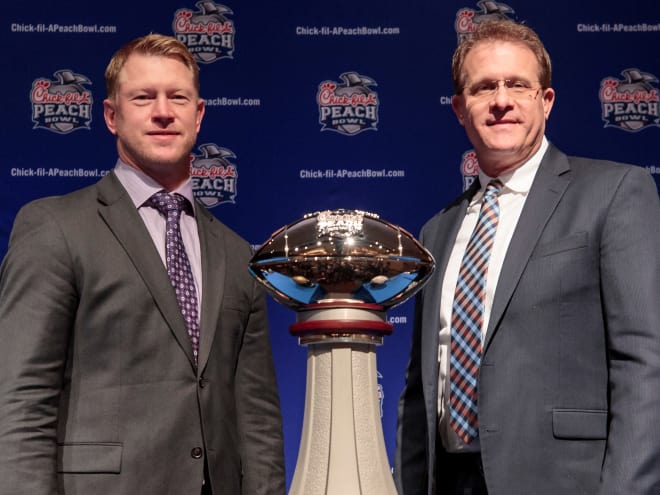 Auburn's Gus Malzahn faced a similar situation when he was leaving Arkansas State for Auburn in 2012. He didn't coach his Sun Belt Champion Red Wolves in the GoDaddy.com Bowl vs. Kent State, and he still has regrets about it to this day. If Frost would've chosen not to coach the Peach Bowl, I'm sure he'd have similar feelings to Malzahn's.

"For Scott to come back and finish it, being the fifth head coach ever to come back and finish a game of this prominence spoke volumes to Malzahn on the other side, and it speaks volumes to all of us in college football," ESPN's Brock Huard said on Sunday. "I don't know if it's sacrificial….it is. It's sacrificial on his health, on his time, and on everything else, to continue to finish what he started there. It's huge."
When Frost first took the Nebraska job, there were a lot of questions about how he'd make this work, especially the first week when UCF's players had finals.
Frost and the coaches that followed him to NU were already out recruiting for the Huskers the day after the AAC title game. Long-time UCF assistant coach Sean Beckton was still recruiting on behalf of the Knights for a few days before he too eventually announced he was coming to Lincoln, after Troy Walters was passed over for the UCF head job.
That first week brought on a lot of questions, but Frost squashed the speculation about how this was going to work by going above and beyond with his bowl month plan.
"This is his 10th New Year's Bowl Frost (has been a part of), and when he coached those at Oregon, he would also leave to recruit before New Year's," Huard said. "That's part of the opportunity you have when you play on this date. Those players didn't realize that. They have never experienced that. At least part of them hadn't. It was emotionally really challenging and hard on them. The closer you get to it, and now that you are here and being at practice yesterday and watching it, I'm sure it was second nature."
Instead of running a "skeleton staff" to run bowl practices from Dec. 12-14 that featured just coordinators and graduate assistant coaches, Frost and all his full-time assistants came back to Orlando for all three practices that took place over the biggest recruiting period of the year.
Nearly every school in the country, especially one that's trying to finish off a recruiting class at a new school would've operated with a skeleton staff that week. Frost is different in that respect, and that immediately turned an awkward situation into one where Frost earned respect from everyone.
Very few coaches around the country would've put themselves through the rigors Frost did this last month. I overheard one reporter here in Atlanta on Sunday say Frost has aged over these last few weeks with the way he's been burning the oil on both ends.
"I definitely have the utmost respect for those guys," UCF defensive back Tre Neal said. "It's a hard situation for some of these you guys just because Coach Frost and some of these guys are the only coaches they know. I understand the business of everything. Just being able to manage recruiting for another school, and putting 110 percent effort into us. People have asked me if it's waivered from September or October with how Coach Frost feels about you guys, and I haven't seen it.
"That's one of the amazing things about it that somebody can have other responsibilities, but give 110 percent to what he started earlier and finish off what he started with everything at once. I think that just comes with what he's taught us a lot about love, and having to love each other. I think he has a lot of love for this team, and he wants to finish it off the right way."