Final take: Eichorst started this war with Iowa, Ferentz finished it
When former Nebraska Athletic Director Shawn Eichorst fired Bo Pelini following a thrilling overtime victory at Iowa in 2014, the Huskers held a decisive 3-1 lead in the Heroes Game series.
The Huskers finished with a 9-3 regular season record, and it had a pretty similar feel to 2003 when Frank Solich was fired after a 9-3 season where he closed with a win at Colorado.
When Eichorst fired Pelini he was asked if NU's win at Iowa had any impact in his final analysis, he then made this legendary statement that you can argue fueled this rivalry with the Hawkeyes:
"Our kids showed great character and resiliency in a tough environment," Eichorst said, "so it did play a factor. But in the final analysis, I had to evaluate where Iowa was."
Eichorst even gave more of a response to a follow-up question about Iowa.
"As I looked back on the outcomes, I'm trying to look back at who are championship-caliber football teams at that moment and how competitive we were in those games.
"We weren't playing for a conference championship, and neither was Iowa. I have great respect for Iowa. It's a great institution and a wonderful football program. But in the final analysis, their record was where it was, and ours was where it was. Fair enough?"
Since that statement by Eichorst about Iowa, Kirk Ferentz and his Hawkeyes are 3-0 against the Huskers, and have outscored NU 124-44. Friday's 56-14 beating by Iowa in Lincoln was arguably Ferentz's final twist of the knife into the Eichorst era at Nebraska.
It's funny that somebody who was so calculated with what he said would say something like that.
Before Eichorst made those comments about Iowa, you never felt like this series had any juice. Now the Hawks have seized control, winning four of the last five games, to take a 4-3 lead in the series.
"I think that you look at the end of the season and a disappointing loss like that, lost game, lost opportunity in that game. It's disappointing," Riley said following Friday's loss.
Friday's blowout loss saw the Huskers outscored 42-0 in the second half, as it was the third time this season Bob Diaco's unit had allowed 42 points in a half. Friday puts an end to the worst season of Nebraska football we've seen in the modern era.
Eichorst may have started this war with Iowa, but there's no question Ferentz finished it on Friday.
Now on to the breakdown...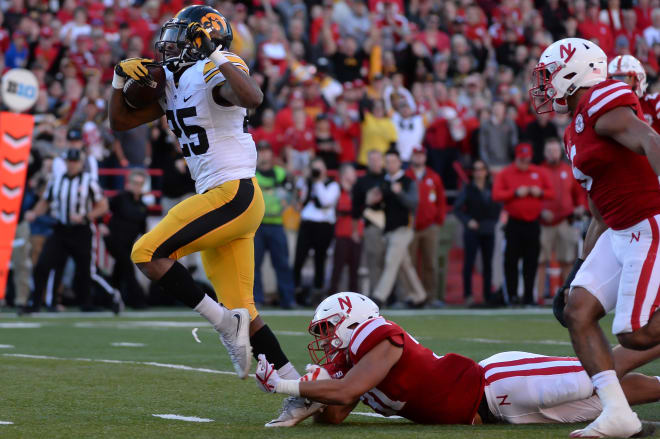 What I saw on Friday
***The clock management by Nebraska at the end of the first half was inexcusable. With the Hawkeyes getting the ball to start the third quarter, they were inside the 10-yard line with just under 2 minutes remaining, and NU had all three timeouts. Instead of using timeouts and having about 1:30 remaining, Riley sat on all three of them, and NU only got the ball back with 20 seconds remaining.
***Iowa got a huge break on their first touchdown. The Hawks had a false start that was not called, and it allowed the touchdown run to happen on the left side.
Then on a fourth-and-1 with the game at 35-14 Nebraska had a false start called on a wide receiver.
***Iowa seriously could not have scripted a better start for Nebraska to jump on them. The Hawks botched their first punt and gave NU the ball at the 15. Then after the Huskers scored at touchdown, Iowa fielded a kick out of bounds at the 1-yard line. They answered with a 99 yard 15 play drive that chewed up 7:18 on the clock.
***Mike Riley's exit from Memorial Stadium on Friday was very business as usual. I also didn't see any fans doing or saying anything derogatory as he left. I did notice one member of the recruiting staff shedding a few tears as he walked off the field on Friday. If Nebraska would've somehow won or played a much more competitive game, I expected a much more emotional scene than that on Friday.
***A fan named Lance Marshall tweeted this at me on Friday, and I thought it summed things up perfectly. "That last series of events..fake field goal missed, running into the kicker (gives Iowa the ball back), fumble (by Iowa) not recovered (by Nebraska), not using timeouts (to close the first half) and an Omaha kid (TE Noah Fant) scoring for the Hawks sums up the Riley era." Hard to argue any of this.
***It was good to see both Stanley Morgan Jr. and Tyler Hoppes break wide receiver and tight end records at Nebraska, but in the grand scheme of things, any time receiver records fall at NU, that usually means Nebraska is not having a good season and being forced to throw way too much. To put it in perspective, Morgan was targeted by Tanner Lee 16 times on Friday, while NU's top three running backs had just a combined 19 carries.
***I was a little surprised Patrick O'Brien didn't at least go in for one series on Friday.
***As for Lee's future, he doesn't know what he's going to do going forward, but it seems highly unlikely he's going to be back in 2018 for what would be his sixth year of college.
The final grade out
Rushing offense: F
Nebraska finished with just 67 rushing yards and only one run longer than 10 yards on Friday. Statically, this will go down as one of the worst rushing offenses in modern-day Husker history.
Passing offense: D

Stanley Morgan Jr. made a few spectacular catches early, but other than that, there's not a lot to be happy about from Friday's game. Tanner Lee threw three interceptions, and Iowa got the best of him as things fell apart.
Rushing defense: F
Iowa controlled the line of scrimmage, and Akrum Wadley broke off multiple big runs, especially when the game broke open in the third quarter. The loss of Mick Stoltenberg was also significant on Friday not having him in the middle. When he went down, things opened up even more. Iowa finished with 313 yards rushing and six rushing touchdowns on 47 carries.
Passing defense: F
Whenever Iowa gets a recruit from Nebraska, they seemingly end up being all-world. Add Omaha South tight end Noah Fant to that group, as he torched the Husker secondary for over 100 yards and two touchdowns. Nate Stanley was a very efficient 13-of-20 for 192 yards and two touchdowns.
Special teams: F
Nebraska had a botched fake field goal that could've made the game 10-7 Huskers. The Tony Butler running into the punter penalty gave Iowa the ball back when NU was winning 14-7. That blunder by Butler opened the floodgates for Iowa's scoring run. Then to make matters worse, Iowa had a 74-yard kickoff return to start the third quarter and continue the scoring run.
Sean Callahan can be reached at sean@huskeronline.com and he can be heard each day at 6:45 am and 5:05 pm on Big Red Radio 1110 KFAB in Omaha during the football season. He can also be seen on KETV Channel 7 in Omaha during the fall and each week he appears on NET's Big Red Wrap-Up Tuesday's at 7 pm.