Wednesday notebook: QB battle still under wraps
For anyone hoping for a detailed update on the competition for Nebraska's starting quarterback job, you're probably going to have to wait a while longer.

Offensive coordinator Troy Walters, quarterbacks coach Mario Verduzco, and NU's top three QBs all met with reporters following Wednesday's practice, and just like it was all through spring ball, no one was tipping their hand on where the race stood.
"They're all doing well," Walters said. "I don't know how close it is. Our motto is 'day by day', and so those guys know that each day they've got to come to practice ready and prepared. Mario is switching up the reps, so they're all getting plenty of reps.
"They understand that we're not going to make a decision today. We've got some scrimmages coming up; we're going to put them in some live situations. But the motto is 'day by day' and get better each day. Those guys have embraced that and they're doing a great job."
Verduzco was asked if he'd seen any separation from the group through the first five fall camp practices.
"All three of them," he said.
"They have basically started from where we left off in spring. And now some of the more finer details of what we're doing from snap to snap are coming into play. So, they're progressing well, and Andrew (Bunch) is doing a nice job. As I said, they've kind of started from where they left off. So far, so good."
While no one is saying much as to who the frontrunner might be, most assume that redshirt freshman Tristan Gebbia and true freshman Adrian Martinez have emerged in a two-man battle.
Gebbia said that even though the level of competition has been higher than ever this fall, the quarterback room hasn't taken on a cut-throat mentality by any means.
"There are 140 guys trying to be the best that we can be because we're creating an atmosphere of brotherhood and teammates," Gebbia said. "The most important thing is the next snap, and we've all just been trying to be the best that we can be and just let it take over from there."
Though most think it will come down to Gebbia and Martinez, junior Andrew Bunch hasn't resigned anything regarding his place on Nebraska's quarterback totem pole.
"I've never thought it was a job I couldn't win," Bunch said. "Every day I go into practice as if I'm the starter, that's the attitude I like to have. I've never once thought that it was a job that I didn't have a chance for."
- Robin Washut
Frost reacclimating to Husker spotlight
When Scott Frost came back to Nebraska, he entered the state immediately as a rock star. Having a private life in Lincoln is almost next to impossible but running backs coach Ryan Held said Frost has managed to make it happen.

"The thing about it is, with this job, everybody looks at you," Held said. "If you go out to a restaurant, everybody knows who Scott Frost is. He can't go into a Buffalo Wild Wings and get any wings without 100 people going up to him wanting to get an autograph, but that's part of the deal. He understands that.
"Again, for him, he just has to be creative and find different ways where he can still live his life with his wife and kid and go out and do some things that a normal person can do. He understands though what the job entails, and in fact, those things happen, and it is what it is."
Held even shared a few stories of how Frost finds ways to get into public places without being noticed.
"You might have to go into a back door of a place," Held said. "Like him and I met at one place and he came in through the back door and I snuck him into a corner and ate wings and we kind of blocked him in so he could be just a normal person and not have 150 people come up and ask for his autograph, which I don't blame people for doing it. I would too if I was a fan. For his family, it would be nice to be able to go out and eat and not have people on him all the time."
- Sean Callahan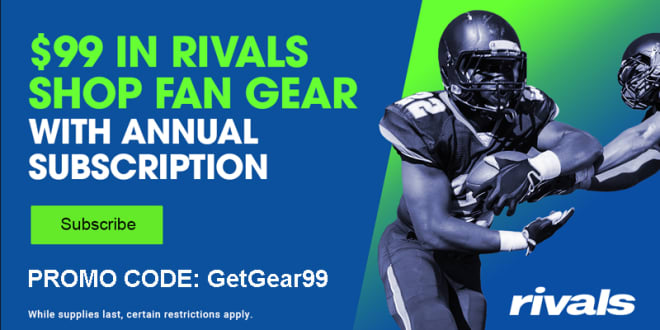 Gebbia still working to prove his dual-threat ability
As close as the competition has been at quarterback this offseason, one of the eventual separators will be the ability to be a dual-threat weapon as a passer and a runner.

Martinez stole the show in the spring game, rushing for 60 yards and throwing for 114 with four total touchdowns. But Gebbia is still working to prove he can be more of a factor with his legs as he is with his right arm.
"Obviously the running part of this offense is a big part of (the position), and I'm really excited to get out there and start running and picking up first downs," Gebbia said. "But at the end of the day, it's not running every down. We're not Georgia Tech, you know? The quarterback has to run and the quarterback has to be a threat with his legs. Whenever I need to make a play, I will."
Gebbia said he worked specifically on his speed during his offseason workouts with strength coach Zach Duval, and while he's still never run an official 40-yard dash, he feels plenty fast enough to make the most of his carries.
One hurdle Gebbia and the rest of the quarterbacks have no control over this fall is having to wear the green no-contact jerseys in practice, which limit how much they can show off their running ability on the field.
"Most of the time when we're pulling the ball and running, it's because we're going to be open and there's going to be five yards of space to go make a play," Gebbia said. "If you're not pulling it for that reason, then I don't think you should've pulled it.
"I think it's pretty clear that we can all really do a great job with our legs and be a threat with our legs. That's the most important thing in this offense."
- Robin Washut
Competition soaring in crowded NU backfield
With three running backs boasting college starting experience already on the roster, Nebraska added three more highly-touted pieces to the mix this offseason.

As a result, the Huskers' backfield may be the most loaded position on the roster at the start of fall camp.
Things were already tight enough during spring ball between seniors Devine Ozigbo and Mikale Wilbon, junior college transfer Greg Bell, and sophomore Jaylin Bradley.
But now NU has added two heralded freshmen in Maurice Washington and Miles Jones as well as returning a fully-healthy Bryant, last year's opening game starter.
"First of all, it's a good problem to have," Held said. "Second of all, it's a matter of - this game can be unforgiving, so there could be an injury or anything like that. So you better have a lot of depth, because it's the next guy up. But we'll have some tough decisions."
Walters said that at Central Florida the staff generally played four running backs per game, with one of those mostly lined up in the slot.
There's no certainty that head coach Scott Frost and his coaches will stick with that number at Nebraska, but it could be a fairly decent gauge as to how many of those backs could see the field once the season gets underway.
"We want to keep guys fresh," Walters said. "We want to wear the defense down, and we're going to put guys on the field that help this offense and that are explosive and can make plays…
"Competition is great. That's why we brought in the young guys, that's why we recruit, because we always want guys to know that there's a man behind them wanting to take his position. Each day you've got to compete and bring your A game. If we do that, we're going to be pretty good."
- Robin Washut
Watt not on 110-man roster, but nothing to read into
One noticeable omission on the 110-man roster for Nebraska was 2018 wide receiver recruit Dominick Watt.
The four-star prospect and outside linebackers Sedrick King and Quayshon Alexander were the only current scholarship players not listed on the official Fall Camp roster.

However, a team spokesman said don't read into the fact Watt isn't listed on the camp roster.
If Watt gets cleared academically in the coming days, they can still put him on the 110-man roster if an injury takes another player off.
NU remains very confident things will work out with Watt, despite the fact he hasn't been cleared by the NCAA.
- Sean Callahan
Legrone starts off at tight end
When Nebraska recruited Katerian Legrone out of Georgia, they weren't sure if he'd start his career off as a tight end or a wide receiver.

However, after a few things happened over the off-season, the decision was easy for position coach Sean Beckton to start the 6-foot-3, 235-pound Legrone as a tight end.
"Some guys are no longer on the team, so we decided to bring him over," Beckton said of Legrone. "We recruited him as a big athlete. He's one of those guys that's starting to flash for us a little bit. The game is starting to slow down for him.
Really for both those guys – him and Cam Jurgens the game is started to slow down for them. I see a lot of good things from those guys, particularly (Legrone) as far as being a good ball catcher down the field."
As for Jurgens, he's coming back from a broken leg and ankle injury he suffered in October, but to this point, he's not suffered any setbacks in camp.
"He's coming back, I'd say he's probably at about 95 percent back," Beckton said of Jurgens. "He still has to do a lot of post-practice things to continue to keep him managed as far as his legs. We are kind of controlling his reps a little bit, but I'm really happy where he is right now."
- Sean Callahan
Quick hits
***The hype train surrounding Maurice Washington hit another gear on Wednesday, as coaches and teammates alike dumped more praise on the freshman running back. "He's special," Walters said. "When he's out there he has another gear. He has instincts you can't coach."
***Asked about some of the new wide receivers the Huskers added this fall, Walters pointed to Jaron Woodyard, Miles Jones, Andre Hunt, and Mike Williams as guys who have stood out this fall.
***Walters also praised the progress made by tight end Jack Stoll this offseason.
***Quarterback Noah Vedral said Nebraska has dropped his appeal to be eligible this season and will sit out 2018 per NCAA transfer rules.

***Martinez said he arrived at Nebraska this spring at 198 pounds, and now he's up to 220. He also said his previously injured shoulder, which forced him to miss his senior high school season, feels great and has regained almost all of its strength and range of movement.