Tuesday notebook: Riley, Banker ready for Oregon rematch
For head coach Mike Riley and several members of his Nebraska coaching staff, preparing for Oregon's famous high-speed offense is certainly nothing new.
Riley faced the Ducks 14 times during his time at Oregon State, and after winning four of the first seven meetings, his Beavers ended up losing the final seven games from 2008-14 before he took over the Huskers.
Oregon definitely put some big numbers during those seven losses, averaging 45.6 points and 578 yards of total offense. The final meeting in 2014, five days before Riley took the NU job, Oregon State's season ended in a 47-19 rout to its instate rival.
Needless to say, it didn't take long for Riley and former Oregon State/current Husker defensive coordinator Mark Banker to learn they would get another shot at the Ducks in their second season in Lincoln.
Though the teams have changed, both Riley and Banker remember full well how difficult of a challenge it was to try and slow Oregon's offense down.
"I think the issue we had was speed in space," Riley said. "Either tackling in space or covering in space. ... What their thing started with and had through the course of time was good backs who can be hard to tackle in space and quarterbacks who can be hard in space.
"That was probably our biggest issue. What happens is you load it up and then you get a chance to be burned in the passing game."
Oregon comes into Saturday's game averaging 48.5 points and ranks eighth nationally in total offense at 557.0 yards per game.
Though their two wins were against FCS-level UC Davis and struggling Virginia, Banker said he expects the Ducks to be as potent as ever this time around.
"This team thrives on big plays," Banker said. "Very seldom does an Oregon team go on a 12, 13, 14, 15-play drive... If not giving up a big play is a defensive philosophy at any point in time, it's this week. It's controlled mayhem."
- Robin Washut
Williams earns his Blackshirt
When the initial 13 Blackshirts were unveiled the week prior to Nebraska's season opener, easily the biggest omission was junior safety Kieron Williams.
Despite being listed as a starter in place of the suspended Nate Gerry, Williams was left without one of the coveted black practice jerseys because, as Banker said, he still needed to earn it.
With a team-high 15 tackles and two interceptions, including a 23-yard pick-six last week against Wyoming, Williams answered that challenge and then some over the first two weeks.
When he arrived at his locker prior to Tuesday's practice, a Blackshirt was there waiting for him.
"You talk about there being certain qualities of consistency, the manner in which you play, the time that you put in - whether it's in the film room, the weight room, on the field - everything combined," Banker said.
"In these first two weeks, he's made a great case for himself. He's taken advantage of an opportunity and the door was open for him to do that, and he walked right through it."
- Robin Washut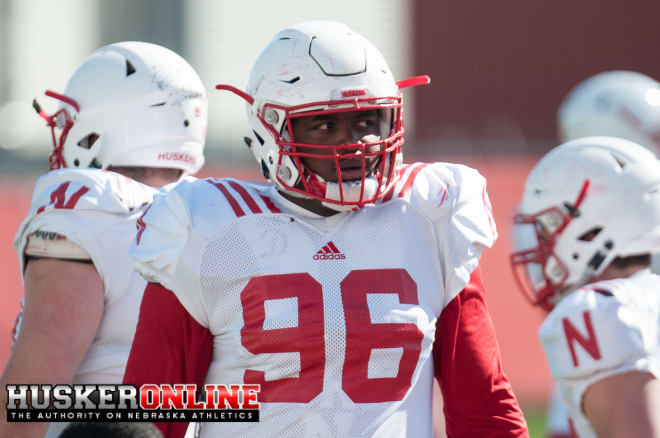 Davis, DTs hold their own without Stoltenberg
Nebraska's defensive line got some bad news late last week when starting defensive tackle Mick Stoltenberg suffered a non-contact knee injury and had to undergo arthroscopic surgery, sidelining him for Saturday's game vs. Wyoming.
On a defensive line that already was sparse on experience and proven depth, Stoltenberg's injury looked to be a big blow going up against a Cowboy running game that was a much tougher test than Fresno State a week earlier.
As it turned out, NU's young but talented defensive tackles - led by redshirt freshman Carlos Davis, who earned his first start in place of Stoltenberg - ended up doing just fine in his absence.
"I missed (Stoltenberg) out there a lot, but we have a lot of young guys that can step up," senior defensive end Ross Dzuris said. "Carlos played pretty hard and Kevin (Maurice) played pretty good at the nose last week as well. So you know, we missed him, but we have a lot of guys who can play."
Dzuris said he could sense some nervousness from Davis last week after it was learned that Stoltenberg would be out. But the former three-star prospect rose to the occasion in a big way, tying for third on the team with five total tackles in the Husker victory.
"He did pretty well, I thought," Dzuris said. "Practice was rough for him, but once he got his nerves settled a little bit, I think he just played within himself and he played good."
- Robin Washut
Injury has frustrated Reilly's status in doubt for Oregon
After missing the season opener due to suspension, Brandon Reilly made an immediate impact in his return on Saturday against Wyoming.
The senior wide receiver hauled in two catches for 52 yards - including a 38-yard grab - and added a 12-yard rush in the victory. He also had a diving 46-yard reception in third quarter that was initially ruled a catch but was overturned as incomplete.
Just when it seemed like Reilly was solidified back at the top of NU's receiver rotation, the injury bug has once again put his status in doubt.
Reilly injured his hamstring while diving for the third-quarter pass, and he left the game after the play and did not return the rest of the day.
"Right when I dove I felt it," Reilly said. "And I'm like, 'This can't be happening.' It doesn't make sense now, but it could be worse - I keep telling myself that - so hopefully I get through it."
Hamstring injuries have been a nagging issue for Reilly. He missed more than two weeks of practice due to hamstring trouble last year during fall camp.
Reilly was held out of Tuesday's practice, and Riley said Monday that the Lincoln native was currently listed as questionable for the Oregon game and would be evaluated throughout the week.
For Reilly, he's just hoping he can avoid yet another frustrating setback.
"It wasn't bothering me at all (before that play), so that's where the real frustration comes from," Reilly said. "I have no idea why or how."
- Robin Washut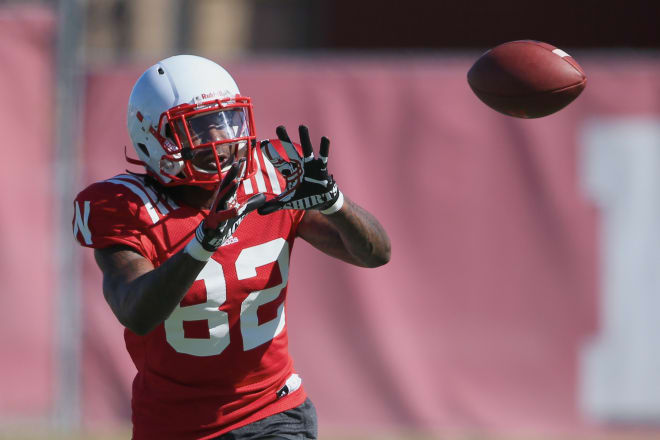 Quick hits
***Defensive tackle Mick Stoltenberg (knee) and wide receiver Alonzo Moore (shoulder) sat out of Tuesday's practice. The good news was cornerback Lamar Jackson (groin) was back in action.
***Banker downplayed his experience coaching against Oregon, saying he's had experience against a lot of teams, "but there wasn't a damn thing I could do about it because I wasn't playing." He said NU's defense would have to be as efficient as they've ever been, because one mistake could end up turning into a touchdown for the Ducks.
***Banker said he what has him "jacked up as much as anything" was how the team has responded to the challenge this week so far in practice. He said the focus and energy in practice has been great the past two days.
***Linebackers coach Trent Bray said it would be a Pac-12 officiating crew on Saturday, so NU is expecting the refs to let a lot of the pre-snap motion infractions go far more often than a Big Ten crew would.
***Linebacker Josh Banderas said they're expecting it be a big nickel and dime package game, but a real challenge for the linebackers would be covering Oregon's "tall trees" for tight ends.
***Defensive tackle Kevin Maurice said a huge key for the defense would be stopping Oregon running back Royce Freeman at the line of scrimmage. Maurice said once Freeman gets to the second level of the defense he's very difficult to stop, so they have to stop him before he gets into the open field.