Tuesday notebook: Offense knows finishing is key
For as much criticism as Nebraska's defense got after Staurday's 43-36 win over Arkansas State, head coach Mike Riley said the offense may have been just as responsible for allowing the game to end up as close at is was.
In particular, the Huskers' inability to close out the game with first downs on its final two offensive possessions played a big role in giving the Red Wolves enough time to nearly mount a last-second comeback.
With 9:26 left in the game and NU leading 41-29, the offense ran a total of nine plays for 26 yards and one first down, and took just 4:11 off the clock.
When the staff reviewed the game on Sunday, Riley said he and offensive coordinator Danny Langsdorf had a long talk about what went wrong on those last two possessions.
"Danny and I probably talked about that part as much as anything, just the ability to finish," Riley said. "Just one more first down somewhere in there… That's what I was talking about with third down. I'm not as interested in the third downs that we made as the ones that we didn't make.
"I know this, when you're good on third down, it really increases your chances of winning the game. Even though 7-of-14 (on third-down conversions) in the statistics looks pretty good, I'm not overly excited about it just because of the ones we didn't get, particularly at the end."
Of those nine finals plays for Nebraska's offense, four were runs by tailback Tre Bryant, one was a reverse to receiver Stanley Morgan, and the other four were passes (only one of which was completed).
In looking back on the play calling during those two drives, Langsdorf said Nebraska had opportunities to move the chains and extend drives with first downs, but protection breakdowns and overall poor execution spoiled successful plays.
"We needed a first down," Langsdorf said. "You get in a situation like that where you have seven minutes to go, you're controlling the ball - we had a third-and-four where we had good shape on where we blow the protection and had an open route for a first down where we should be going with the ball and he gets chased out of the pocket, throws one low.
"I think it was a good play. It was a three-man rush and we got hurried and on three-man pressure, which is silly with five protectors… I was disappointed with that one."
Quarterback Tanner Lee said regardless of the play call, he and the offense needed to execute when the game was on the line, especially on third downs to keep drives alive.
Nebraska was 1-for-3 on third downs on its last two possessions, with the one conversion coming despite running back Mikale Wilbon fumbling and recovering his own fumble after making a catch for a first down.
"Third down plays, there's a couple plays I think that we should have made where we could have moved the chain and not have to punt," Lee said. "I think that would've been nice. That's something we've really got to focus on this week because those are critical."
- Robin Washut
Once again, Freeman a top priority for NU defense
When Oregon came to Nebraska for last season's meeting in Lincoln, Royce Freeman was regarded as one of the best running backs in college football and an early Heiman Trophy candidate.

Freeman's 2016 campaign was dealt a major setback in the Ducks 35-32 loss, though, as he suffered a knee injury in the first quarter that plagued through the rest of his junior year.
He still managed to lead the Ducks with 945 rushing yards and nine touchdowns, but the former All-American clearly wasn't his usual game-changing self after the injury.
Freeman will get another shot at the Huskers this week in Eugene, and based on his impressive performance last Saturday's opener against Southern Utah, he should be as dangerous as ever.
Freeman rushed 23 times for 150 yards and four touchdowns while adding four catches for 50 yards in a 77-21 victory.
"He's a great back," NU linebacker Chris Weber said. "He can do a little bit of everything. I think this team is going to hand the ball off a little bit more than Arkansas State did. He'll be a challenge for us, but someone you've got to wrap up and bring to the ground."
- Robin Washut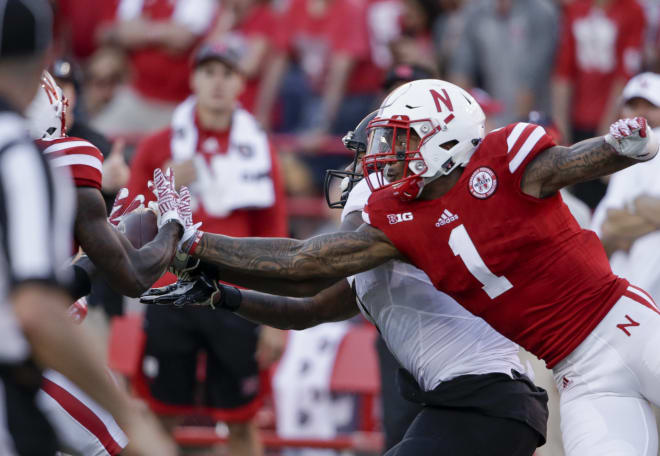 Jackson, CBs hold their own in first big test
Saturday's game was about as much of a trial by fire debut as it could get for Nebraska's young cornerbacks, as they were put to the test early and often to the tune of 68 pass attempts by Arkansas State.
While the 415 passing yards and three touchdowns through the air didn't look good on the final stat sheet, NU cornerbacks coach Donté Williams said he was proud of the way his group responded to the hefty challenge, especially sophomore Lamar Jackson.
"I believe he executed the game plan," Williams said. "Besides the one play where he ducked inside, he executed the game plan. He was aggressive on the perimeter as they tried to block him at the line of scrimmage and he tackled extremely well.
"The last two plays he came up big. One play he had a pass breakup and the next play, Aaron (Williams) undercut the ball like he is supposed to and Lamar was on his guy. He definitely grew up a lot in that football game."
In just his second career start, Jackson ended the night with five tackles and a pass breakup.
But given the volume of work he and the rest of the corners had to do in the game, the fact that he made only one real glaring mistake was definitely a positive for Williams.
That said, the bar of expectations has now been raised going forward.
"That's what (Jackson) should do," Williams said. "To be honest, when he's playing for me, he should play better than what he did do. I expect him now to never make that leverage mistake and I expect him at the end of the game to come up with the interception. So whatever he does it still won't be good enough for me."

- Robin Washut
Parrella talks freshmen, d-line rotation
One of the real bright spots in fall camp for Nebraska was the emergence freshmen defensive linemen Deontre Thomas and Damion Daniels.

During Nebraska's win over Arkansas State, we got our first taste of Thomas and what type of player he's going to be in the future.
"We were excited about our freshmen, (Thomas) and Damion Daniels, we're excited about them both," defensive line coach John Parrella said.
"There are some other young d-linemen we're excited about, but those two have really been working hard and I'm excited about the future for both of them. I'm really excited Deontre got playing time and took advantage of it."
As for Daniels, it's still up in the air on if he'll play or redshirt this 2017 season.
"It's a long season and we're progressing him every day trying to get him game-ready," Parrella said.
-Sean Callahan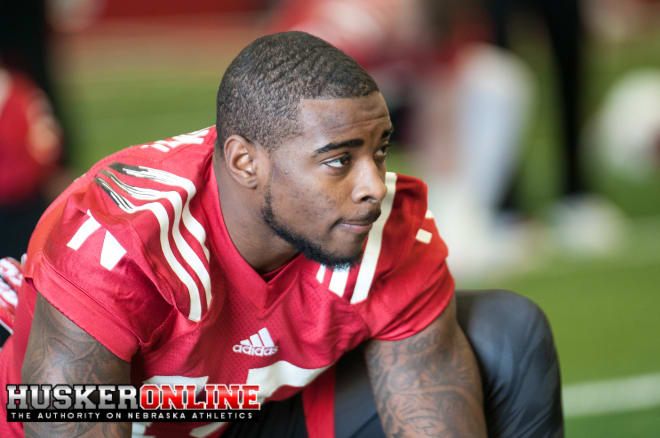 Quick hits
***Receiver/punt returner De'Mornay Pierson-El was held out of action again on Tuesday as he recovers from a shoulder injury he suffered during Saturday's win over Arkansas State.

***Right tackle David Knevel did not practice on Tuesday and was wearing a protective boot on his right ankle. Knevel looked to have injured his ankle during Saturday's win but was able to return to the game.
***Offensive line coach Mike Cavanaugh said Knevel was only held out for precautionary reasons, and there would be no changes to the starting five on the offensive line.
***Running back Tre Bryant (knee) was back in pads after being held out for precautionary reasons on Monday.
***Linebacker Marcus Newby (hamstring) fully practiced for the second day in a row.
***Langsdorf said there was obviously both good and bad from the offense after further film review of Saturday's game. The bad consisted of too many protection breakdowns that led to too many hits on the quarterback, as well as some missed throws, drops, and penalties that killed drives.
***Asked about the last two drives that could've closed out the game on offense, Langsdorf said you have to get first downs in that situation to win the game.
***Langsdorf said the second-to-last drive was the worst because they had a chance to convert a third-and-four but allowed pressure against a three-man front that blew up what should have been a pass play for a first down. "That's silly," Langsdorf said.
***Langsdorf said J.D. Spielman would be "critical" as the slot receiver against Oregon's predominantly Cover 3 defense. Receivers coach Keith Williams said he couldn't have asked for a better debut from Spielman.
***Williams said freshman wide out Tyjon Lindsey has been a man on a mission since arriving in Lincoln and knew he had a big opportunity in front of him this year. Williams was pleased with Lindsey's first game and only expects him to get better from here.
***Cavanaugh said redshirt freshman Matt Farniok played three snaps when Knevel came out vs. ASU. He's pleased with Farniok's progress thus far.
***Cavanaugh said left tackle Nick Gates was NU's highest graded offensive lineman on Saturday, with Jerald Foster coming in a close second.
***Tight end Connor Ketter said Nebraska's two-tight end set was really effective on Saturday, and some of their best running plays came out of that look.
***A scout from the Houston Texans was in attendance for Tuesday's practice. A scout from the Arizona Cardinals was at Monday's practice.