Tuesday notebook: Blackshirts excited for honor, responsibility
When Bob Diaco first took over as Nebraska's new defensive coordinator, he mentioned in his introductory press conference that he had no intentions of altering the tradition of the Blackshirts.

"I'm going to be completely in line with Coach (Mike) Riley, who's in line with the history of the Blackshirt defense," Diaco said back in January. "I believe that everyone in this university is in lock step, and I'm excited about it, being in lock step with the tradition."
Diaco finally got his first chance to go through the process of selecting the Blackshirts for the 2017 season this past weekend, and with all 11 starters and five other key backups receiving the coveted black practice jerseys, Diaco said the honor definitely lived up to the hype.
"Pretty clear, pretty clean process," Diaco said. "It's a really exciting tradition. It's pretty awesome that the young men we're talking about here aspire to be, and their goal is to carry the burden of accountability and the responsibility of defending the hopes and dreams of the team, the university, and the state of Nebraska.
"That's pretty exciting, and that's how I see it. If their goal was to get a shirt, then we're going to have a learning curve. If their goal was to take on the responsibility and the accountability of defending the hopes and dreams of the team, the university, and the state, that's super exciting."
In all, 16 Huskers were awarded a coveted Blackshirt practice jersey on Monday: defensive linemen Freedom Akinmoladun, Mick Stoltenberg, Carlos Davis, Khalil Davis; linebackers Marcus Newby, Dedrick Young, Chris Weber, Alex Davis, Luke Gifford, Mohamed Barry; and defensive backs Lamar Jackson, Eric Lee, Dicaprio Bootle, Aaron Williams, Joshua Kalu, and Antonio Reed.
Weber is one of a handful of multi-year Blackshirts, and he echoed Diaco's comments of how important it was for all 16 of those players to live up to everything being a Blackshirt entails.
"If you're not honoring the people who came before you and the tradition that is here, it's just a shirt," Weber said. "Now it's our job to come and prove we're about the Blackshirt way."
On the other end, there were several first-time Blackshirts this year, including Barry. Even though he was one of the few non-starters to earn the jersey, he said he's well aware of what it signifies.
"When I look down at (the jersey) I remember some of the players, thinking about Lavonte (David), thinking about EJ (Eric Johnson), and it hit me," Barry said. "I felt excited, but then I felt I have to go hard every practice. I have to get better. I have to hold myself to a higher standard, because that's what it means.
"It's not that you've arrived, it's what's in you. That means every day you've got to get better. The people under you have to see that this man is wearing a Blackshirt, and that's what being a Blackshirt is."
- Robin Washut
Langsdorf says to slow Lee hype train
Offensive coordinator Danny Langsdorf has grown well aware of the surging hype and expectations surrounding the debut of junior quarterback Tanner Lee on Saturday night.

To be fair, Nebraska's coaching staff - Langsdorf included - hasn't done much to quell the flames building over just how good the former Tulane transfer could be this season.
That finally changed following Monday's practice, as Langsdorf told media and fans alike to temper the buzz over the Huskers' new starting signal caller.
"I would say cool your jets a little bit, and that's not being negative," Langsdorf said. "It's a lot more than just Tanner. He's going to have to play well. But football being the ultimate team sport, there are 10 other guys on that offense. He can't do everything, nor do we ask him to.
"It's going to be critical that everybody plays well, and he'll benefit from everybody playing well for sure. But I think that over-hype is dangerous. I think just laying in the weeds and being even-keel is a much better way to live than riding the wave of the highs and lows."
- Robin Washut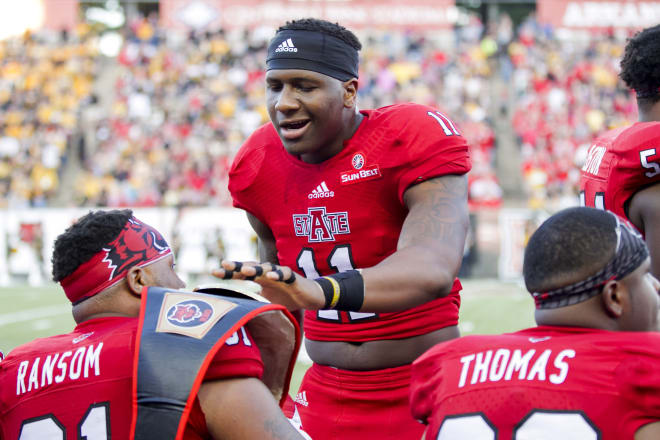 Red Wolves' pass rush, Rolland-Jones top priorities for NU offense
Langsdorf didn't waste any time getting straight to the point when Nebraska's offense first began to scout its Week 1 opponent in Arkansas State.
The very first topic he addressed with his offensive staff and players was just how dangerous the Red Wolves' pass rush was, particularly senior defensive end Ja'Von Rolland-Jones and his 30.5 career sacks.
"I started the scouting report with that part, and made sure our players understand this group can rush the passer," Langsdorf said. "They've proven that. It's going to be a tough challenge for our line."
Offensive line coach Mike Cavanaugh said one thing he noticed while studying ASU's game film was that Rolland-Jones wouldn't just line up on one side the entire game.
He said the Red Wolves like to move him around between the left and right sides of the line and also utilize multiple stunts and blitzes to free Rolland-Jones up and create one-on-one matchups.
"They have some good players," Cavanaugh said. "Defensive ends can rush the passer, athletic guys that can run and the two d-tackles are both good players. They are physical guys, they anchor in there. We need to do a great job with leverage and move people."
- Robin Washut
Jaimes likely to redshirt, but not by much
There was some talk earlier during fall camp that a true freshman could potentially work his way into Nebraska's offensive line two-deep roster, as Brenden Jaimes was taking reps as the No. 2 left tackle as recently as last week.
That conversation quieted a bit when the Huskers released their depth chart for Arkansas State on Monday and Jaimes was listed as the No. 3 behind starter Nick Gates and backup Christian Gaylord.
It's not a total surprise that NU would likely opt to redshirt Jaimes, as only a handful of true freshmen have ever played their first seasons in the program's history.
But Cavanaugh said from a talent perspective, the former three-star from Austin (Texas) Lake Travis wasn't far off from being at that level.
"He's doing a great job, he's smart, good athlete," Cavanaugh said. "I think one of the biggest things is he's learned fast. You talk about development, development is can you learn fast physically, can you do it? He's fine there and he's fine mentally and he doesn't flinch.
"He doesn't get rattled and that's a big deal. Sometimes all of a sudden, the lights go on, they get rattled or whatever. He hasn't flinched. One-on-ones he hasn't flinched, team situations, red ball, hurry up - he doesn't flinch. Just play and it's fun."
Like with most freshmen, Cavanaugh said the biggest hurdle for Jaimes at this point was learning the offense and adjusting to the speed of the Big Ten level.
Physically, though, Cavanaugh said Jaimes was up around 6-foot-6, 280 pounds, and played even bigger than that.
"He's 280, right around there, but he's a tough guy," Cavanaugh said. "His dad was his old strength coach. I saw him flipping tires all summer long. I know that his dad had a great lifting routine for him. That work ethic is there…
"We thought athletically we got a really good player. For a young guy, our offense isn't simple. He's learned fast and he's locked in, and it's important to have all those things. It's been a good deal."
- Robin Washut
Quick hits
***Diaco described Arkansas State's offense as "explosive" with strong perimeter players, a talented quarterback and a tight end who provides big matchup problems.

***Receiver J.D. Spielman said growing up he tried to model himself after guys like Percy Harvin and Tavon Austin, and hopes to provide Nebraska with just as dangerous of a player maker at receiver and kickoff returner as those two were.
***Another comparison Spielman has gotten has been to former Oregon State star and current NU staffer James Rodgers. In fact, Spielman has been dubbed "James Jr." by his coaches and teammates, and said Rodgers has been a great mentor and resource for him the past two years.
***Safeties/special teams coach Scott Booker said head coach Mike Riley sits in on every special teams meeting, which shows how important Riley views the third element. Booker said it's not always the case that a head coach is so involved in special teams as Riley.

***Barry said he's been very impressed with how good freshmen nose tackles Deontre Thomas and Damion Daniels have been this fall. Barry gave a lot of credit to defensive line coach John Parrella, because "he recruited a couple of monsters."
***Bootle looked to have gotten a new accessory on Tuesday, as he wore athletic glasses to practice. As teammates were yelling, "He can see now!", cornerbacks coach Donté Williams called him Eric Dickerson.
***Walk-on defensive lineman Matt Jarzynka was sporting an interesting jersey on Tuesday. Because he was playing the role of talented Arkansas State defensive end Ja'Von Rolland-Jones, who wears No. 11, on the scout team defense, Jarzynka was sporting former tight end Cethan Carter's No. 11 jersey at practice.
***A scout from the Dallas Cowboys was in attendance for Tuesday's practice.