Everything Trev Alberts said about Big Ten schedule model, league's future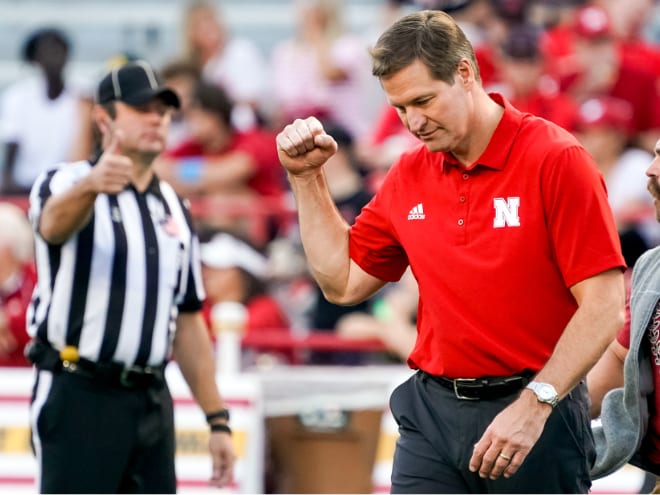 USC and UCLA officially announced their move to the Big Ten last summer on June 30. Nearly a full year later, the Big Ten revealed how those additions will shape the conference schedule by announcing the new model on Thursday night.
The new format is highlighted by the continuation of a nine-game conference slate, the elimination of divisions, the top two teams in the overall conference standings reaching the Big Ten Championship Game, 11 protected rivalries and a rotation of "two-play" opponents for the 16-team super-conference.
A few hours after the scheduling format was released, Nebraska athletic director Trev Alberts made an appearance on Huskers Radio Network to share his thoughts on the new model, the future of the conference and how it all impacts the Huskers.
It was a highly anticipated announcement, one that Alberts said "a lot of work" and "months and months and months and months of meetings."
When the dust settled, though, Alberts came out happy with the setup. That outlook came through clearly during his interview as Alberts gave people a big-picture view.
"Anytime you have a 16-team league and you play nine conference games, there's gonna be variations and nuance to the scheduling," Alberts said. "The real key to a scheduling philosophy and concept is it has to be consistent over time. You can't look at a schedule in the vacuum or a silo of one year. When you're not playing everybody in a true round robin, what ultimately ends up happening is you have to go through several years to have things kind of even out. So this was an interesting and long process that's obviously included former Commissioner Kevin Warren, it's included Tony Petitti and all the athletic directors."
MORE: Subscribe to join the Inside Nebraska community | Discuss the new schedule on our Insider's Board | New commit Mario Buford breaks down decision
There's a strong portion of Nebraska fans who have been frustrated with the schedule the Huskers get dealt every season. Those who are in that camp may not be too displeased with the 2024 schedule. The 2025 slate, however, is a gauntlet that as of June 8, 2023 – on paper – looks like it may wind up being the most difficult schedule in the Big Ten.
In 2024, the Huskers will play four home games against Indiana, Michigan State, Minnesota and Wisconsin and five road games against Iowa, Northwestern, Penn State, Purdue and UCLA – in addition to their three nonconference matchups at home against UTEP (Aug. 31), Colorado (Sept. 7) and Northern Iowa (Sept. 14).
In 2025, Nebraska figures to get even more battle tested with five home games against Illinois, Iowa, Michigan, Rutgers and UCLA and four away games against Maryland, Minnesota, Ohio State and USC – in addition to its three nonconference matchups against Akron (at home Sept. 6), Cincinnati (on the road Sept. 13) and Louisiana-Monroe (at home Oct. 18).
The Huskers are the lone team in the conference that will face Michigan, Ohio State, USC and UCLA in the same season (2025) across the first two years of the new format.
In a mega-conference like the Big Ten, though, Alberts doesn't appear to have too much of a gripe with how the schedule shook out in 2024 or 2025. He is, however, glad that he found the guy (Matt Rhule) who he believes will get the program back to competing at a high level – because things are going to get even more difficult from here on out in the new-look league.
"I think the one thing you will acknowledge is, when you look at everybody's schedule in the Big Ten, the reality is the Big Ten is a very difficult conference," Alberts said." Every single Saturday, you're gonna have an opportunity to win games or lose games. That's why I'm so pleased to have Coach Rhule as our coach. Attention to detail and fundamentals are gonna be critical as we try to navigate these types of schedules every year."
Alberts details process of protected rivalry selection
The new scheduling model, as Petitti said earlier this week, was designed to create more competitive balance and to also keep traditional matchups alive with up to three protected rivalries per school.
The Big Ten announced 11 total protected rivalries. Nebraska is one of nine schools that was given just one protected rivalry (Penn State was given no protected rivalries) as its annual matchup with Iowa will continue to be played every year.
Alberts peeled back the curtain on the process of how those matchups were chosen by the Big Ten.
The first step was the Big Ten asking the conference's athletic directors, "'If you protected one game, who would you select?'" Alberts said.
Alberts said Iowa was the "obvious" choice for the Huskers. So, he and Gary Barta – Iowa's athletic director who announced two weeks ago that he is retiring effective August 1 – got together, and "talked immediately and both agreed that the Iowa-Nebraska rivalry needed to continue."
Then, the league asked:
– If you were going to select two games, who would you select?
– If you were going to select three games, who would you select?
Alberts said that Wisconsin was the No. 2 choice. Minnesota was the No. 3 choice because "geographically" it made sense to him.
"But then all of a sudden a little gamesmanship started happening," Alberts said. "You can imagine (athletic directors saying), 'Well, hey, if we can submit protected games, then maybe we should just select three teams have been the least successful over the last 5-10 years in the Big Ten and protect them.' Obviously, that wasn't going to work. So, ultimately, as all of these other teams submitted who their protected rivals were, sometimes you submitted a protected rival and that school doesn't submit you as a protected rival. So there's nuance there."
Ultimately, the Big Ten sifted through all of the athletic directors' requests and analyzed a number of things – including those requests, each team's scheduling philosophy, competitive excellence over the last few years for each program, the integration of USC and UCLA into the conference, travel, athlete experience.
"We talked about this a little bit: Anytime there's a different application from school to school, it's very natural for either fans, or even the media, to jump to a conclusion that maybe somebody has an advantage or maybe there's a conspiracy around (the schedule)," Alberts said. "You can look at these things a lot of different ways, but it's really hard to look at where a team is today and make a projection about where they're gonna be in four years. I don't know, somebody might've submitted Nebraska as a protected rival because of what our record has been the last four or five years. I'd like to think Nebraska's record and competitiveness looks a little bit different several years from now under Coach Rhule.
"Scheduling's important, obviously, but without everybody playing everybody, you're going to have some variations to the schedule that have to even out over time. I think the more transparency you can have around how the Big Ten came to its scheduling decision is good, and I think they've tried really hard internally and externally to communicate that more broadly."
After a long process, the schedule was set, and it included "two-play" opponents – matchups played between programs that rotate every two years with each school hosting once. For the Huskers, the annual game is against Iowa while they will face Minnesota and UCLA in 2024 and 2025 before those two are replaced with different opponents in 2026/2027 and beyond.
"You just have to let these schedules even out over time," said Alberts, who also noted that he knows the future two-play opponents beyond 2025 but did not reveal them. "We have to be consistent in its application in order to be equitable and fair. I think the Big Ten did a very good job. There was nothing nefarious about the intent, it was very transparent. The bottom line is, again, if you're gonna be a member of the Big Ten Conference, buckle up. We're gonna have difficult games every Saturday."
NBC promises primetime TV production will be on par with Sunday Night Football
During an episode of Eleven Warriors' Real Pod Wednesdays, Ohio State athletic director Gene Smith said that the Buckeyes would not play any night games at home past the first weekend in November.
Alberts was asked if he had a similar stance, but the Husker AD said he was open to any and all opportunities to play under the lights.
"I raised my hand that I think Nebraska, we love primetime games," Alberts said. "I had the privilege of playing in some of them. It's the most remarkable student-athlete experience. I know the kind of commitment that NBC, CBS and our television partners are making to really show the Big Ten Conference in an elite way. You look at what NBC does for the NFL, it's literally a mini Super Bowl each Sunday night. We've been promised that same level of production and focus. For me, getting an opportunity to play in primetime is important.
"Secondly, we've got fans and we've got student-athletes that are used to this type of weather. As a student-athlete, we had to go travel down and play in others' environments that weren't comfortable. I'd love to get some of our opponents that perhaps don't typically compete in our type of environment, in our environment. It's an advantage. Maybe that's the farmer in me, but if it's 33 degrees at 3 o'clock then it's cold all day. Let's play some football. And play it in a primetime window that really shows off our brand."
Alberts emphasized that he understands Smith's perspective and respects the outlook of the league's other athletic directors, but he sees a golden opportunity for Nebraska to build – or perhaps rebuild – the N as a national brand.
"I think when other schools see how powerful this primetime (window) and this day of Saturday is on network television, we're gonna realize just how important this television deal will be for our future — not only monetarily but also as we continue to grow our brand," Alberts said. "I've long thought that exclusive CBS window at 3:30 Eastern was one of the primary factors that helped build the SEC. It was awesome for the SEC. And now we get the privilege of having that window at the Big Ten, and I'm excited to see what it does for all of the members."
Facing USC and UCLA
Nebraska is set to travel to UCLA in 2024, and the Huskers will play both USC (away) and UCLA (home) in 2025.
The Huskers and Trojans have squared off four times, and USC has never lost. It holds a 4-0-1 record over Nebraska with wins coming in 1969, 2006, 2007 and, most recently, in a wild 45-42 victory in the 2014 Holiday Bowl in San Diego.
Nebraska has a bit more of an extensive history with UCLA as the Huskers hold a 7-6 advantage across 13 all-time meetings. They played a home-and-home series in 2012 and 2013 – both won by the Bruins – before a 37-29 Husker win in the 2015 Foster Farms Bowl in Santa Clara.
The most memorable matchup between the two programs, though, came in the 1993 all-time classic as Nebraska pulled out a 14-13 dogfight win at the Rose Bowl.
Alberts was a defensive star in that game with 12 total tackles and three sacks, oftentimes matched up with then-sophomore Jonathan Ogden. That brought up some memories that Alberts reminisced about as he spoke about his excitement for facing both storied programs.
"The reality is that was probably part of the Big Ten's process," Alberts said. "You've gotta recognize, other than each other, Nebraska is the closest game for either of those two schools. I mean, think about that. That's part of the geographic piece that probably went into (the decision), but I think it's a great opportunity for us. I know we have a ton of Nebraskans in California. I think it'll be important as we continue building our brand nationally. We've always recruited nationally, we've been able to recruit tremendous players out of the state of California. So, I think it's a great thing, and we'll look forward to getting out there and playing those two great brands."
2023 kickoff windows
Last week, the Huskers officially found out the kickoff windows and TV information for half of their schedule. It includes two primetime games with 7 p.m. kickoffs (Minnesota, Illinois), one game with a 6 p.m. kickoff (Northern Illinois), a spotlight as part of Big Noon Kickoff (Colorado) and the Black Friday game against Iowa on CBS – in addition to three kickoff window options for the Purdue game.
For Alberts, it all adds up to more opportunities for the Huskers in Year 1 of the Rhule Era. That's provided, of course, that Nebraska does what it hasn't done consistently for years: win
"I really am (happy)," Alberts said. "We talked a little bit about having that national exposure, and you look at what's already been released, it's pretty exciting. I recognize that the start time out in Boulder's gonna be a little bit early, but linear television with FOX's Big Noon Kickoff, I think that CBS window against Iowa is gonna be really special. I think that dedicated window and space on linear TV is a powerful way to get our brand out.
"At the end of the day, we've gotta win these games. That's what we've built our brand on — we've played primetime games, we've played creative games. But we were successful more than we were unsuccessful. So that's what we've gotta get back to, but I'm excited about the amount of television exposure that Coach Rhule and our student-athletes are gonna get. And our job is to hold up our end of the deal."
Discuss the new Big Ten scheduling model, Trev Alberts' thoughts and share your own opinions with other Nebraska fans on the Insider's Board.