Thursday notebook: Injuries continue for beat-up NU offense
It what has been an all-too-common theme for Nebraska this season, Thursday's practice ended on a somber note when head coach Mike Riley announced that senior wide receiver Jordan Westerkamp would miss the Music City Bowl with a knee injury he suffered during Wednesday's practice.
The loss of Westerkamp was yet another major blow for a Husker offense that has been riddled by injuries at every position since the start of fall camp on through bowl preparations.
Nebraska's offensive line was a M.A.S.H. unit most of the year with one injury after another, and obviously senior quarterback Tommy Armstrong suffered injuries to his ankle, head, and then hamstring late in the season.
Several other wide receivers have missed games due to various ailments, and senior tight end Cethan Carter missed four games with an elbow injury.
As a result, Riley said the countless setbacks have taken their toll on the development of the offense over the course of the season.
"The continuity has been hard," Riley said. "I've been proud of how the coaches and the players held it together and how people have stepped up. I wouldn't say we've been really dynamic offensively.
"It's been a tough year in some regards statistically - some are better, some not so good. But I think for the most part we've held it together pretty well and we still have yet to play our best game."
Riley said he and his staff always go back and re-evaluate everything they do in practice and strength and conditioning in order to prevent unnecessary injuries, but from what he's seen so far, there really hasn't been one sole cause of all of NU's issues.
"We'll kind of evaluate that when we're all done," Riley said. "I haven't noticed what I've thought was a rash of any one thing in particular, but we will look at it again. We usually do that. It's interesting to do.
"I think we've changed things every year probably thinking that way in offseason training, practice habits a little bit. But you get a random deal like yesterday, you don't even know what to say."
- Robin Washut
Fyfe impressive during Huskers' bowl prep
Armstrong remains sidelined with a torn hamstring, and while he was able to do some light running and calisthenics off to the side on Thursday, his availbity for the bowl game looks less likely by the day.
The good news for Nebraska, however, is that Ryker Fyfe is having an impressive showing in practice leading up to his probable third-career start in the Music City Bowl.
"Ryker's look really good to me," Riley said. "Really sharp, playing well. I'll tell you what is noticeable to me is his confidence. He's just playing, making plays, making a lot of nice throws."
Even though Fyfe is still wearing a soft cast on his broken left, non-throwing wrist and still can't take snaps from under center, Riley said he's been very encouraged with the work the fifth-year senior has put in the past week.
Riley noted that Nebraska is using a different bowl practice structure from any previous year in his coaching career. The Huskers will work against the scout teams to prepare for Tennessee on one day, and then the next day they'll go "good-on-good" with the first-team offense and defense squaring off.
Riley said the entire team seems to be benefitting from the schedule change, especially Fyfe.
"It's been good and it's been good for Ryker," Riley said. "It's good for everybody to have those speed days practicing like that. So it's been fun that way, and it's been fun to watch him play and grow in confidence."
- Robin Washut
Huskers will practice 16 times over 21-day stretch 
As the Huskers get ready for their trip out to Nashville they will hold 12 practices in Lincoln and four at the bowl site. In all, they will practice 16 times over a 21-day stretch in December.
Senior wide receiver Brandon Reilly said this is the most intense bowl practice schedule he can recall over his five-year career, especially the fall camp like workload they have this week and next.
"Without a doubt," Reilly said when asked if this has been the most intense bowl practice schedule he's been a part of. "Then again, we've got a big bowl game coming up and the senior class wants to go out with a win. Work needs to be done and we are willing to do it.
"It's been a grind, but after the last performance and not executing that well it needs to be done. Hopefully when this bowl game comes around we'll put on a better performance."
Riley said he will be very cautious though about not overworking his team for the bowl game. They have already done a good job of mixing in a 50-50 workload of letting the veterans and the young players have reps in practice.
"I think the two things that are motivating us are the preparation time that we have to get ready to win the game – that's the first goal," Riley said. "We don't want to do anything to sacrifice that.
"You have to be a little careful about the wear down theory somewhat, but at the end of each one of these weeks they get two days off. Once we get past (Friday) they'll get two days off, then we'll practice five days, then they'll get two days off and then we'll practice four days (in Nashville)."
-Sean Callahan
Gates' ankle injury worse than he let on
Offensive tackle Nick Gates played in every game this year, but was one of many whose injuries limited what they could do in the game.
"I was pretty hurt," Gates said in reference to a stretch of games that included Indiana, Purdue, Wisconsin, and Ohio State. "Those four games, I was probably playing 65-70%. I was doing my job and that was about it."
Depth issues caused the offensive line to have to shuffle to make things work. At one point in the season, sophomore walk-on Cole Conrad was the backup at all five offensive line positions.
Gates said he had to just play through the pain and adjust his game based on what his ankle would let him do.
"My ankle, I had no mobility," Gates said. "It was hard to go side-to-side, and that was probably my toughest thing."
Players said throughout the season that everyone plays hurt in college football. But this team wasn't fully healthy for the entire last two months of the season.
"You definitely want to go out there and always deliver your best things, but it's definitely difficult," Gates said. "There was times where I'd call my mom and just complain to her and things like that, but it was tough to be out there hurt and not be able to play the game as I play the game."
- Matt Reynoldson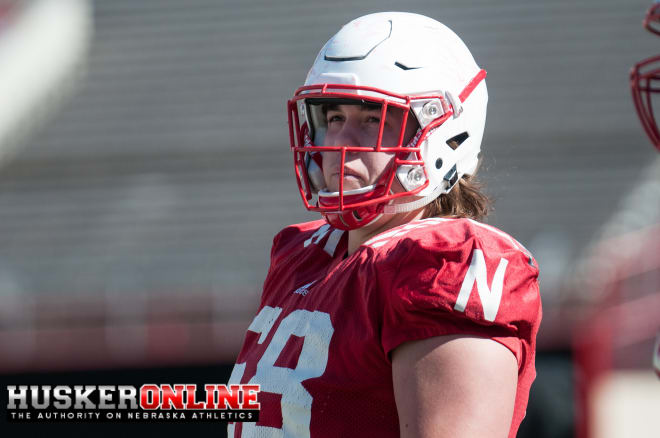 Quick hits
***Riley said they expect Westerkamp to miss the next three months, but added he would be healthy enough to able to get a full NFL evaluation before the draft.
***In Westerkamp's place, Riley said Reilly, Stanley Morgan and Gabe Rahn would handle the slot receiver role.
***Linebacker Marcus Newby sat out with an undisclosed injury, but the Huskers did get offensive lineman Jerald Foster (unknown), linebacker Michael Rose-Ivey (back), and receiver Alonzo Moore (leg) back at practice on Thursday.
***Gates said he's already submitted a request for an NFL draft review to see where he stands in the eyes NFL teams. However, Gates said he was definitely coming back for his junior season, and that he just wanted to get an idea of where he needed to improve.
***Gates predicted that freshman John Raridon would be Nebraska's next starting center next season. He said Raridon was a talented player who's impressed all year in practice, and has also shown some of the "nastiness" the offensive linemen love.
***Riley said holding 16 practices in the span of 21 days wasn't much different from how he'd handled previous bowl preps, but Reilly said this has been the biggest bowl practice workload he's experienced in his college career.
***Freshman J.D. Spielman has been simulating Tennessee wide receiver Josh Malone during bowl practice. Malone leads the Volunteers with 45 catches for 852 yards and 10 touchdowns.
***Reilly said he would train for the NFL here in Lincoln after the season, while Rose-Ivey said he planned to go back to train in Kansas City.