Thursday notebook: Gates back on track after strong opener
When Nebraska's staff went back and graded out the film of Saturday's win over Arkansas State, offensive line coach Mike Cavanaugh couldn't have been happier to see who scored the highest among his group.
Junior left tackle Nick Gates, who hit a career low point at the end of last season with two forgettable outings vs. Iowa and Tennessee, ended up being the Huskers' highest-graded lineman against the Red Wolves.
He edged out junior left guard Jerald Foster for the top honor.
"I knew he would fight back," Cavanaugh said. "He's a guy that is a competitive guy. He was embarrassed by that (ending to last season), and that's in the past, it's gone. He wants to play good every week."
While the performance was one of Gates' best in a while, he said it still left some to be desired in terms of his overall consistency.
"There was some good and some bad, a little bit more good than bad…" Gates said.
As might be expected, it was the bad that stuck with Gates more than anything after the game.
He was flagged for a holding penalty that helped derail an NU drive in the first quarter, and then committed a false start later on in the third.
"First-game jitters," Gates said. "They're kind of being nit-picky about the holding calls and things like that. They're looking for it more now. But the false start, that's unacceptable. That should never happen. I'll take full responsibility for that."
Gates also there were too many lapses in the o-line's pass protection. Arkansas State only ended up with one sack on the night, but got hits on quarterback Tanner Lee a few other times too many.
"We could've done a lot better job, I think," Gates said. "(Lee) got hit, what, two or three times? That's not bad. Their defensive line is good, but we just don't want the quarterback to get hit."
- Robin Washut
Huskers well-prepared for Autzen noise
From the north stadium parking lot Thursday evening, the noise rising from Tom Osborne Field was enough to drown out even a loud conversation.
According to head coach Mike Riley, the Huskers have been working against the synthetic crowd noise in stadium practice since the early stages of fall camp in preparation for Saturday's bout with Oregon.
"We started early, right off the bat with two-minute drills; it was early on," Riley said after Thursday's practice at Memorial Stadium. "It's just a fact of football that you need to be ready for it and I hope that we're ready, because I've seen teams in that stadium not function for the first quarter."
A stadium of 54,000 capacity, Autzen is known for creating a tunnel of sound because the fans are "right on top of you," Riley said, adding that the Ducks' opponents can often lose their wits in the first quarter. According to a 2013 article from the NCAA website, Oregon's home is the second-loudest in the country.
"This is why you come here," senior linebacker Chris Weber said Monday. "This is why you come to Nebraska, for an opportunity like this to play a great team with a lot of tradition in their house."
Riley noted the opportunity a tough road environment provides for his young team to learn on the fly. With 22 freshmen and sophomores in this week's two-deep and many facing their first start in a road environment, Riley emphasized that the team needs to be smart and savvy to come away from Eugene 2-0.
"I've got a lot of confidence in this group in general," Riley said. "The young guys that played for the first time ... I would have to say they're pretty unflappable.
"Whatever you don't have, you compensate about being really intelligent about how to play and understanding the role you play in the game."
- Matt Reynoldson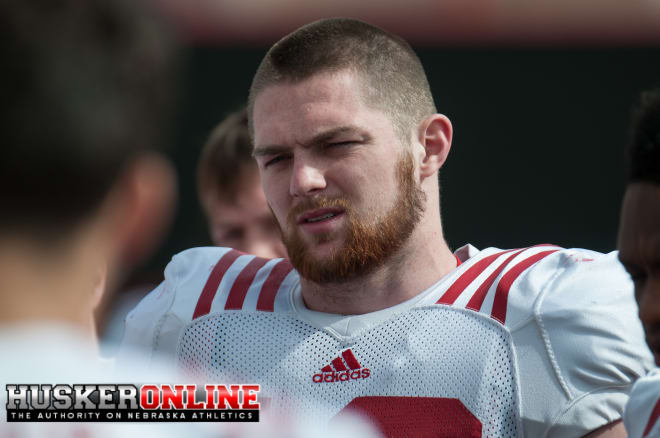 Gifford capitalizes on biggest chance yet
It was already expected that Luke Gifford would play a heavy role on Nebraska's defense this season, but when the depth chart came out for last week's game vs. Arkansas State, he was listed as the No. 2 DOG linebacker behind Marcus Newby.
So when the junior took the field for his first career start on Saturday night, it certainly came as somewhat of a surprise.
The surprises only continued from there for the Lincoln native, as he ended up playing the second-most defensive snaps on the team behind only senior safety Joshua Kalu.
Gifford finished with nine tackles in the victory, surpassing his previous combined career total of eight over the past two seasons.
"It was big for me, really," Gifford said. "I haven't played in a game like that since high school or against BYU my redshirt freshman year. It was good.
"Once I got settled in, especially in that second half, I kind of got it going and at a certain point it's just football. You get 90,000 people out there and you just play."
Part of Gifford getting the starting nod had to do with Nebraska's defensive personnel against ASU's spread passing offense, but Riley said the 6-foot-3, 235-pounder definitely caught his attention.
"He probably played a combined total of more plays than he's played yet for the Huskers, in one game," Riley said. "I'm really proud of Luke. He's the other guy with (senior tight end Tyler Hoppes) that I'd have to include in that conversation about, what's happened since January to right now for him has really been positive.
I'm excited about him."
- Robin Washut
Key freshmen "won't blink" when thrown in the action
A pair of true freshmen, wide receiver Tyjon Lindsey and nose tackle Deontre Thomas, have become household names and impressed Riley.
When asked about who would he want to see step up if senior wide receiver De'Mornay Pierson-El can't play, Riley didn't hesitate and immediately said Lindsey.
"Tyjon is ready and he's had a great week," Riley said. "He has got a lot of reps because De'Mornay isn't in there. I'm excited about Tyjon Lindsey."
The 5-foot-9 Lindsey was ranked the ninth-best receiver prospect in the 2017 recruiting class. Lindsey is one of the guys that offensive coordinator Danny Langsdorf and Riley have called 'explosive," and coaches looked to get him involved early during the Arkansas State game.
Lindsay finished with three catches for 14 yards, two of which were on design screen plays.
Thomas made use of his limited snaps during the season opener and ended with three tackles. Thomas, the 5.6 3-star defensive tackle out of Mustang, Oklahoma, has impressed his teammates with his attitude toward the game and work ethic.
"I don't think Thomas or Lindsay will blink," Riley said. "They are pretty tough-minded people and will be ready."
Freshman tackle Brandon Jaimes has also impressed offensive line coach Mike Cavanaugh and has moved up to second on the depth chart.
"We are ready to play Brandon," Riley said. "But, we are going to be thoughtful about it. He is being prepared and ready to play."
Although they are traveling, Riley said that they are going to be careful about using freshman nose tackle Damion Daniels and outside linebacker Guy Thomas.
- David Eickholt

NU coaches excited for 'homecoming' at Oregon
One of the big storylines this week has surrounded Riley's return to the state of Oregon, where he was born and established much of his coaching legacy in his 14 total seasons leading Oregon State.
But several other Nebraska assistants will also be having a homecoming of sorts on Saturday.
Cavanaugh coached 10 seasons as Oregon State's offensive line coach before following Riley to NU, and he still has many friends and family still living in the area who will be heading to Eugene for the game.
"We are all real excited to go back there and play and represent Nebraska," Cavanaugh said. "We are excited and can't wait for it. It will be a great atmosphere…
"My son lives out there and works out there and graduated from Oregon State. He's still out there. We have some friends (in Oregon). I'd like to see my son, but I'm not out there for a vacation."
Linebackers coach Trent Bray also coached at OSU from 2012-14 and was a linebacker for the Beavers from 2002-05. With plenty of experience playing at Oregon's Autzen Stadium, Bray said he's looking forward to getting another shot at the Ducks.
"Going back there, I'm familiar with the area, I'm familiar with the opponent, played against them and coached against them for a long time," Bray said. "To go up there, it'll be exciting. But again, the most important thing is getting that second win."
Offensive coordinator Danny Langsdorf served as Riley's O.C. at Oregon State from 2005-13 and before that was a graduate assistant for the Beavers from 1997-98. Going even further back, Langsdorf played quarterback for two seasons at Linfield (Ore.) College.
Langsdorf said having so much familiarity with this week's opponent will make the trip a bit different from a normal non-conference road game.
"We've been there a lot of times in our history, so it'll be kind of fun," Langsdorf said. "We're definitely familiar with the surroundings, with the hotel that we'll stay at - we've stayed there every time.
"Sometimes you go to to new place and you have no idea where you are. There will be a lot of familiar sights and faces, so it's kind of fun. But it's one of those deals where it's a tough place to play and they're a good team."
- Robin Washut
Quick hits
*** Riley listed senior wideout De'Mornay Pierson-El (shoulder) as probable and senior right tackle David Knevel (ankle) as questionable for Saturday's game at Oregon. In Riley's words, they "think" Pierson-El will play and are "hopeful" about Knevel.
*** Injured senior cornerback Chris Jones (knee) will travel with the team to Oregon. Riley said it's always been paramount on his teams to try and take as many seniors as possible on road trips.
*** Riley said the transition between Knevel and redshirt freshman Matt Farniok has been "pretty seamless."
*** Riley was informed by Husker staffer Dave Van De Riet that the air was mostly clear in Portland and worse on the drive south to Eugene. The team doesn't expect any change in the status or time for Saturday's game.
*** Jaimes, Daniels, and Guy Thomas are three players Riley listed that coaches will be "careful" with. You get the sense that the staff will keep redshirts on these players as long as they can.
*** Riley stressed the importance of balance against Oregon, saying that everything else will be better if Nebraska can run the ball and stop the run against a team that will put more emphasis on the run with senior running back Royce Freeman.
*** The last time his team played a football game in Autzen, Riley's 2013 Oregon State team came down to the wire against the Ducks before getting, as Riley called it, (former Oregon quarterback Marcus) Mariota'd." Riley said the game brings back bad memories and said it was particularly disappointing to lose the game.