Thursday notebook: Huskers preparing for 'nameless, faceless' opponent
In what was supposed to be Nebraska's bye week to provide some much needed time off, the Huskers found themselves back to work preparing for their late-addition matchup with Bethune-Cookman.

In an effort to try and still give the players an opportunity to recharge physically and mentally, head coach Scott Frost gave his team Monday off and then held a helmets-only practice on Tuesday.
Despite the lighter workload in preparation for an FCS opponent, Frost said his message to the Huskers all week to treat Bethune-Cookman just like any other team on their schedule. Based on what he's seen thus far, the players have responded accordingly.
"We just talked to them about it," Frost said. "Every week we want to approach it like we're playing a nameless, faceless opponent. It doesn't matter who we're playing; our standard stays the same – that we're better than we were last week and we're moving in the right direction.
"It doesn't matter if we're playing Ohio State or Bethune-Cookman, we need to be at our best, and we need to play better than we did last week. The guys have approached practice that way this week, and we'll make sure their mentality is right to do that on Saturday."
Wednesday was NU's only full-pads session of the week, but Frost said he'd been very impressed with how dialed in the Huskers have been all week in practice. In fact, he said Thursday's walk-thru was "far and away the best one we've had on a Thursday."
"It's attention to detail," Frost said. "We basically have four periods where we kind of job through everything we're going to run in a game against what looks we're going to get. Early on in the year, we weren't able to get through all the plays we had scripted. Today we were getting done with about three minutes left in each period.
"That's a function of doing things right, attention to detail, and not having to repeat things to make sure we've got it."
- Robin Washut
Win highlights correlation between clean play, success for o-line
When seeing that Nebraska racked up 659 yards of total offense, including 383 on the ground, and only committed six penalties for 43 yards, it would seem that Nebraska's offensive line had by far its best performance of the season in last week's win over Minnesota.
According to offensive line coach Greg Austin's evaluation of the game film, though, his unit had actually graded out higher during the Huskers' 0-6 start to the year.
The difference in that game compared to previous outings that might have been a bit better was that for the first time all season NU's offensive line was able to stay out of its own way with minimal penalties and mental errors.
"That was not the best game," Austin said. "We played well, don't get me wrong. That was the best and cleanest game that we've played. No penalties, or anything else like that. No snap errors. That's what we did clean up on Saturday."
Of Nebraska's six flags, only one was on the offensive line – a personal foul on left tackle Brenden Jaimes in the second quarter.
Austin's message to the o-line this week was that the Minnesota win was the perfect example of how not committing costly penalties could make all the difference in putting up big numbers in a victory or padding the stat sheet in a loss.
"When you have those things that stagnant drives or kill drives, then you have a whole bunch of yards with no points," Austin said. "That's been our deal. We've had a lot of yards, but they haven't resulted in points. We've got to put points on the board. This past game was a great reflection of play a clean game, look what happens."
- Robin Washut
Improved run defense a pleasant sight for Barry
When junior linebacker Mohamed Barry looked back on last year's defensive statistics, he could barely stomach what he was at Nebraska's rushing defense numbers.
The Huskers ranked 13thin the Big Ten and 108th nationally in rushing defense at the end of last season, giving up an average of 292.5 yards per game on the ground over their final seven games.
Things didn't start off much better this year even with a revamped defensive staff and scheme, as NU again ranked second-to-last in the conference and 109thin the country at 206.0 rushing yards allowed over the first five games.
But since its overtime loss at Northwestern, Nebraska seems to have flipped a switch with its play against the run. The Huskers have only given up a combined total of 157 rushing yards on 59 carries against the Wildcats and Minnesota, an average of just 2.6 yards per attempt.
While there is still plenty of improvement left to be done in that regard, Barry said the run defense numbers have been much easier to look at the past couple weeks.
"My goal was to be dominant against the run, because of last year - because that was embarrassing," Barry said. "So for (Minnesota) to have under (200) yards just goes to show that everything we preach during the week, we came out, executed and got it done.
"Against Northwestern and this game, I just think our run defense has improved because we're doing better in our fits, we're detailing our footwork, we're not over-running our gaps and we were playing inside-out of everything."
- Robin Washut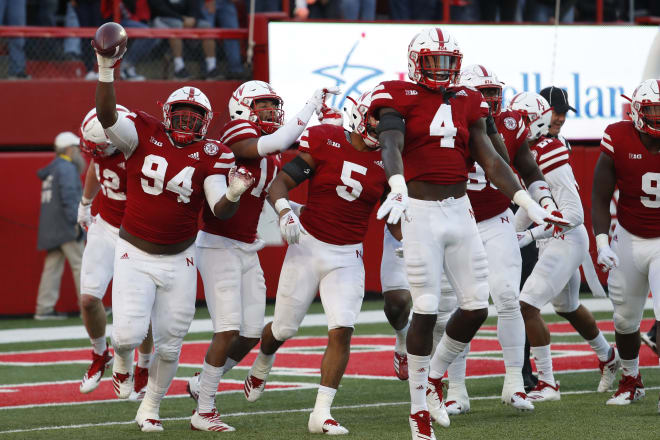 Dewitt talks recruiting, redshirt plan
Without having a bye week to go out and recruit, Nebraska has had to get creative this week with their assistant coaches.

Some of the staff will go out on the road later in the week, while even a few guys snuck out on Sunday and did some recruiting on Monday.
"I left late Sunday night, and then the suggestion was made to give the players the day off on Monday," outside linebackers coach Jovan Dewitt said. "That ended up working out really well for me, because I get nervous whenever I'm not here that something is going on. That's just the nature of being in coaching. I was down in Florida for a few hours and came right back."
As for on the field, with just five games remaining in the regular season, the Huskers are in a pretty good spot with being able to utilize their non-redshirted players in up to four games.
For Dewitt, the one outside linebacker he could try to get on the field over the final five games is freshman David Alston if the situation made sense.
"We try to play a bunch as it is," Dewitt said. "We are going to try to play a bunch of guys and just keep rolling them through.
"The beautiful thing of how it's been managed to date is I have the full allotment of my guys to use right now. You kind of want to plan it out that if towards the end of the season should something come up, you've got an allotment of guys you can use.
"You don't want to say like practice squad guys in the NFL, but it's similar to that. When someone goes down you can activate a new guy up. We've got a full assortment of outside linebacker available. Nobody has used all four games outside of Caleb (Tannor), but he's not redshirting this year."
- Sean Callahan
Quick hits
***Frost said senior nose guard Mick Stoltenberg has been working really hard to get back out on the field with his teammates and "hopefully" will return to action on Saturday vs. Bethune-Cookman. After being out since the Michigan game with a knee injury, Stoltenberg has practiced all week.
"Mick's awesome," Frost said. "He's a team captain and leading the way for us in the locker room and everywhere else. He wants to be out there with his brothers, and he's been working hard to get back and hopefully he'll be ready to go on Saturday."
***Frost said the first and foremost goal on Saturday is to obviously win the game, but if things go the way they hope they want to try and get as many players in the game as possible.
"Depending on the circumstances of the game, you'd always like to see a lot of guys play," Frost said. "We've got to go out and play well to make sure we're going to win the game first. If the situation arises and we can get some other guys in, we'd love to see some guys get some reps."
***Frost said his evaluation of BCU over the week was that they had an offense that has put up a lot of points and a defense that mixes things up a lot in the secondary that causes teams some pre-snap confusion.
"They've been putting up a lot of points on offense so I think our defense has a challenge," Frost said. "Defensively, their guys play hard. They kind of mix things up in the back end so it's a little bit tricky, so we have to make sure that we're seeing things the right way and executing and playing as hard and as well as we did on offense last week."