Spring opponent review: Michigan
With spring practices now wrapped up around the country, HuskerOnline.com will take a look at where each of Nebraska's 12 opponents in 2018 currently stands coming out of spring ball and heading into the summer.
We continue today by taking a look at Nebraska's first Big Ten opponent Michigan. The Huskers will travel to Ann Arbor on Sept. 22. It will be their fourth meeting in eight years, with three of those four games taking place at Michigan Stadium.
Jim Harbaugh's club is coming off a disappointing 8-5 season where they lost to Ohio State, Michigan State, Wisconsin, Penn State and South Carolina a year ago.
Heading into year four, the pressure is definitely on Harbaugh and the Wolverines to get things turned around. We caught up with long-time Michigan writer Chris Balas of TheWolverine.com to get his thoughts and perspective coming out of the spring.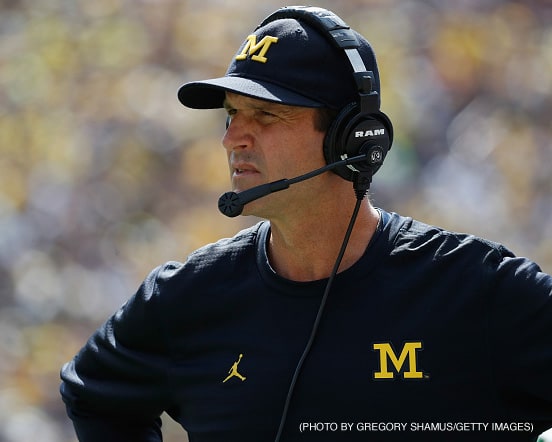 Spring overview
Coming out of the spring, Michigan feels like they have a championship defense led under the tutelage of Don Brown.
The two things they still need to get shored up are the offensive line, and the quarterback position. If they had decent quarterback play, many feel Michigan would've been closer to a 10 win team in 2017 vs. an 8 win squad.
With Ole Miss transfer Shea Patterson now ruled eligible, many feel that will make Michigan both a contender in the Big Ten and in the conversation nationally.
It will still come down to the offensive line, and Balas said the Wolverines haven't had consistent play there since 2007. Getting a solid left tackle continues to be the biggest hurdle, and they've fallen short in the grad transfer market the last two years. They are hopeful adding assistant coach Ed Warinner from Ohio State will shore up the offensive play.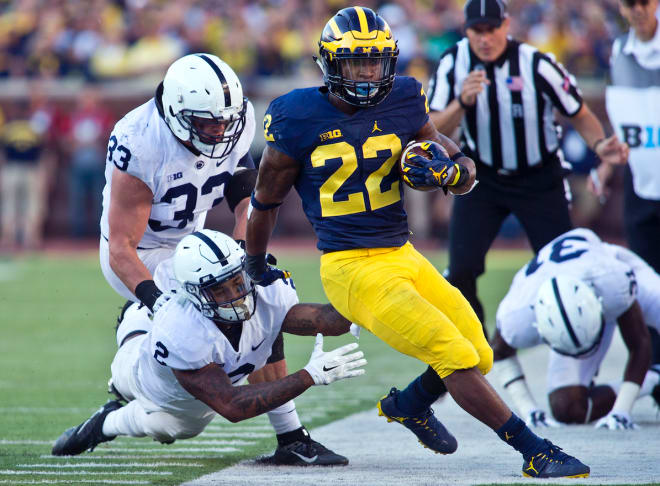 Offensive star: Running back Karan Higdon
Running back Karan Higdon rushed for 929 yards and 11 touchdowns a year ago, averaging 6.3 yards per carry.
If the Wolverines are going to have the consistency they want on offense, Higdon is going to be a big reason why.
They are also high on their receivers coming out of the spring, led by former five-star Donovan Peoples-Jones. They think he has All-Big Ten potential this season going into his sophomore season.
Tarik Black is another name to watch on offense at wide receiver. He is coming off a foot injury, but before that, he was on pace to be the Wolverines all-time leading freshman receiver.
Defensive star: DT Rashan Gary
Heading into the season, Michigan defensive end Rashan Gary will lead this loaded Wolverine defense.
The former five-star prospect is regarded as a top five overall pick in the early 2019 draft projections.
However, not far behind him will be defensive end Chase Winovich, who led the Wolverines in sacks in 2017. Winovich came back for a fifth season, after flirting with the NFL this off-season.
Linebacker Devin Bush is also regarded as an All-Big Ten player heading into this season. He was a third-team All-American a year ago.
Biggest question: How will Harbaugh blend his system to fit a spread style quarterback?  
When you think of the history of Michigan quarterback, Patterson doesn't fit the profile. In fact, he resembles more the Rich Rodriguez era in Ann Arbor, than the traditional Harbaugh style of quarterback.
Patterson is listed at 6-foot-2, but most say he's closer to 6-foot. He's not a traditional pocket quarterback. He's a "gunslinger" as Balas said. How Harbaugh blends the traditional elements of Michigan's offense around his style will be one of the more fascinating things to watch, and ultimately define the success of this season for the Wolverines.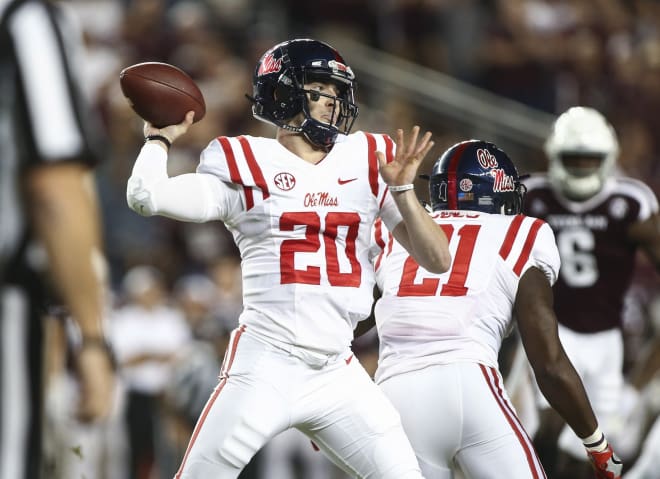 Early outlook on Nebraska vs. Michigan 
Balas: "I love Scott Frost at Nebraska. I think it's a perfect fit. I think he's like Jim Harbaugh. He's the absolute right guy. I think that's going to be a tough game. I think Nebraska will be up and running under Scott Frost.
"There's bad blood obviously between Scott Frost and Michigan. I think he'll take that one personally. I think it will be a good, hard-hitting ball game. I think Michigan will win because they are playing at home, but it certainly wouldn't stun me if Nebraska came in here and beat Michigan. I think they have some talent, and they will be an extremely well-coached team.
"Michigan fans though still very much remember Frost and how he lobbied to win the title in 97. Anybody would do that for their coach, and lobby for it, but they have not forgotten that. They believe that was the reason there was a split national title, because (Frost) lobbied for it, or as Michigan fans would say, he 'whined' for it. But obviously it worked, and they got a national title out of it. Michigan fans have not forgotten that."
Overall 2018 win-loss expectation 
Balas: "I think realistically this is probably a team that could go 10-2. They have an elite defense, but a lot will come down to Shea Patterson and the offensive line. I think this will be a 10 win team. Right now the over/under in Vegas is 8.5, and a lot of that is because of the schedule. You play three rivals on the road in Notre Dame, Ohio State, and Michigan State, and your crossover games are Nebraska and Wisconsin. That's a tough schedule, but I think Michigan fans are tired of excuses and tired of waiting. They want to compete for a championship, and they have the talent to do it."