Spring Look Back: Offensive Line
We continue our spring positional recaps today by giving our final take on Nebraska's offensive line...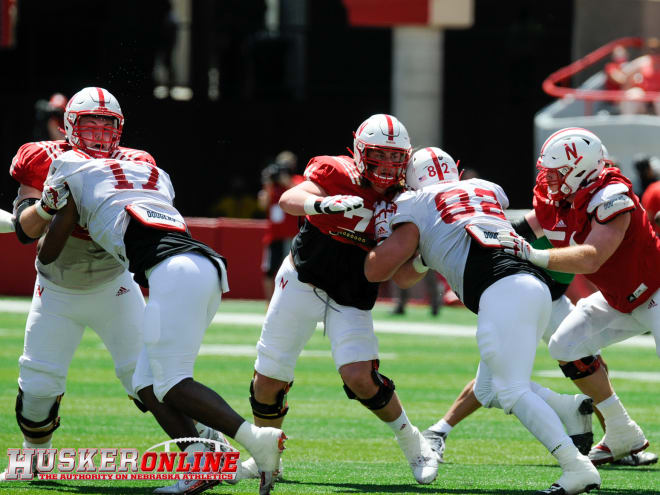 WHAT WE LEARNED: Despite inexperience, NU has a Big Ten o-line
It's taken four years of recruiting and development, but Nebraska's offensive line is finally near the point head coach Scott Frost said it needed to be during his first season in Lincoln.
There's no player with senior eligibility in the unit (though there are three fifth-year juniors) and only three returners who played more than 106 snaps last season.
But when it comes to size, potential, depth, and recruiting profile, the 2021 o-line is well on its way to being the best Frost has had with the Huskers.
Cam Jurgens is back as a third-year starter at center, and if he can get his snapping figured out, he has all-conference athleticism. Ethan Piper played 515 snaps last year as a redshirt freshman, and he looks set as the No. 1 left guard.
Bryce Benhart also played 579 snaps as a redshirt freshman in 2020 at right tackle. He's paired opposite of second-year freshman Turner Corcoran, who only saw 106 snaps last year but made his first start at left tackle in the finale at Rutgers.
Right guard looks to be the last spot still open for competition going into the summer, but fifth-year junior Matt Sichterman seemed to make a strong push this spring, but Brant Banks is still very much in the conversation.
Broc Bando, Trent Hixson, Nouredin Nouili, and Ezra Miller are all possible rotation options as well. Down the road, true freshman Teddy Prochazka opened some eyes as an early enrollee this spring.
In other words, not only does Nebraska's offensive line have talent, but it also has numbers. That's something it hasn't been able to say in far too long.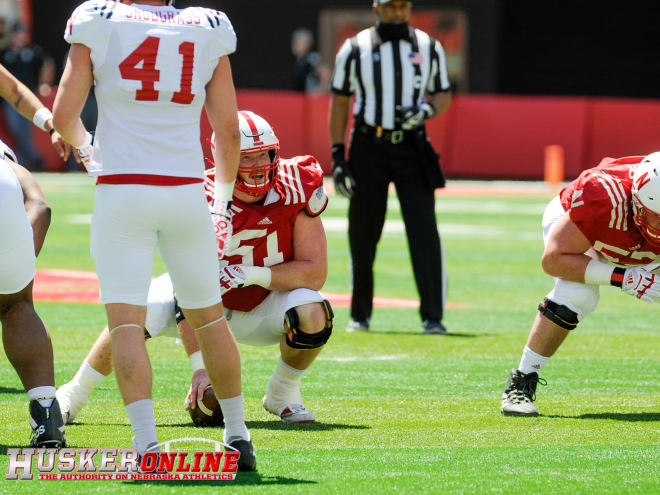 BIGGEST SPRING CONCERN: Has Jurgens fixed his snaps?
Nebraska finally started releasing some of its top winter conditioning testing results after the end of spring ball, and you couldn't help but notice some of the eye-popping numbers Jurgens put up.
At 6-foot-3, 290 pounds, Jurgens ranked in the top-six on the team's strength index with a hang clean of 405 pounds and a squat of 723 pounds. But, maybe most impressive was that he also registered a top-10 vertical jump on the team at 34.5 inches.
Jurgens has the size, strength, and athleticism to be an All-Big Ten player on NU's offensive line, which is why Frost moved him from tight end during his first season in 2018.
However, one reasonably important aspect of playing center that Jurgens has failed to master over the past two seasons is snapping the ball.
Jurgens' snapping problems have been lamented repeatedly, to the point where some question whether he will ever be able to figure them out and become reliable and consistent enough to play the position.
He seemed to limit the snap mistakes toward the end of last season to his credit, and there wasn't much conversation about it this spring or even after the Red-White game.
But until Jurgens proves he can get the ball to the quarterback accurately and regularly, there will be a worry about whether he's genuinely the all-conference center Frost banked on him being.
SPRING SURPRISE: Sichterman's rise at right guard
For the past four years, it looked like Matt Sichterman might never work his way into Nebraska's offensive line rotation.
Now he might be the poster boy for the value of patience and persistence.
It's still early in the offseason, but the 6-foot-4, 315-pounder got the lion's share of reps as the No. 1 right guard spot during spring ball. If he stays on his current track, Sichterman could be the frontrunner to win a starting job this year.
After signing with Nebraska in 2017, Sichterman went through a coaching change after one season in Lincoln. The staff that brought him to NU, including offensive line coach Mike Cavanaugh, was replaced by a new group of coaches he had never met.
Sichterman stuck it out with the Huskers, seeing minimal offensive snaps over the next three seasons and a backup lineman and special teams player.
Even though he didn't play much, Sichterman – a software engineering major who many of his teammates consider one of the smartest guys on the roster – was constantly learning and trying to make himself better.
He bounced around from tackle, guard, and even worked some at center before settling in at right guard behind last year's starter, Matt Farniok. It's taken plenty of patience and determination, but Sichterman now has the opportunity he's been waiting for in 2021.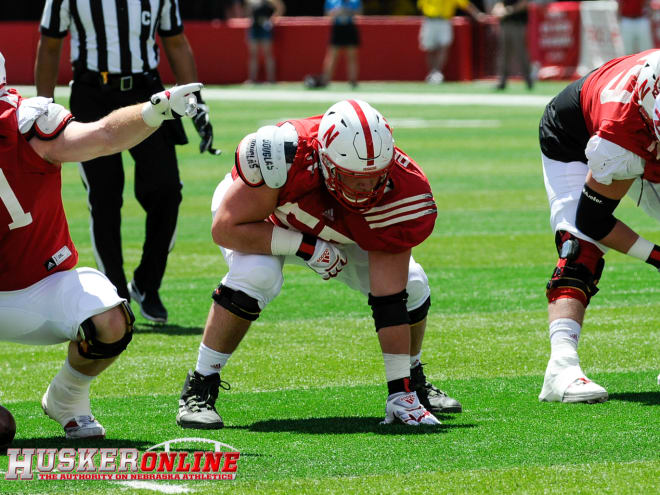 LOOKING AHEAD: The Pipeline's future looks bright 
Depending on what players decide to do after their free season of eligibility, there's a chance that all 24 offensive linemen currently listed on Nebraska's roster could be back in 2022.
Eleven on NU's 14 scholarship lineman are sophomore eligibility or younger, and 10 of those are freshmen.
We've already highlighted Jurgens' potential, but Corcoran has already been named on several 2023 and '24 NFL mock drafts.
The staff is extremely high on Piper and Benhart, and Prochazka generated quite a bit of buzz with his play in his first 15 practices as a Husker.
Offensive line coach Greg Austin certainly has plenty to work with over the next few years, and if the development continues as hoped, Nebraska could be a force up front.