Spring grade out: Wide receiver
We continue our spring positional grade outs today by giving our final take on Nebraska's wide receivers.
What we learned: Morgan, Pierson-El are the real deal
In a wide receiver group that lost as much veteran talent and production as almost any position on the roster, junior Stanley Morgan Jr. and senior De'Mornay Pierson-El proved they are more than ready to take over as the undisputed leaders of the position.
While they alone won't be able to fill the shoes of guys like Jordan Westerkamp, Brandon Reilly and Alonzo Moore, both look to have taken their game to the next level based on their performances this spring.
With a impressively accurate quarterback in Tanner Lee throwing him the ball, the 6-foot-1, 200-pound native of New Orleans looked like a future pro in the making. His ability to make tough catches in traffic while also serving as one of NU's best deep threats will make him a dangerous weapon.
Then there's Pierson-El, who looked as healthy, fast and confident this spring as he has in years.
Despite being hindered by one frustrating injury after another the past two seasons, Pierson-El was finally playing like the former Freshman All-American we saw back in 2014.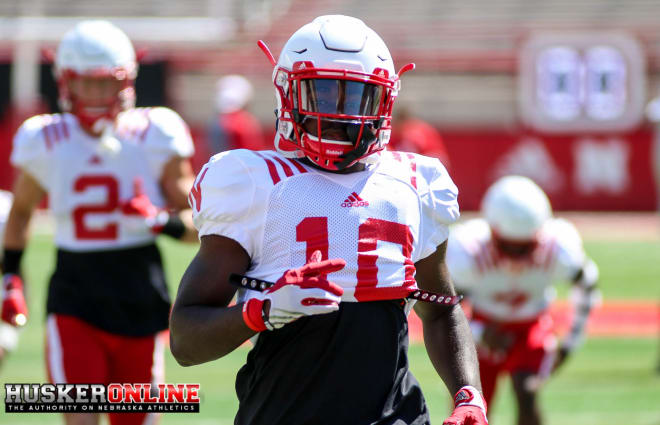 Biggest spring concern: Will the youth emerge in time?
On one hand, Nebraska is breaking in a slew of new young talent almost across the board at wide receiver that is full of potential.
On the other, the Huskers are depending on a lot of inexperience growing up in a hurry to be ready to go in time for the start of the 2017 season.
Morgan and Pierson-El are the clear go-to guys, but others like juniors Keyan Williams and Bryan Reimers and redshirt freshmen J.D. Spielman definitely showed flashes over the course of 15 spring practices.
That said, Reimers (five catches for 75 yards and a touchdown in 2016) is the only one of that trio to have even played a live game snap at Nebraska.
It was also disappointing that true freshmen early-enrollees Keyshawn Johnson Jr. and Jaevon McQuitty hardly got to do much this spring due to injuries.
Nebraska needs all of those unproven wideouts to continue to step up this fall.
Spring surprise: The emergence of Conor Young
A sophomore walk-on from Cozad, Neb., Conor Young started making a name for himself last year as a redshirt freshman, and that continued on into this spring.
In fact, based on some of the comments from NU receivers coach Keith Williams, Young - or "C.Y.", as Williams calls him - might actually have a better chance at cracking the wide out rotation than some think.
At 6-2, 180, and boasting impressive straight-end speed, Young brings a lot of the same traits to the table as Reilly, who Young even said he tries to model his career after as a former walk-on who ended up a scholarship starter.
Young still has plenty of work to do in order to become a regular factor in the receiver mix, but he's talented enough to potentially become Nebraska's next walk-on success story.
Looking ahead: Battle for playing time has only just begun
As the competition for playing time wasn't already wide open coming out of the spring, things will only get even more interesting come August.
Not only will Johnson Jr. and McQuitty be back to full health, Nebraska will also be adding arguably the best of the freshmen receivers in former four-star Rivals100 recruit Tyjon Lindsey.
Given the lack of returning veterans, it wouldn't be out of the question at all if all three freshmen wide outs saw immediate playing time this season.
Depending on how fall camp goes, there's also a chance one of them could end up winning a starting job.