Spring grade out: Quarterback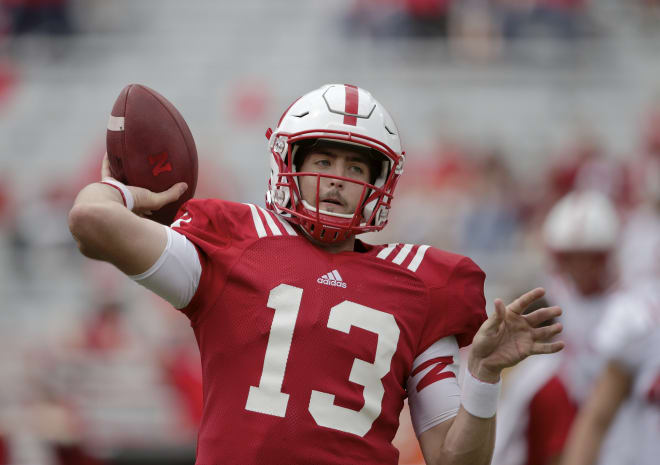 We begin our spring positional grade outs today by giving our final take on Nebraska's quarterbacks...
What we learned: The QB will be completely different, this year and beyond
For the past eight years, Nebraska has featured dual-threat quarterbacks who brought a lot to the table with their athleticism at the position.
But most would agree that both Taylor Martinez and Tommy Armstrong left much to be desired with their ability to operate as passers in the pocket.
That will all change in a big way this season and for the next several years to come with the stable of quarterbacks the Huskers now have on the roster.
Junior Tanner Lee ended up getting the nod as the No. 1, but redshirt freshman Patrick O'Brien wasn't far behind him in a head-to-head battle throughout the spring.
Then there was true freshman Tristan Gebbia, who stole the show in the Spring Game with how polished he was for an early-enrollee in just his 15th collegiate practice.
Needless to say, with the shift in the dynamic of the quarterbacks, Nebraska's offense will take on a significantly new look in 2016. Based on what we saw this spring, that change should be a very good thing.
Biggest spring concern: Can Lee live up to the hype?
One of the negatives of winning the starting job heading into the summer is that Lee will open fall camp with some lofty expectations to live up to from both inside and outside of the program.
This is a guy who Billy Devaney said had the potential to be a future first-round NFL draft pick. He certainly looked the part this spring, too, earning gushing praise from media and fans alike.
But Lee has yet to take a single live game snap at Nebraska where he actually has the risk of getting hit, and a quarterback can look a little different when the bullets start flying for real.
Lee started 19 career games at Tulane and tallied 3,601 yards on 53.5-percent passing with 23 touchdowns and 21 interceptions. Those numbers need to be markedly better for Lee to take Nebraska to the next level.

If he does struggle for an extended period of time this season, there's also a perfectly capable No. 2 in O'Brien chomping at the bit to take his place.
Spring surprise: Gebbia's impressive debut
It was never a question as to whether Gebbia had the talent to be a very good quarterback at Nebraska by the end of his career. But hardly anyone expected him to hit the ground running the way he did this spring.
Even though he was the clear No. 3 behind Lee and O'Brien, the former four-star out of Calabasas, Calif., impressed from his very first practice on through his unofficial NU debut in the Spring Game.
What made his coaches take notice as much as anything was his relentless work ethic, as he quickly earned the reputation as the last guy to leave the football facilities each day because he wanted to stay late and watch film.
The plan is still to redshirt Gebbia this season unless absolutely necessary, so it won't be until 2018 when he finally gets his first real crack at pushing for playing time. But if he continues to build upon what he showed in the spring, the sky is the limit.
Looking ahead: Plenty of depth and competition for years to come
Nebraska is obviously very excited about its overall talent and depth at quarterback this season, and that doesn't figure to change any time soon.
Not only are O'Brien and Gebbia still only freshmen, Lee was granted a sixth year of eligibility that will allow to play at NU for the next two seasons.
The problem with that kind of depth chart is finding a way to keep all three quarterbacks happy despite two of them likely hardly seeing the field in games.
That, however, is generally a very good problem to have, and one that the Huskers haven't had to face in nearly a decade.