Red dominates White 55-7 in Spring Game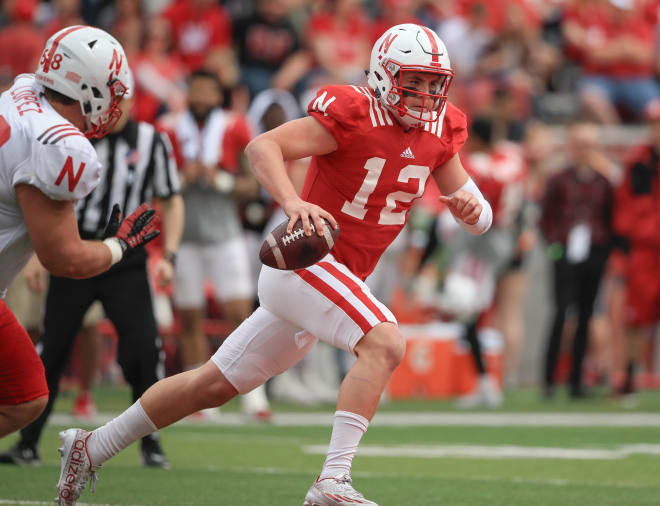 In front of the second-largest spring game crowd in program history of 78,312, Nebraska put on a strong show during its annual Red-White game on Saturday, with the Red squad cruising to a 55-7 victory.
The teams were split up through a draft by the coaching staff on Friday, but it was clear the Red team had the edge in experience and also had both top quarterbacks on its roster in Tanner Lee and Patrick O'Brien.
While the White team, led primarily by true freshman QB Tristan Gebbia, was able to keep it interesting on into the second quarter, Lee and O'Brien both found their rhythm just before halftime to make it a lopsided affair.
The first half was timed and officiated like a regular game, but the second half featured a running clock to help keep things moving along. As a result, the Red's 27-7 lead at halftime told the bulk of the story for the annual spring scrimmage.
The Red sputtered a bit through the first quarter, as it had to settle for two Drew Brown field goals from 27 and 34 yards to take a 6-0 lead.
Gebbia then put together his best drive of the day at the first quarter and beginning of the second, and he capped it off with a four-yard touchdown off a zone-read keeper to give the White a 7-6 lead.
It would be all Red team from there, though, as running back Devine Ozigbo scored on a six-yard touchdown run to reclaim the lead on the ensuing drive.
Red linebacker Luke Gifford provided the biggest sparks of the day by forcing a fumble and then picking off Gebbia on consecutive drives.
Those turnovers led to a beautiful 30-yard scoring pass from Lee to receiver J.D. Speilman in the corner of the end zone and then O'Brien hitting running back Mikale Wilbon on a nine-yard swing pass for a touchdown just before the half.
Lee struck again with a nine-yard touchdown pass to tight end Jack Stoll with 7:25 left in the third quarter, capping off an eight-play, 83-yard drive. Lee was 5-of-6 passing for 64 yards in the series.
The Red then tacked on another touchdown run by walk-on Wyatt Mazour from five yards out early int the fourth quarter to make it 41-7.
Lee then found walk-on running back Tanner Haas for an 11-yard touchdown pass to push the lead to 48-7 with 12:25 to go.
Gebbia closed out the scrimmage by switching to the Red team and finding Haas for another touchdown pass with just 1:27 left on the clock.
When all was said and done, Lee completed 13-of-19 passes for 190 yards and three touchdowns, while O'Brien was 11-of-17 for 134 yards and a score. Gebbia finished a combined 28-of-45 for 268 yards and a touchdown while getting snaps with both the Red and White squads.
On the ground, Ozigbo led the way for the Red with seven carries for 49 yards and a score through three quarters, while Tre Bryant carried three times for 36 yards - 27 of which coming on the opening drive - and Wilbon had three rushes for 25 yards and his receiving score.