Opponent spring review: Purdue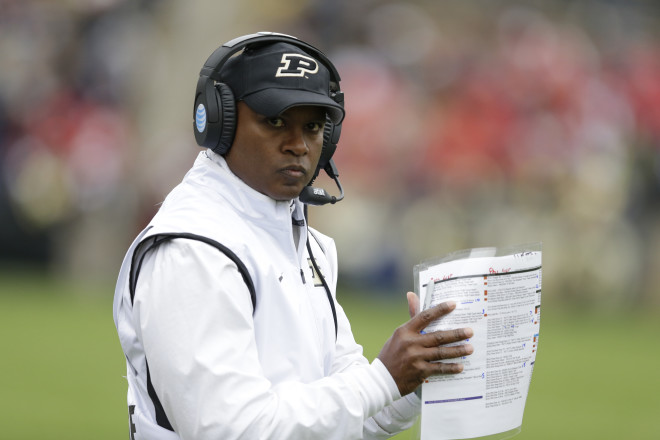 With spring practices finally all wrapping up around the country, HuskerOnline.com continues our look at where each of Nebraska's 12 opponents in 2016 currently stand coming out of spring ball and heading into the summer.
Today, we check in on the Purdue Boilermakers, who will come to Lincoln on Oct. 22.
To get a feel for where the Boilermakers stand heading into their fourth season under head coach Darrell Hazell, we spoke with Stacy Clardie of the Purdue Rivals.com site GoldandBlack.com to get her thoughts and perspective on the team and what to expect once the season gets underway in a few months.
Spring overview
Change was definitely in the air when Purdue opened spring practice, as it marked the debuts of two new coordinators in OC Terry Malone and DC Ross Els - the former Nebraska linebackers coach and special teams coach.
Seeing how Malone had already been on the staff for three seasons as the tight ends coach, it wasn't a very drastic transition for the offense. The Boilermakers returned nearly all of their starting offense from last season, and it also helped that Malone kept many of the same principles of former OC John Shoop's West Coast offense.
The biggest difference was probably for the quarterbacks, as Malone is putting far more emphasis on pre-snap reads and knowing where to go with the ball before the play as opposed to Shoop's style of the QB diagnosing the play after the snap. Clardie said the offense looked about as comfortable as could be expected in breaking in a new coordinator.
Defense was a much different story, however. Clardie said there will definitely be a major learning curve for the unit this offseason as it goes from a 3-4 base package to Els' 4-2-5 scheme. There is also the big concern over how the Boilermakers' secondary - which lost both starting cornerbacks and a starting safety - will not only adjust to the new coverage responsibilities, but do so as was of the thinnest groups on the entire team.
Returning starters
One of the main reasons for the relatively seamless transition between Shoop and Malone is the amount of returning experience Purdue has on offense.
Led by quarterback David Blough, running back Markell Jones, wide receiver DeAngelo Yancey, and three returning starters on the offensive line, the Boilermakers feature a solid veterans back at nearly every position.
The biggest losses were up front in four-year starting center Robert Kugler and left tackle David Hedelin. But multi-year starters Jason King and Jordan Roos both return at guard to help ease the blow.
As mentioned, the defense wasn't nearly as fortunate. Both starting cornerbacks are gone in Anthony Brown (drafted by the Dallas Cowboys) and Frankie Williams, leaving the secondary full of youth and inexperience this spring.
The good news is there are notable starters back in defensive tackle Jake Replogle - who Clardie said might be PU's overall best player - and defensive end Evan Panfil. At linebacker, Ja'Whaun Bentley will lead the way after coming back of an ACL injury last year, and safety Leroy Clark stands as the lone returning starter in the secondary.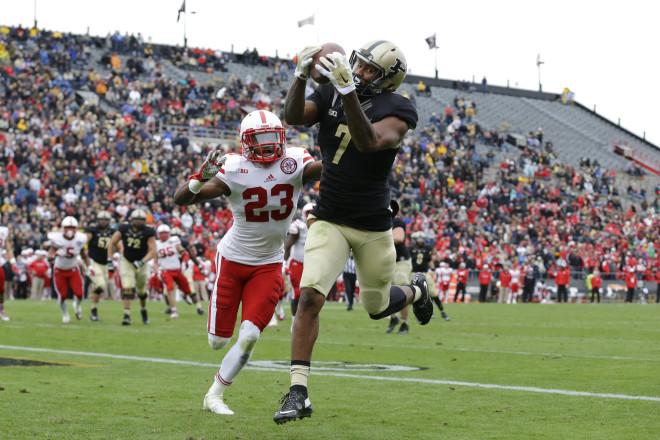 Offensive star: WR DeAngelo Yancey
Off all Purdue's returning talent on offense, Yancey arguably has the highest ceiling going into 2016.
The clear No.1 target for Blough, Yancey is a big, physical receiver at 6-2, 216, who initially made his name as a deep threat.
But over the past three years Yancey has steadily developed as a reliable go-to guy, and he'll be counted on as much as anyone to produce for the Boilermakers this season.
Defensive star: DT Jake Replogle
For as many questions as Purdue as in the back end of its defense, it at least has one certainty in the middle of the defensive line in Replogle.
The 6-foot-5, 294-pound senior established himself as the rock of the Boilermakers' defense last season, starting all 12 games and finishing with 40 tackles (27 solo), 10.5 tackles for loss, three sacks, and a pass breakup.
Spring surprise: CB Da'Wan Hunte
Purdue's biggest mission this spring was to start establishing the depth chart in the secondary, particularly at cornerback, and Hunte took full advantage of opportunity.
The junior started taking reps with the first-team defense from the opening of spring practice, and he and stayed there throughout even though Purdue was constantly rotating its secondary depth chart in trying to find its rotation.
Hunte play was better than most everyone had expected, even the coaches, as he matched up against Yancey on nearly every rep and more than held his own.
He's not the greatest athlete ever, but he has a nose for the ball and picked up the new defense as quickly as anyone in the secondary.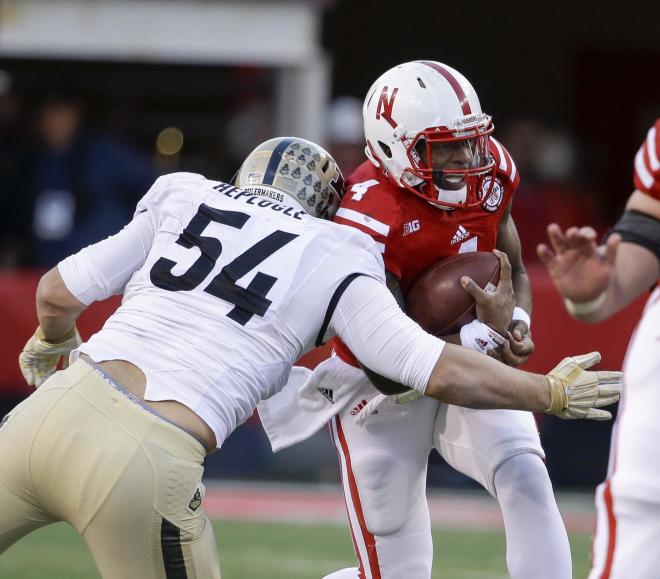 Best spring position battle: Cornerback
If you're sensing a theme here, it's because cornerback depth clearly was the biggest storyline of the spring for Purdue.
Aside from Hunt, Clardie said you would never know which corner was going to be on the field on a given rep because they were constantly switching guys in and out.
It even got to the point where walk-ons were getting reps with the first-team defense because no one was stepping up and securing spots.
It's an issue that remains far from resolved, and will likely continue to be the No. 1 thing to watch when the Boilermakers return to action in the fall.
Biggest question: Will there be enough depth?
Obviously aside from cornerback, Purdue actually feels pretty good at its top line guys at several positions on both sides of the ball.
With Yancey and the receivers, Blough under center, Jones at running back, and a relatively veteran starting defensive front seven, there appears to be enough talent across the board for the Boilermakers to be competitive this season.
But the drop off after the starters at every position is a major concern. Purdue is still trying to find more guys to establish No. 2 roles, and that has resulted in a lot of young players getting thrown into the mix right away.
That could potentially be a good thing down the road, but there are also a lot of risks involved in the short term.
Early outlook on Purdue vs. Nebraska
Clardie: "I think it will be interesting because that was the one game last season that Purdue can argue it played its best game. They forced five turnovers, and they were fortunate that Nebraska was starting a back-up quarterback, but they took advantage of that and they scored 55 points.
"But I think playing in Lincoln is totally different, as we saw two years ago. It's interesting because the way Purdue's schedule lines up, in theory they could have some wins coming into that game and feel pretty good about itself.
"But I don't know how much that's going to matter, because Nebraska is most likely going to be a better team, and playing them at home is going to be a difficult chore regardless of any supposed momentum they could get."
Overall 2016 win-loss expectations
Clardie: "The way the schedule lines up, it's honestly not a very difficult schedule. So when you just strictly look at that, you're like, shoot, they could win six games. But at this point right now I'm a still concerned about the defense and if those players are going to be able to execute it well enough to be able to win consistently.
"I like what the offense looks like right now, but I don't know if I like it enough if they're going to have to score 40 points a game to win. That's kind of what I'm thinking will have to happen with this defense right now.
"So I feel like best-case scenario, if the offense comes out and is that good and if the defense somehow stops the run - which it hasn't been able to do for years and years and years - and somehow finds cornerbacks that can defend, then maybe you can get to six wins. But you could also get three."