Opponent spring review: Northwestern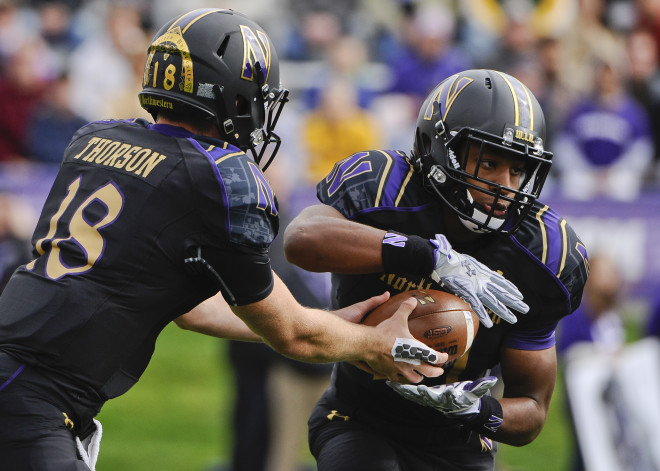 After beating Nebraska in Lincoln last season, the Northwestern Wildcats will try to build off a 10-win season from 2015 that also included wins over Stanford, Wisconsin and Duke.
In five years, Nebraska holds a slight 3-2 edge over the Wildcats, but each and every game has been tightly contested in the second half other than NU's 2014 victory in Evanston.
It was announced this past week that the Nebraska vs. Northwestern game will kickoff at 6:30 pm CST, which should make for a great atmosphere to kickoff Big Ten Conference play. HOL caught up with WildcatReport.com publisher Louie Vaccher to get a complete recap of the Wildcats coming out of the spring.
Spring overview
It's going to be hard for the Wildcats to top their win total from a year ago, mainly because they draw both Michigan State and Ohio State out of the East, along with Indiana.
The expectations remain high for head coach Pat Fitzgerald's team with what Northwestern returns and the season they had a year ago.
Returning starters
The Wildcats return seven starters on offense and six on defense in 2016. They key is they have starting quarterback Clayton Thorson and running back Justin Jackson back on offense, while linebacker Anthony Walker is who Fitzgerald will build the defense around.
The biggest holes they will have to fill are on the defensive line, where they lost Deonte Gibson and Dean Lowry who accounted for 12 sacks a year ago. They are also trying to fill some holes at receiver, where Fitzgerald moved three guys from other positions this spring to build better depth and competition.
Offensive star: RB Justin Jackson
Running back Justin Jackson rushed for 1,416 yards on 312 carries as a sophomore and was clearly the workhorse for Northwestern's offense. However, the number that probably jumps out the most is he had just five rushing touchdowns.
In order for Jackson to take the next step in his career he needs to become a more effective red zone back in 2016 to take pressure of Thorson and the inconsistent Wildcat passing attack.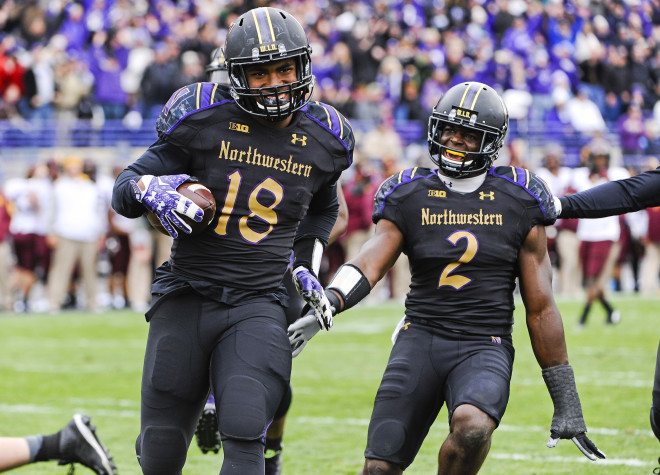 Defensive star: LB Anthony Walker
You'll be hard pressed to find a more productive defensive player in the Big Ten than Northwestern linebacker Anthony Walker.
In 2015 Walker put up 122 total tackles to go along with 20.5 tackles for loss. He is an early favorite for Big Ten defensive player of the year and no doubt a potential All-American candidate for the Wildcats. In last year's Nebraska game Walker gave the Huskers all they could handle, as Northwestern completely dominated the line of scrimmage.
Walker's big goal now going into 2016 is to become a bigger leader for Northwestern's defense.
Spring surprise: WR Solomon Vault
The last two years Solomon Vault played running back for the Wildcats, but he was one of three players Fitzgerald moved to wide receiver this spring.
He's somebody that people think could have an instant impact at his new position. During the spring Fitzgerald said he wished he would've moved him to wide receiver earlier in his career.
Best spring position battle: Defensive end
There really wasn't a "true battle" people where watching closely this spring, but Northwestern must replace their two starting defensive ends from a year ago. There were a lot of eyes on that position group this spring.
Look for Ifeadi Odenigbo and Xavier Washington to man those two starting spots. The pressure is now on Odenigbo to step it up, as he came to campus as the highest rated recruit ever in the modern day Rivals star rankings.
Biggest question: Can Thorson improve as a passer?
If Northwestern's offense is going to take the next step in 2016, Thorson has to become a better passer. Last season he completed just 50.8 percent of his passes for 1,522 yards. He threw just seven touchdown passes to nine interceptions.
Thorson also lost his main check down running back Dan Vitale (33 catches), who was drafted in the sixth round by Tampa Bay.
This spring Thorson worked on his passing quite a bit, and the reports out of Evanston are he's gotten better, but it's really something you'll never know until the bullets are live.
Early outlook on Nebraska vs. Northwestern
Vaccher: "They won in Lincoln last year. This is a game if Northwestern wants to make noise in the West, they have to win this game. It's at home, it's a night game, they beat Nebraska last year on the road - that's a game they have to look at and say 'we should win this one.'
"I think that's kind of the mindset going into that Big Ten schedule with Iowa, Michigan State and Ohio State coming up early in conference play. The Nebraska game is one they have to come out early and get that win right away in the Big Ten, because it gets a whole lot tougher in October."
Overall 2016 win-loss expectations
Vaccher: "They could very well be a better, more balanced team in 2016 and have a poorer record - that's probably what's going to happen. I think they could win 8 or 9 games. Last year things broke their way. They won every close game and in those 10 wins, they were 5-0 in one-score games. In their three losses though against Iowa, Michigan and Tennessee they got blown out in all three.
"I think fans would like them to be a little bit more competitive when they go up against Ohio State and Michigan State and Iowa this season. I think in terms of the season, fans expect them to maybe contend in the West. It's still wide open and I think they could be an 8 or 9 win team and get to a pretty good bowl game."