Opponent spring review: Illinois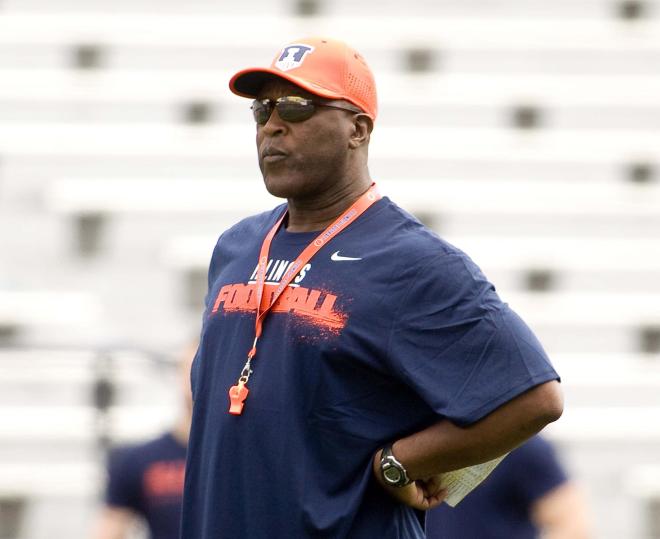 With spring practices finally all wrapping up around the country, HuskerOnline.com continues our look at where each of Nebraska's 12 opponents in 2016 currently stand coming out of spring ball and heading into the summer.
Today, we check in on the Huskers' first Big Ten home matchup of the season in the Illinois Fighting Illini, who come to Lincoln on Oct. 1 for a 2:30 p.m. kick.

To get a feel for where the Illini stand heading into their first season under new head coach Lovie Smith, we spoke with Doug Bucshon of the Illinois Rivals.com site, OrangeandBlueNews.com, to get his thoughts and perspective on the team and what to expect once the season gets underway in a few months.
Spring overview
After a tumultuous seven months that saw head coach Tim Beckman fired just before the start of the 2015 season and then interim coach Bill Cubit let go on new athletic director Josh Whitman's first day on the job, Illinois finally got something to feel good about with the hiring of the former NFL coach Smith in March.
With the fan base and the entire program rejuvenated, this spring had a unique feel as the Illini got their first taste of life under the new regime. More than anything, the spring session consisted mainly of the players adjusting to Smith and his staff and learning their new systems on both sides of the line of scrimmage.
On offense, Illinois stuck with a similar pro-style scheme with some spread elements, but Smith and offensive coordinator Garrick McGee plan to rely heavily on the running game while having senior returning starting quarterback Wes Lunt lined up under center much more than he did a year ago.
The defense will also remain with a 4-3 base look, but as expected Smith is bringing his famous Tampa 2 system to Champaign. With a veteran defensive line coming back, the biggest hurdle this offseason will be getting a young and inexperienced linebacker and secondary group up to speed on the intricacies of Smith's Cover 2 style.
Returning starters
Along with returning a quarterback in Lunt who threw for 2,761 yards, 14 touchdowns and led the Big Ten and ranked 20th nationally in completions per game (22.5) last season, Illinois also brings back its leading rusher from 2015 in sophomore running back Ke'Shawn Vaughn (157 carries for 723 yards).
However, the receiving corps suffered another big blow this spring when redshirt sophomore Mike Dudek - who set IU freshman records for receptions and yards in 2014 - suffered a season-ending ACL tear after missing all of 2015 with a torn ACL in his other knee. Still, the Illini do get three wide outs with starting experience back as well as tight end Tyler White.
Up front, Illinois returns both starting tackles in Christian DiLauro and Austin Schmidt as well as center Joe Spencer, but it must replace both starting guards from last season. Bucshon said DiLauro is probably the best of the bunch on the o-line.
As far as the overall strength of the team at this point, Bucshon said it's probably along with defensive line. The Illini bring back their top two defensive ends in Dawuane Smoot and Carroll Phillips, as well as defensive tackle Chunky Clements in the middle.
Illinois does have some athleticism at linebacker and in the defensive backfield, but it must replace all three starters at linebacker, both starting cornerbacks and the starting free safety from a year ago. Strong safety Taylor Barton is the lone starter back in the secondary.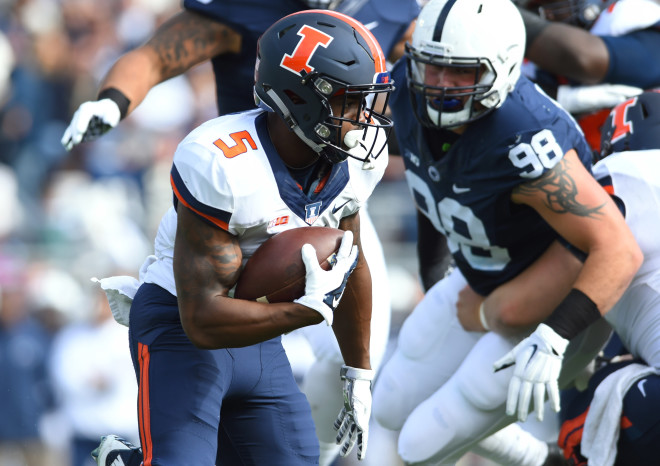 Offensive star: Ke'Shawn Vaughn
With McGee putting a renewed focus on the running game this spring, it allowed Vaughn to shine more than ever coming off his breakout freshman season a year ago.
While there are still some holes left to fill on the offensive line, Illinois' plan this season to take the pressure of Lunt and the passing game by becoming a much more physical offense through a power rushing attack.
At 5-10, 205, Vaughn looked more than capable of handling the increased workload this spring, as Bucshon called him "a budding star" in the Illini's new offense.
Defensive star: Dawuane Smoot
The biggest strength on Illinois entire roster just might be up front on the defensive line, and that all starts with the senior end Smoot.
The 6-foot-3, 260-pounder established himself as one of the Illini's most talented pass rushers last season, racking up 2.5 sacks, 7.5 tackles for loss and three quarterback hurries.
Smoot apparently shed roughly 10 pounds off his frame over the winter, which should only add to his explosiveness off the line. If all goes as planned, Bucshon said IU thinks it could have an All-Big Ten player in Smoot when everything is said and done.
Spring surprise: Jaylen Dunlap
It wasn't necessarily a total surprise, but the progress made by Dunlap since the end of last season definitely helped ease at least some of the concerns about Illinois young secondary this season.
After seeing some playing time last year in IU's nickel and dime packages, Dunlap is now locked in a projected starter coming into his junior year.
At 6-1, 190, Dunlap brings a combination of size and speed to the corner position that could flourish in Smith's defense.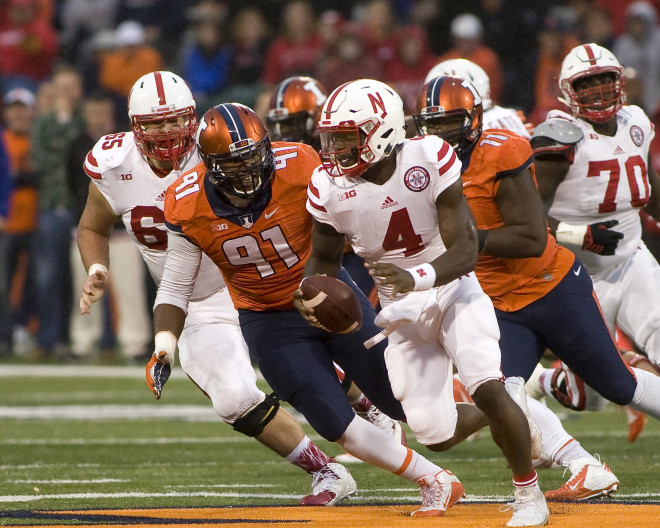 Best position battle: Offensive guard
Illinois has things pretty much settled with three of its starting spots along the offensive line, but the two guard positions remain up for grabs coming out of spring practice.
The top candidates to fill those roles appear to be redshirt freshman Gabe Megginson and former junior college transfer Connor Brennan, who both got the bulk of the work with the first-team offense this spring.
Whoever ends up starting, the Illini have to find a way to get a better push up front, as they ranked dead last in the Big Ten in rushing offense last season at just 129.3 yards per game.
Biggest question: Who will make up the back seven on defense?
Probably the biggest concern resulting from Illinois' coaching change is how quickly its linebackers and secondary can adjust to all the aspects of Smith's Tampa 2 coverage schemes.
As if adjusting to a completely new system wasn't enough, those units are having to do it with just one returning starter between them.
The good news for Illinois is that it feels good about the talent and potential in both areas, particularly at middle linebacker, where Cal transfer Hardy Nickerson Jr. - son former NFL great and new defensive coordinator Hardy Nickerson Sr. - is projected to be the starter after leading the Golden Bears with 112 tackles last year.
On the back end, Ahmari Hayes, Chris James, Frank Sumpter, Cameron Watkins and Jevaris Little are all in the mix for starting jobs. One of them will have to fill the shoes of Clayton Fejedelem at free safety, who was a seventh-round draft pick by the Cincinnati Bengals.
Early outlook on Illinois vs. Nebraska
Bucshon: "Illinois is coming off the last-second win over Nebraska in Champaign last year, but I think everybody believes that now in the second year of Mike Riley at Nebraska that they're going to be a better team. It's always difficult to go to Lincoln and take on the Cornhuskers, so Lovie Smith is going to have his hands full the first time playing at Nebraska on the road.
"Nebraska is going to be favored, I think, and they're going to have a lot of players back from last year's team. But there is a lot of excitement around Illinois football with Lovie Smith, so you never know what to expect."
Overall 2016 win-loss expectation
Bucshon: "I think everybody always expects to go to a bowl game. On paper, this is probably a five- or six-win team, but with the Lovie Smith factor a lot of excitement surrounding the program right now, you never know.
"I know the coaching staff really feels like they can win seven or eight games and go to a bowl game."