Official visit to Nebraska sets a high bar for four-star OT Cayden Green
This weekend was the third opportunity for Rivals250 prospect Cayden Green up in Nebraska. The four-star offensive tackle from Lee's Summit (Mo.) North will take all five of his official visits and make a decision a couple of weeks after that. Green said today that the Huskers set the bar high following his first official visit.
"We left around 6:00 on Thursday and got there about 9:00 that night," Green said. "On Friday we went and did all of the academic stuff. We toured the business center and met the academic people.
"On Saturday we did all of the football stuff. We got to do meetings, photo shoot, the tour and all of that yesterday."
Green said that there was a small opportunity for him and his family to talk to the academic folks last time he was in Lincoln. This trip was more into the details and Green said that they spoke to a lot of people this weekend.
"Last time I was here we did have a chance to do some of the academic meetings but we didn't have a lot of time. This trip we got a chance to get into the details and actually talk to a lot of the people."
On the last visit to Nebraska, Green said that he had a chance to finally meet coach Donovan Raiola. Green came away impressed with coach Raiola and the two got a chance to watch a lot of film this weekend and spend some time talking to one another.
"We talked about everything," Green said. "We got into the film room with him and the things he teaches is different and it's interesting stuff. We talked about everything from football to the playoffs and stuff like that."
Following the time with coach Raiola, Green said that he was able to see a good fit playing for Nebraska. He feels like Nebraska is running a pro-style offense and that would help him prepare for football after college.
"Yeah, I definitely think that I could play in their offense. I like what they are doing offensively. They run a pro-style and that will help get people ready for the next level. I really enjoyed seeing what they are doing up there this weekend."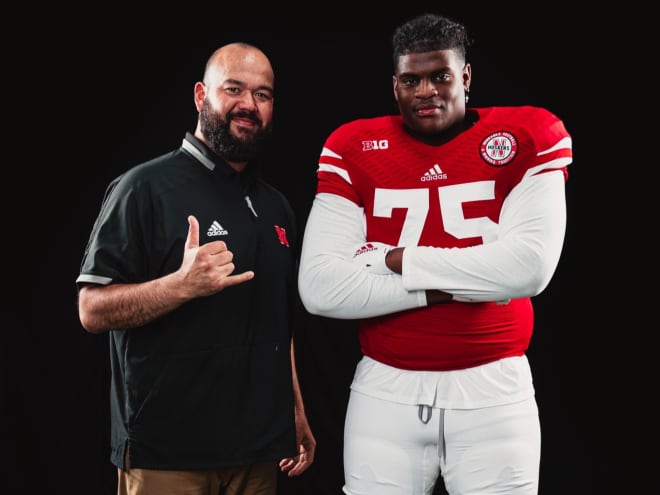 The Huskers were able to set a high standard for Green to consider when it comes to his four remaining official visits. He and his family really enjoyed their time in Lincoln this weekend and he said that looking back at the weekend that there wasn't anything that could have been better.
"This was my third time at Nebraska. This weekend was a really good kick-off for all of my official visits. Nebraska set the bar really, really high. We really enjoyed it and had fun all the way around. All of the people there at Nebraska are very genuine and we got to see how they operate.
"The best thing for me about this weekend was getting a chance to get into the film room with coach Raiola and just watching he teaches his technique and see how technical he is. There wasn't anything that could have been any better. Everything was great. We had fun."
Green has a busy month of June ahead of him. He has official visits for each one of those four weekends set up. He has made a recent change in his top five as well.
"I have my other four official visits in June," Green said. "I will be in Oklahoma and then I just set up an official visit to LSU. And then I will be at Michigan and then Missouri all in that order. I swapped up Miami with LSU."
Following the last official visit, Green says that he will take a couple of weeks and make a decision. He is not anticipating taking any other visits besides his remaining four official visits before announcing his commitment.
"It will probably be early July. I am going to come out with a date in a couple of days. I am not planning any other trips in the middle of the official visits. I am done. These next four on top of Nebraska and then I will make a decision."
Green took the visit to Nebraska with his father, mother and brother. His host for the weekend was Marques Buford.