Notebook: Huskers reach halfway point of spring ball
With its sixth practice on Thursday, Nebraska officially reached the midway point of spring ball.
The Huskers will hold their normal position meetings on Friday, and then the team will be off until Tuesday, Mar. 29, before returning to action.
Head coach Mike Riley was very pleased when asked his thoughts on how the first half of the spring had gone thus far, especially with so much transition going on with the arrival of new defensive coordinator Bob Diaco and the competition for a new starting quarterback.
"It think it's been great to this point," Riley said. "I've really appreciated the enthusiasm for the work, and I think we've had a lot of stuff go in.
"Obviously everything defensively is install, and then after that with the new quarterbacking and how that's going, there's been a lot of new things. But I think it's gone fairly well."
Riley said this was the third year he's used this midway break format for spring practices, and he's grown to like the schedule because of how it provides the players with some much needed time away to regroup both physically and mentally.
"I think it's important that they take a mental break, but not totally physically," Riley said. "They should still do a little bit of something, whether it's running, stretching, a little lifting.
"You want them to have a break … But they need to do something, and stay out of trouble."
When Nebraska resumes on the 29th, Riley said the team would hold its third "shorts practice" to meet the minimum required by the NCAA.
- Robin Washut
Kalu gives safety a shot
Maybe the most eyebrow-raising sight of the day was senior-to-be Joshua Kalu taking on an unexpected position change.
Kalu, who has started 28 games at cornerback in his career, was working with the first-team defense at safety on Thursday.
Riley said the staff wanted to shake things up a bit and try something new in an effort to find the best fit for Kalu in Nebraska's new defense.
"What we're looking at is, when you look at the big picture of our team and the secondary, we're looking at where he might best fit and where we might find the best strength," Riley said. "So it's a look-see at him playing safety."
Kalu lined up alongside safety Aaron Williams, who said he was impressed with how quickly Kalu picked things up in his first day at the position.
With Kalu moving spots, sophomore Lamar Jackson took over as the other No. 1 cornerback opposite senior Chris Jones.
- Robin Washut
Johnson Jr. cleared, goes through first NU practice
After a scary setback from an appendectomy he underwent back in December, freshman wide receiver Keyshawn Johnson Jr. was finally able to put on a helmet and go through his first practice as a Husker on Thursday.
Johnson was cleared to start practicing on Tuesday, but due to NCAA rules he wasn't allowed to wear pads on Thursday as part of the required acclimation period.
The former four-star will have to go through one more helmet-only session when NU gets back to work after the break, and then he'll be ready to fully participate for the remainder of the spring and play in the Red-White game.
"He has been cleared," Riley said. "Remember the first two practices (back) have to be in shorts, so he's still in that protocol.
"When he comes back (on the 29th) we'll have a shorts practice and then after that he should be geared up and practicing, which is great. If he can get three weeks of practice with us, from what we thought earlier, it'll be a bonus."
- Robin Washut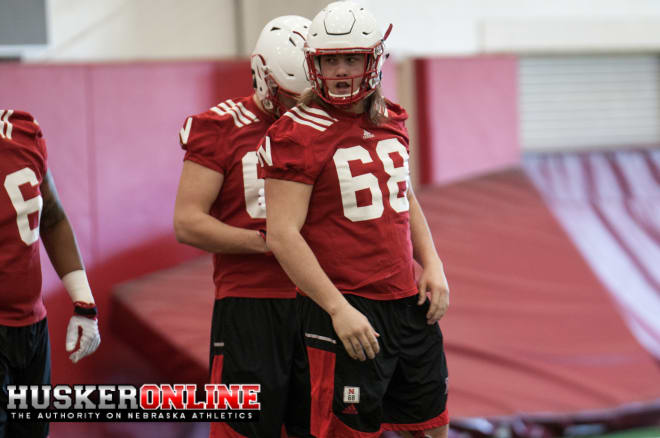 Gates mentally trying to get back on track after rough ending 
The 2016 season couldn't have ended any worse for junior left tackle Nick Gates. During Nebraska's bowl game loss to Tennessee, Gates was matched up with future first round NFL draft pick Derek Barnett.

The match-up was a nightmare, as Barnett had his way with Gates and the Huskers the entire day. Offensive coordinator Danny Langsdorf said that game did a number on Gates mentally, but he's also learned from that experience.
"I think initially it was tough," Langsdorf said on Gates bouncing back. "He was kind of down in the dumps and I think one bad play kind of led to another with him. I just think it kind of snow balled on him a little bit, and he also was playing against a top 10 pick. It was a great challenge for him, but if he gets beat on the play he's got to be able to bounce back and get rid of that play and move on. I think that was a good lesson for him. I think he has bounced back and practiced well through the spring, but it took him a little while to get out of the funk he was in the winter."
Langsdorf also took some of the blame for Gates' struggles in that game.
"We can help him too," Langsdorf said "Not all of the problems we had in that game where just Nick. We had some fit problems with the help and the tight end in the back knowing that we have a good rusher and we have to make sure we are in the right position to not allow guy to take a game over."
-Sean Callahan
Quick hits
***Riley said he is seeing some separation starting to happen in the running back competition, but declined to give any details because he wants to keep the competition going as much as possible.
***Running back Devine Ozigbo was suited up but didn't take many reps at all on Thursday, but Riley said he wasn't aware of any injury situations regarding Ozigbo.
***Riley said overall the defensive backs had a very good day on Thursday, especially in the team's red zone work. Riley said Jones was "outstanding" today, while Kalu, JoJo Domann, and DiCaprio Bootle all made nice plays.
***Riley said the quarterbacks have progressed well through the first half of spring and are competing a high percentage of passes. However, he said Thursday was a bit of an "eye-opener" for them, especially with their red-zone struggles.
***Offensive coordinator Danny Langsdorf said Tyler Hoppes and Matt Snyder have emerged as the top two tight ends right now with their play this spring.
***Wide receivers coach Keith Williams said a big change this spring has been having to practice against as many coverages NU is using in Bob Diaco's defense. He said he can't remember a time at Nebraska when the receivers have had to think on the fly as much as they have this spring.
***Center Michael Decker said he really wasn't sure why he struggled so much last year, but said he's had a great offseason and is ready for to lock up the No. 1 center job this year.