Notebook: Huskers geared up for game week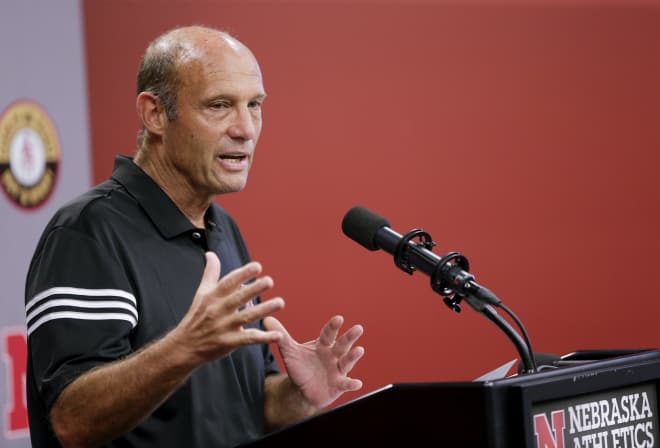 After four weeks of grinding through fall camp, Nebraska can finally see the light at the end of the tunnel entering the first game week of the 2017 season.
With only a handful of notable injuries and hardly any off-the-field drama to speak of over the course of the offseason, head coach Mike Riley said the past eight months have been nothing but productive as the Huskers begin new chapters on both sides of the football this year.
"All the different parts basically heading into the start of our camp on July 29 when we reported to today has mostly been non-dramatic," Riley said. "It's a really low-maintenance group, I appreciate that. Now it's time to get ready in the final days countdown for a great weekend of opening day football at Memorial Stadium."
The two biggest storylines facing NU over the offseason were the introductions of new starting quarterback Tanner Lee and new defensive coordinator Bob Diaco's 3-4 system.
Riley said he couldn't be much happier with the progress on both fronts so far, especially with how Lee immediately took the reigns of the offense and earned the unanimous respect of his teammates.
As for the defense, junior nose tackle Mick Stoltenberg said Diaco's influence instantly transformed the entire unit.
"It's kind of something you could see right away," Stoltenberg said. "If you weren't going to buy into (Diaco's) system, he wasn't going to wait for stragglers. So it was definitely the type of thing where once he came in you kind of knew how the culture was going to be and you had to buy in. I think it's definitely worked."
All of that newness has led to a feeling of a clean slate for the Huskers entering Saturday's season opener vs. Arkansas State.
However, Riley made sure to note that regardless of how optimistic the coaches and players may feel about their chances in 2017, there are still many pressing questions that can only be answered on game day.
"There's been a lot of changes with this team, and like everybody, we are all excited about getting it underway…" Riley said. "There's a lot of new things on the horizon. We are excited and optimistic and feel good about all the preparation. Now we've got to go out and do it week by week."
Freshman roles get some clarity 
There had been plenty of speculation as to which of Nebraska's true freshmen would be in line to make immediate impacts this season, and that situation finally got some clarity on Monday.
While it will still be a fluid situation for some members of NU's 2017 class, Riley did confirm that wide receiver Tyjon Lindsey, running back Jaylin Bradley, linebacker Avery Roberts, and defensive lineman Deontre Thomas would all be a part of the Huskers' game day rotation this season.
None of those came as major surprises, as all had elevated up the depth chart at their respective positions and on special teams.
Lindsey was listed as the No. 2 'Z' receiver behind De'Mornay Pierson-El and the No. 2 kickoff returner behind J.D. Spielman on the Huskers' Week 1 depth chart.
Roberts, who enrolled early in the spring, was listed as second-string inside linebacker behind Chris Weber, and Bradley was the No. 4 running back and No. 3 kick returner.
Thomas was the No. 2 nose tackle behind Stoltenberg, but he shared the spot with an "OR" along with fellow true freshman Damion Daniels.
Riley said Daniels was one of a handful of freshmen who were still on the fence as to whether they would play this season or redshirt. Others with that label included quarterback Tristan Gebbia, offensive tackle Brenden Jaimes, and linebacker Guy Thomas.
"We're going to have them ready for action, whether or not they play," Riley said.
Gebbia might be the most interesting of that group mainly because of how hard he pushed redshirt freshman Patrick O'Brien for the top backup quarterback spot behind Lee this fall.
Riley said the hope was they would be able to redshirt Gebbia this season, but just like O'Brien did a year ago, the former four-star recruit would practice with both the scout and varsity squads this season and travel with the team on road games.
"Like we did last year with Patrick O'Brien, Tristan will be our No. 3," Riley said. "I suppose our goal would be that he redshirts, but he will be active in getting game ready in practice, travel, all that part of it with us."
Spielman emerges as top kick returner
Most fans at least had some idea of what Nebraska's initial depth chart would look like prior to its release on Monday morning, but one spot that may have been the biggest unknown was kickoff returner.
With several candidates who were mentioned for the role over the offseason, it wasn't confirmed until Monday that Spielman had emerged as the top option, with Lindsey and Bradley backing him up.
"We certainly feel good about the abilities of those guys," Riley said. "Spielman, Lindsey and Bradley all have the ability to run, run in space, and I think create something special. They all have that."
Riley has already stated how good he thinks Spielman could be as the No. 1 slot receiver in NU's offense, and he has just as much optimism for what the redshirt freshman could bring to the return game.
"We're excited about his ability as a kick returner," Riley said. "He's a guy that also has to go out there and do it in a ball game, but we're excited about it."
That said, there doesn't seem to be much separation should either Lindsey or Bradley be asked to handle the kick return duties at some point this season.
"I don't think Tyjon Lindsey will blink at all when put in a game, and we've been really impressed with the ability that Jaylin Bradley has shown as a runner, as a receiver, playing on special teams…" Riley said. "Those are the kinds of spots where in my history (true freshmen) have moved in and played."
Still no clarity on running back rotation entering game week
Another unknown facing Nebraska all offseason was how the pecking order would eventually shake out at running back leading into Arkansas State.
Even after the first depth chart was released, though, there still isn't much clarity as to exactly what the backfield rotation will look like on Saturday night.
Sophomore Tre Bryant, junior Devine Ozigbo and junior Mikale Wilbon were all listed as co-No. 1's, and Riley made it sound like much of how the work loads are divvied out on Saturday would depend on how the game unfolds.
"We certainly have a plan, and I don't know that it will be equal in all terms," Riley said. "But there are some strengths there that situationally they'll be moved in and out of the game. We're not ready to say who's even going to take the first snap. I know who is, but until we get further along in the week we'll talk about that.
"But doing what we did, we feel good about those players. They have all at times in their past done good things, so we looked for constant growth within that group individually, and we feel good about all those guys. I won't guarantee it, but my guess is they will all play."
While his role remains to be determined at this point, Wilbon said he's definitely hoping to see an increased workload this season.
"Hopefully I get more playing time, but that's up to the coaches," Wilbon said. "Like I said, hopefully I get more playing time. I'm definitely excited for that."
Quick hits
***Stoltenberg said his head injury during fall camp was just a minor deal and if anything the time off allowed his body to rest and get him ready to hit game week running.
***Stoltenberg said he's currently weighing around 310-315 pounds and feels like he's made big gains in his strength and conditioning this offseason. He said he's now put on around 50 pounds of muscle since his freshman year.
***Lee said being named a captain was "probably one of the coolest experiences in my life so far." He said seeing how much it meant to Nebraska guys like Luke McNitt and Jerald Foster made it even more special to earn the honor.
***Lee said the last time he's actually been hit on the football field was in the second-to-last game of his sophomore season at Tulane, a loss to SMU on Nov. 21, 2015. Or, 647 days ago. He broke his hand on that play, too.
***Pierson-El was asked about how he feels health-wise, and he said: "If I had a dollar for every time I've been asked that, I'd be a rich man." He followed by saying he feels great and is ready to roll.
***Pierson-El said people "will be shocked" by what they see from Nebraska's defense on Saturday night. He thinks the defense could be very good this season.
***McNitt said he's hoping for a senior year similar to what Andy Janovich had a couple seasons ago. He said he just wants to help his team in any way he can on both offense and special teams.
***McNitt said one guy who has impressed on special teams has been Austin Rose.