Nebraska's in-state 'swarm' tour a major success on Friday
Nebraska head coach Mike Riley wanted to send a message to the in-state coaches and players on Friday.
That message was even though the Huskers have established major footholds in places like California, everything starts and finishes at home.
On the opening day of the spring recruiting evaluation period, NU sent out the maximum NCAA allowed nine coaches to nearly 50 different high schools across the state.
NCAA rules prevent head coaches from going out on the road in the spring, but Riley's entire full time staff went everywhere from Scottsbluff, North Platte, Valentine, Kearney and Cambridge, along with nearly every Lincoln and Omaha area high school on Friday.
"I think it just shows they are listening," Bellevue West head coach Mike Huffman said of Friday's Husker visits around the state. "One of the knocks of the previous regime, and even the first couple years of Coach Riley is (Nebraska) isn't really looking local. At the same time, I have a couple of good football players, but I don't know if they are Big Ten football players. The fact that they are stopping though and at least showing that we are important is pretty cool.
"The thing that I'm seeing with all (the coaches) is just how good of people they are. They are just good dudes. They are just the type of guys we want here in Nebraska."
Offensive coordinator Danny Langsdorf was the coach that stopped into West to talk with Huffman and the defending Class A state champion Thunderbirds on Friday.
Langsdorf also stopped off into Council Bluffs to check in at Lewis Central on 2019 quarterback Max Duggan, who already holds multiple Power 5 offers at this point.
Meanwhile defensive coorindator Bob Diaco spent most of his day hitting the West Omaha suburb high schools.
One of those stops was to Gretna, home of current junior Huskers defensive tackle Mick Stoltenberg.
"We talked a little football," Dragon head coach Dave Shrader said of time with Diaco on Friday. "We didn't have school today, because we had the district music contest. We even got to talking a little bit about the orchestra and symphony and all that kind of stuff too. It was just a good general conversation.
"We got to talk about some of the communities and where some of the schools were here. Of course he's never heard of a lot of the schools, so of course everything is all brand new to him. It was kind of an educational process to him also. It was good to see him and meet him. He was like all the things you read and see about him - he's just down to earth. He was kind of like talking to somebody you've known for a long time."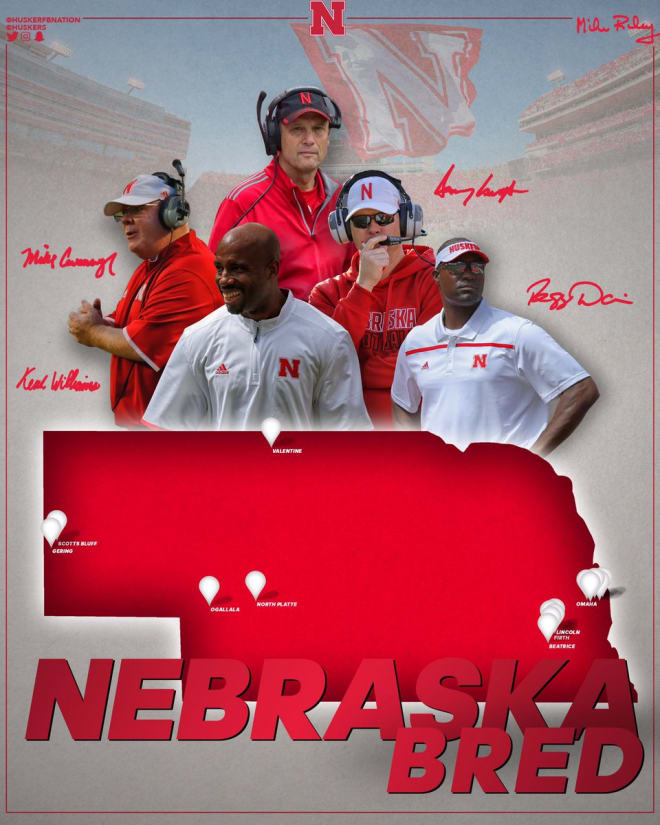 Lincoln High head coach Mark Macke spent some time with running backs coach Reggie Davis on Friday, who visited six different Lincoln high schools.
Macke said talking to people in the building, they didn't know when the last time a Nebraska coach stepped foot in the hallways of Lincoln High. It was probably a smart move by the way, considering the Links are one of the up and coming programs in all of Class A.
"Everybody was real excited to see him here today," Macke said. "Our kids are already working hard, this just gives them more motivation."
Seeing linebackers coach Trent Bray come through Cambridge on Friday also served as motivation to 2018 tight end Caden Houghtelling. The 6-foot-5, 225 Houghtelling is the nephew of former Husker volleyball All-American Christian Houghtelling.
"It was pretty much a dream coming true," Houghtelling said to have a Husker coach come through Cambridge. "As a kid from Nebraska you always want to grow up to play for the Huskers. Now it's starting happen."
The biggest thing Omaha North head coach Larry Martin took out of his time with wide receivers coach Keith Williams on Friday is the entire day sent a message around the state.
The simple fact the Riley and company invested so much into Friday's in-state tour was the perfect way to start off the spring evaluation period.
"I kind of look at it two ways," Martin said. "When they first got the job they have to come in and take care of the players that are there and transition this whole thing. This kind of sounds like to me that Coach Riley had a plan and they are just totally sticking to it.
"He's told us as coaches overwhelmingly how important it is to recruit the state of Nebraska, and when you get there and you inherit the situations that you have, that takes some time to get through. Coach Riley has just done everything first class."