Nebraska gets its point guard in JUCO standout Mack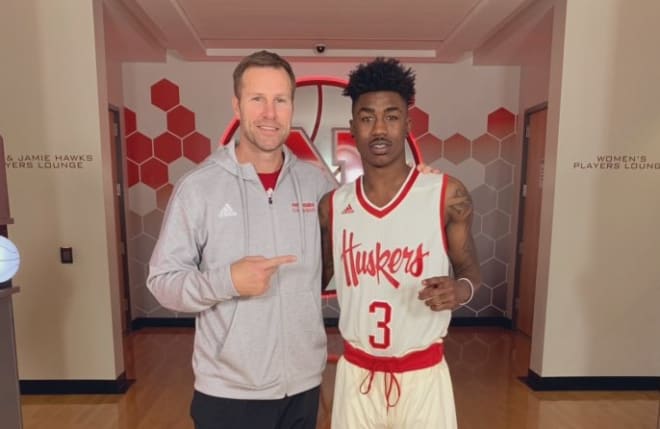 It was never much of a secret how important landing a true playmaking point guard was for new head coach Fred Hoiberg's system to work at Nebraska.
So when the Huskers secured the No. 1 target on their board at that position in junior college transfer Cameron Mack on Saturday night, Hoiberg and his staff's reaction was about what you'd expect.
"I think you know how they reacted," Mack laughed. "They were kind of super excited. I know Fred is jumping around right now."
The 6-foot-3 sophomore from Salt Lake (Utah) C.C., who will have three seasons of eligibility at NU, is rated as the No. 2 JUCO player in the country. He averaged 19.1 points on 45 percent shooting from the field and 33.5 percent from downtown last season, along with 7.4 assists and 5.9 rebounds per game.
Originally signed with St. John's, Mack became one of the top JUCO prospects on the market after receiving his release shortly after assistant coach and lead recruiter Matt Abdelmassih followed Hoiberg to Nebraska.
He had interest from Gonzaga, Arizona, Texas Tech, Oregon, UCLA, and several other high-majors, and was set to take his second official visit to Texas A&M next weekend.
Even though the Austin, Texas, native wanted to let things play out a little longer before making a decision, his visit this weekend was all the confirmation he needed to know where he belonged.
"I just felt like it was a great opportunity and was exactly what I was looking for," Mack said. "Everything just seemed right. Basically, I just knew this is where I wanted to go. The support system here is amazing, and I knew I had a coach who could get me to the next level.
"I wanted to take another visit, but I just felt like the time was right. I made the right move."
Along with his pre-existing relationship with Abdelmassih and his rapidly-developing bond with Hoiberg, Mack also had become friends with fellow Husker junior college signee Jervay Green of Western Nebraska C.C. since the two played against each other last season.
"Me and Jervay are honestly close. He's my guy," Mack said. "We played against each other this year, and after the game, we kind of just connected and became close. He's got great energy, good vibes. That's what you need in your life."
As much as anything, though, Mack said it was the love he felt from the entire program and the Nebraska fan base over the past few weeks that made Lincoln feel like his new home.
"What stood out the most was really just how caring the community was and how they treat you, and how the gym is always packed and sold out no matter who they're playing," Mack said. "That type of support is really important."
Nebraska now has two open scholarships for the 2019-20 season, with potentially a third opening up depending on junior forward Isaiah Roby's upcoming NBA Draft decision.
Along with Mack and Green, the Huskers have also landed Florida Gulf Coast/Marquette graduate transfer Haanif Cheatham, Seattle grad transfer Matej Kavas, and re-affirmed the commitment of Omaha Creighton Prep senior Akol Arop.
With the pieces that are already now in place and a few other intriguing options still in play, Mack wasn't shy about his expectations for Nebraska next season and beyond.
"A Big Ten Championship and getting to the Dance," Mack said. "We haven't been in a minute, so it's time to win. It's time to turn it around."