NU lands commitment from Seattle grad transfer Kavas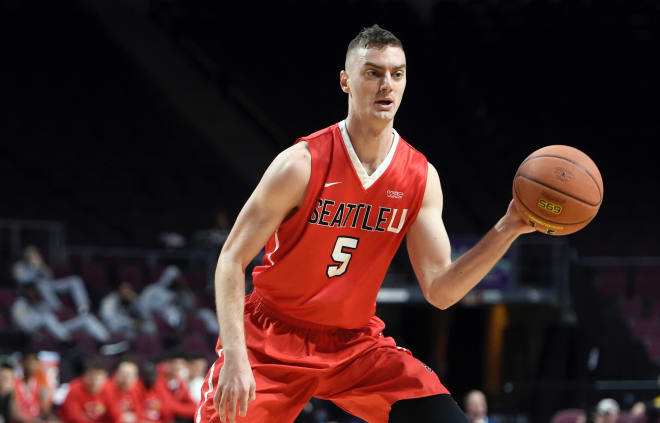 The transformation of Nebraska's roster under new head coach Fred Hoiberg continued on Friday, as the Huskers picked up a commitment from Seattle graduate transfer Matej Kavas, a source confirmed to HuskerOnline.com.
The 6-foot-8, 200-pound redshirt junior wing from Slovenia played three seasons at Seattle and was one of the team's leading scorers the last two years.
He took his first official visit after leaving SU to Lincoln last weekend, and it was all he needed to see to give his pledge.
"The coaching staff showed a great interest in me and they see me as an important part of their program," Kavas told HuskerOnline.com. "I really liked what I saw on my visit and felt like Nebraska was the place I wanted to be."
Kavas said he was also receiving interest from Marquette and Oregon State, but after his first and only official visit to NU, he decided he didn't need to draw out the decision process any longer.
"I was thinking about maybe taking one more visit, but after talking to my family, I just decided that this was the best choice for me," Kavas said.
He will finish his degree in business management at Seattle in June and then plans to move to Lincoln sometime in July.
Kavas only played in 24 games last season after missing significant time with a broken shin, but he still averaged 10.3 points and 4.6 rebounds as a redshirt junior. More importantly, he's shot 44.7 percent from behind the arc and made 177 3-pointers for his career. In 2017-18, Kavas was 91-for-196 from downtown (46.4 percent).
He said Nebraska's coaches didn't make any promises as to what his role would be with the Huskers next season, but they made it clear that they had high hopes for what he could bring to the table.
"I still have to earn my spot, but yeah, I think they saw me as an important part of what they want to do, and I'm ready to accept whatever role the coaches give me and work hard and give the team my best," Kavas said.
Kavas said he initially developed a relationship with assistant coach Matt Abdelmassih after he received his release from Seattle, but he had a connection to Nebraska - the state, at least - in Creighton forward Martin Krampelj, a friend and fellow native of Slovenia.
Stadium.com quoted a scout's evaluation on Kavas as: "One of the elite shooters in the country, but needs to improve his speed and defense." ESPN had Kavas rated as the No. 27 grad transfer in the country.
"I'd describe myself as an offensive-minded player," Kavas said. "I think I've experienced a lot playing these past three years in the NCAA, and I definitely have a big desire to win every game."
The commitment leaves Nebraska with three remaining scholarships available for the 2019-20 season. That number could potentially move to four depending on the NBA Draft decision from junior Isaiah Roby.