Nebraska escapes with 42-29 win over Fresno State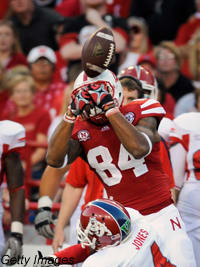 By no means did Nebraska give much reason for fans to feel good about its consistency in any aspect on Saturday, but it did enough to get the win over a determined Fresno State team.
Despite a number of miscues throughout the game, the Huskers were able to do just enough to pull out a 42-29 win over the Bulldogs at Memorial Stadium.
"I thought we were going to be challenged tonight," head coach
Bo Pelini
said. "I thought it was a good team win, but I also think it's a win that, in all three phases, did some things that obviously didn't help us win the football game. I think all three phases did some things to put us in the situation we were in. Every year, you're going to have some games like this. You're going to have some games where you have to find a way, and we did."
While Nebraska came out on top in the final score, there were plenty of much less comforting stats when all was said and done. The Huskers were out-gained 444-438 in total offense and ran just 56 plays compared to Fresno State's 81.
The Bulldogs also racked up 24 first downs to NU's 16, as they held the ball for more than 37 minutes of time of possession. Running back
Robbie Rouse
also rushed for a game-high 169 yards on a whopping 36 carries, the most attempts by an opposing rusher since Texas's
Ricky Williams
carried it 37 times in 1998.
Needless to say, the Huskers walked away from Saturday's room knowing they were fortunate to come out with the victory.
"I think we all took our turns being inconsistent, but you've got to enjoy wins and then you go to work the next day," Pelini said. "The process continues for us."
The improvements everyone wanted to see from Week 1 to Week 2 coming into the game were nowhere to be found early on, as Nebraska was dominated in all three phases of the game in the first half.
With the offense unable to find any semblance of consistency through the first two quarters, Fresno State took advantage on a 67-yard punt return for a touchdown by
Devon Wylie
in the first quarter and then a 3-yard diving touchdown run by quarterback
Derek Carr
.
Wylie's touchdown marked Nebraska's first allowed score on a punt return since Wes Welker ran one back in 2001.
Nebraska was able to keep it within one score on a few big plays by sophomore quarterback
Taylor Martinez
on the ground and through the air, but the Bulldogs headed into halftime with a 17-14 lead after a 22-yard field goal by
Kevin Goessling
with 25 seconds left in the half.
At that point, legitimate concern was starting to build for most of the 85,000 fans in attendance, and for good reason. Prior to Saturday, Nebraska was just 4-9 under Pelini when it trailed at halftime.
Martinez did rush for 110 yards and a touchdown in the first half, but 95 of those came on two carries. The sophomore was also just 4-of-13 passing for only 79 yards and two interceptions. Again, of those 79 passing yards, 42 came on one pass to
Kenny Bell
in the second quarter.
On the other side, Carr was as good as advertised, as he completed 12-of-22 passes for 131 yards. More importantly, he didn't turn the ball over and was not sacked once in the entire first half.
As bad as things went in the first half, though, the Huskers say they never panicked. All they needed were a few halftime adjustments.
"Well the whole offense got together and explained exactly what they were doing because it's kind of hard to get everyone together on the sidelines and say what they were doing," Martinez said. "When we got together at halftime, we exploited what they were doing and we did that in the second half."
The Bulldogs came right back out firing to start the third quarter, as Carr led them on a 10-play drive to bump their lead up to 20-14 on a 36-yard field goal by Goessling with 10:17 left in the third quarter.
Luckily for Nebraska, its passing game came alive in the second half. Facing a 3rd-and-10, Martinez hit freshman
Jamal Turner
on a 43-yard bomb down the left side. Two plays later, Martinez hit a wide-open
Quincy Enunwa
in the right corner of the end zone for a 16-yard touchdown pass to give the Huskers their first lead of the game at 21-20.
"They were loading the box, putting a lot of guys up there and limiting our run game," offensive coordinator
Tim Beck
said. "So we had to loosen them up, so we went deep and we were able to execute. At times we didn't, and it put us behind the chains. But when we were able to obviously we got some momentum and some rhythm and we just started moving the ball."
Later on in the fourth quarter, Martinez hit tight end
Kyler Reed
deep over the middle for a 53-yard strike down to the Fresno 12-yard line. Two plays later, Burkhead slashed his way into the end zone for a 6-yard touchdown run to push the lead up to 28-20 with 12:59 remaining.
Just when it seemed Nebraska had finally gotten the game under control, Carr came firing back with a 55-yard pass to
A.J. Johnson
and then a perfect 26-yard touchdown toss to
Josh Harper
in the back right corner of the end zone to cut the lead to 28-26. Carr's pass on the ensuing two-point conversion left it a two-point game with 12 minutes left to play.
"We knew (Carr) was a really good quarterback, and he showed real flashes last week," defensive coordinator
Carl Pelini
said. "I think he looked more comfortable this week, and he's a good quarterback. He's going to be a really good one, and I think we knew that coming in. We were worried about his arm coming in."
The Huskers needed to come back and answer with a big play, and Abdullah came to the rescue. After fielding the kickoff at the goal line, the true freshman juked an FSU defender of his cleats and broke it up the middle all the way into the end zone for a 100-yard touchdown return.
Abdullah ended the night with 211 kickoff return yards, setting a single-game school record by topping Josh Davis's previous record of 186 from back in 2002.
"Well we had a couple previous kickoff returns that were almost there," Abdullah said. "So really, we just protected the blocks and the ways. Everyone did a great job of clearing a hole for me. Coach told me, 'if you get caught by a kicker, you're going to get kicked off.' So I had to make a move and make a play."
However, the defense had to come right back onto the field with the quick change of possession, and the Bulldogs marched right back down the field for another Carr touchdown pass with a little under 6 minutes left in the game to make it 35-29.
Needing to milk the clock, Nebraska put the game on Burkhead's shoulders. The junior carried the ball six straight plays for 34 yards to open the drive and move the Huskers out to midfield. On the next play, Martinez capped the drive and the game off with a 46-yard touchdown run on an option keeper around the left end.
"I really liked the way we were able to take that drive, eat up some clock and then get to the right play and make the big play there at the end," Beck said. "Offensively, we never panicked. Things could've looked gloom and doom at times, or maybe we weren't moving it and getting first downs… but our kids stayed the course, the coaches stayed the course and had a lot of faith."
From there, the Huskers' defense forced FSU to punt on the next possession and ran out the rest of the clock to seal the victory.
Nebraska will return to action next week when it plays host to Washington, with kickoff set for 2:30 p.m. CT.
Quick hits
***Bo Pelini admitted he and his staff did not anticipate Fresno State running the ball as much as it did on Saturday. Even so, he said Nebraska should have done a much better job in slowing down the Bulldogs' offense.
"I'm obviously disappointed in how we played defensively," Bo said. "Like I said, I thought we did some good things at times, but we all took our turns on that side of the football. Front to back, we didn't play good enough. I think it will be a good wake up call for them. Sometimes you've got to get humbled. It wasn't anything we didn't expect, we just didn't execute, we didn't tackle, we didn't play well defensively. I'm pretty sure we know how to fix that."
***Despite Martinez's mistakes, Pelini said he was overall pleased with the play of his quarterback.
"No one's perfect," Pelini said. "He's only about 15 games in as a starter, he's not going to play perfect. A lot of people would take what he did. He put a lot of yards up between his throwing and running. I'm glad he was on our team."
***Carl Pelini said Fresno State's game plan was to max-protect and roll Carr out of the pocket to put Nebraska's defensive backs on an island. He said it was unique and not something they'd see from them before on film in any of their past seven games.
***As for Rouse's big rushing day, Carl said the bulk of his runs were the same stretch play that FSU hadn't shown much at all in previous games.
***Carl admitted he didn't substitute as much as he should, especially late in the game.
"I probably need to do a better job of substituting in close games," he said. "That's hard for me, because of the of trust factor. The more you play, the more those other guys get snaps, the more comfortable you are subbing in."
***Look for Nebraska to try and get senior cornerback
Alfonzo Dennard
back in the lineup in time for next week's game against Washington.
"I'm ready to get Alfonzo back," Carl said. "Where you miss him is his experience. Really, you've got three of the four guys back there who are relatively inexperienced. You could see guys were open at times where it wasn't technique, it was more understanding our scheme and communication. That's what you miss when you don't have him. Ciante (Evans) and Andrew (Green) are just not as seasoned as he is."
***Junior safety
Daimion Stafford
made his first career start against Fresno, and he was one the field for the majority of the game.
"He played very well in last week's game and he played really well in practice all week," Carl said. "Again, a relatively inexperienced guy who was put in some tough situations, made some good plays and made some mistakes, too."
***Senior safety
Austin Cassidy
said he didn't feel the defense wore down at all in the game despite being on the field so much.
"Definitely not," Cassidy said. "The strength coaches and the coaches, they have us in such good shape that fatigue and stamina should never be an issue for us. I don't think that really was an issue for us today."
***Kicker
Brett Maher
said he was more than ready to take a shot at the 62-yard field goal attempt at the end of the first half, but said he understood when the team decided to go for a Hail Mary instead.
"I was hoping coach would give me an opportunity, it didn't happen," Maher said. "I maybe had a shot at it, but I'm not going to second guess that. A 62-yarder, it is just as much a crapshoot as a Hail Mary, but I don't know it was fine. I haven't hit one before in practice, like live or anything, I've hit one from there just messing around, but nothing in a game scenario. I think I would have had a shot at it, like I said before, I mean 62-yard field goal, Hail Mary. I don't know how you balance the scale on that."