Leitao's commit gives Huskers 14 for Class of '17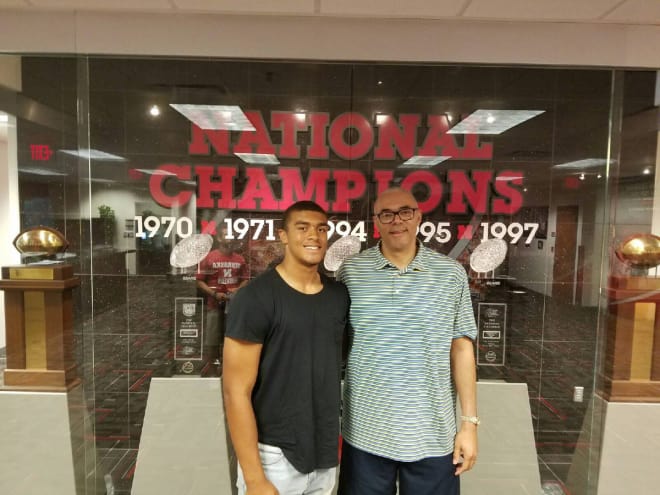 All throughout the spring and summer months, Jenks (Okla.) tight end Reese Leitao said that he planned to commit before his senior season began, and today proved he's a man of his word.
The 6-foot-4, 230-pound three-star had recently narrowed his list of 20 scholarship offers down to the final four of Nebraska, Maryland, Oklahoma State and Penn State. And today he announced on twitter that he has committed to play for the Cornhuskers in college.
The tight end recruit Leitao and his father unofficially visited Nebraska for their last Friday Night Lights camp, and over the summer he had also check out in person the campuses and programs of Oklahoma State, Duke, Missouri, Alabama, Penn State, Iowa State and a couple others.
Leitao did not participate in the Huskers' Friday Night Lights camp, but he got to see an awful lot of the Huskers' program during his seven hour stay in Lincoln.
"Well, I saw that Nebraska has really great facilities," Leitao observed in late June. "They are top-notch there. They've really got the best state of the art equipment and weight room, and they have the performance lab. No one else in the country really has that. I mean, it's just top-notch stuff that you won't find anywhere else.
"The impression I got from it is that it's a really great school and the fan base is also what stood out to me. It was simply a camp, but they managed to get 3000 people out to it and that really stood out to me, as did everything."
The people running NU's program also stood out to Leitao while he was in Lincoln.
"I talked with Coach Tavita Thompson and Coach (Mike) Riley for the most part, but I was introduced to the whole staff," Leitao shared. "When I talked to Coach Thompson, we just sat back and watched a couple film clips and he pulled up some stuff he thought I would be doing.
"It was good to see some off-the-ball action and the position they want me for is one who moves around in order to use my athletic ability. So I appreciated that. When I spoke talked to Coach Riley, he just gave me an overview of what Nebraska is all about, how the coaches are, and how they run things over there."
Leitao's verbal pledge gives Nebraska 14 commitments for their Class of 2017. He told HOL that he was excited to have made his commitment to Nebraska and he'd be handling all of his media requests on Sunday.